The Truth About Tom Cruise's Personal Belongings All Being Stolen By Thieves
When someone becomes both rich and famous, they can also become the target of criminals who have their eyes on the star's enviable possessions. That's why the homes of well-known figures like Johnny Depp, David Spade, and Jason Derulo have all be hit by burglers. Of course, Kim Kardashian also endured a terrifying robbery while in a hotel in Paris. Unfortunately for Tom Cruise, he's another star who has been robbed.
According to the Daily Mail, Cruise was in England while filming "Mission: Impossible 7" when criminals struck. Although he's been staying at "a luxurious mansion in Kent," he's been using a helicopter to fly into Birmingham and was apparently working on "scenes for the upcoming blockbuster in a Birmingham shopping centre alongside his co-star Hayley Atwell" when something happened not too far away. Yep, he was robbed and ended up losing some very valuable personal items. Read on to find out what happened, what was stolen, and how the star apparently reacted.
Tom Cruise had a fierce reaction to being robbed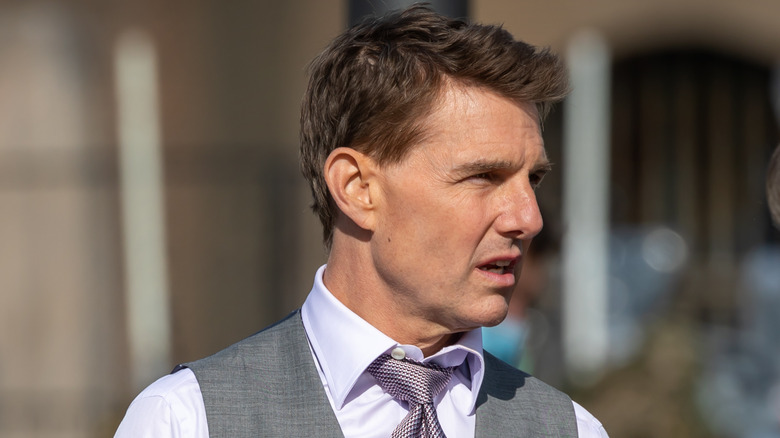 While Tom Cruise was busy working on "Mission: Impossible 7," thieves were busy stealing from the actor. The Sun reports that the star's bodyguard had parked his BMW outside a hotel in Birmingham, England — a hotel that happened to be around two minutes away from the local police headquarters, no less. It was there that robbers "used a scanner to clone the signal from the luxury car's keyless ignition fob." Once they had access to the vehicle, the criminals simply took off.
However, not only did they managed to nab themselves a car that's worth a whopping over $137,600, but according to a source, "Tom had been driven around in the car while in Birmingham and some of his ­luggage and belongings were inside it when it was taken." In fact, the Daily Mail explains that Cruise "had thousands of [dollars] worth of luggage" in the car when it was stolen. While the source revealed that police had tracked down the car, they also noted that "everything inside it had gone."
So, how did Cruise react to being robbed? The insider admitted, "It's a huge embarrassment for the security team and the guy who had been driving it was hopping mad — but not as mad as Tom!"
Source: Read Full Article