Tiffany Haddish Raps as Pregnant Cardi B and Hits on Michael B. Jordan at MTV Movie & TV Awards 
Tiffany Haddish isn't just the MTV Movie & TV Awards' first black female host, she's also the first woman to have an immaculate conception on television!
The 38-year-old comedian opened the 2018 awards show by flirting with Black Panther star Michael B. Jordan, joking that he got her pregnant just by looking at her.
To help with the gag, Haddish — performing a parody of Cardi B's "Bodak Yellow" and wearing a fitted white dress she said she borrowed from the pregnant rapper herself — had a baby bump of her own inflate.
"Oh, that was just gas," she joked later, as it deflated.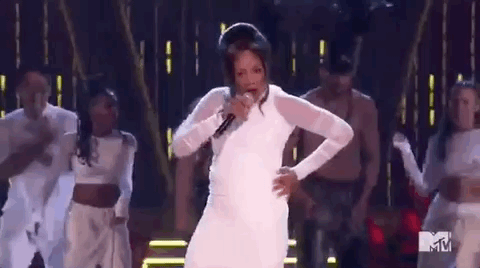 Jordan wasn't the only one who Haddish roasted in her opening skit.
Later, in her opening monologue, Haddish joked about the world's most famous family: The Kardashians.
"That family is basically the Star Wars franchise," Haddish teased. "They make a ton of money, a new one's always popping up, and they're ruled by a bossy overlord who sleeps in a mask and she love black men."
Kim Kardashian West, 37, and momager Kris Jenner, 62, were filmed in the audience laughing at the burn.
RELATED VIDEO: Kim Kardashian and Kris Jenner Have a Girls Night Out at MTV Movie & TV Awards as Kylie Bails

Zendaya didn't get off easy either.
"And you know who else I love? Zendaya. She taught me how to model. She told me how to model and I taught her how to grapefruit. What!" Haddish said, referencing her hilarious Girls Trip gag. "She 21 now, y'all! She a grown woman. You gotta know how to do that if you want a husband."
Earlier in the show, Haddish appeared in a Black Panther-related skit where she reunited with her Girls Trip costars Queen Latifah and Jada Pinkett Smith.
The 2018 MTV Movie & TV Awards — filmed Saturday at the Barker Hangar in Santa Monica, California — aired Monday (9 p.m. ET) on MTV.
Source: Read Full Article