Tom Cruise Gives Kate Middleton a Hand in Front of Prince William at 'Top Gun: Maverick' Premiere
Being a gentleman, the Maverick Mitchell depicter offers the Duchess of Cambridge a helping hand with her husband by her side while heading into Leicester Square in London.
AceShowbiz –Tom Cruise had the honor to screen his new movie for the British royal family. On Thursday, May 19, Prince William and Kate Middleton attended the premiere of "Top Gun: Maverick", which Tom starred in and produced, in London.
Upon arriving at Leicester Square where the event took place, the couple was greeted by the action movie star. Being a gentleman, he was photographed holding Kate's hand to escort her up a set of stairs with her husband walking next to her. It's unclear if the second-in-line to the throne noticed the gesture, but he took a glance at his wife when Kate received Tom's assistance.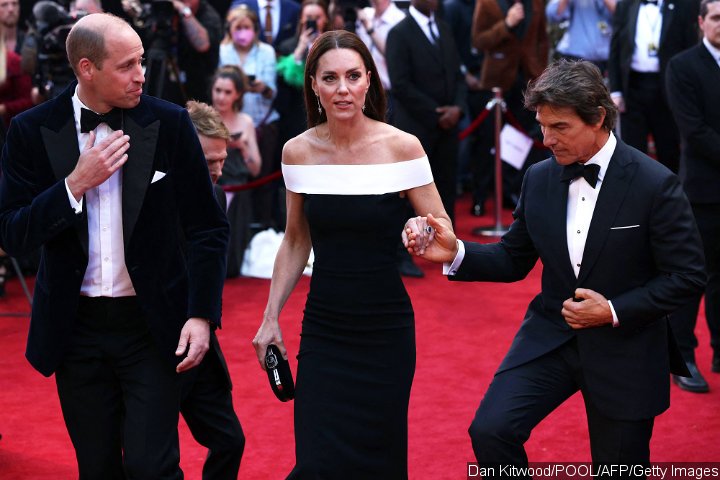 Tom Cruise gave Kate Middleton a helping hand at 'Top Gun: Maverick' premiere in London.
For the U.K. premiere of the movie, William went with a classic black tuxedo and bow tie. He gave a nod to the aerial theme of the film with his shoes, which were a pair of Crockett & Jones loafers embroidered with F18 planes.
Kate showed off her shoulders, which was quite a rare sight for a royal woman, in a black floor-length Roland Mouret gown with a white off-the-shoulder neckline. Her long hair was let loose and she accessorized with dangling earrings while carrying a black purse.
The pair were introduced to other cast members, like Jennifer Connelly, Miles Teller, Glen Powell, Jon Hamm and Jay Ellis. Producer Jerry Bruckheimer was also present at the special screening.
The Duke and Duchess of Cambridge were reportedly treated to a special screening of the "Top Gun" sequel at the invitation of Tom, who had heard William was a fan of the original 1986 movie. "We have a lot in common," the Maverick Mitchell depicter said of the prince, who was a Royal Air Force helicopter pilot, at the premiere. "We both love England and we're both aviators, we both love flying."
"Top Gun: Maverick", directed by Joseph Kosinski, will open in U.S. theaters on May 27.
Source: Read Full Article