We Need to Talk About the Last Moments of the 'This Is Us' Season 3 Premiere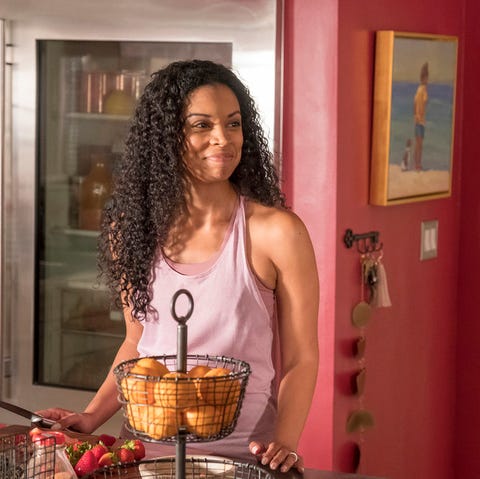 This post contains spoilers for the This Is Us episode, "Nine Bucks."
The Pearsons are back on TV, which means your investigative work on the mystery identity of "her" from the season two finale can finally continue. Tuesday's season three premiere offered more clues on this person, and if you're money hasn't been on Beth this whole time, you might be one step closer to cashing in.
In classic This Is Us form, the final moments of the episode included several twists. Newlyweds Kate and Toby, first told by an IVF doctor that they were not good candidates because of her weight and his sperm count due to antidepressants, are later accepted as patients, even if their chance of conceiving is 10 percent. Deja, despite a heated conversation with Randall earlier on the episode, agrees to be formally adopted by Randall and Beth. Young Rebecca, in a flashback, appears to be opening her door to Jack the morning after their first awful (but cute) date, only to reveal another guy with flowers. Jack, who sees this unfold from across the street in his car (where he has his own flowers for Rebecca), drives away.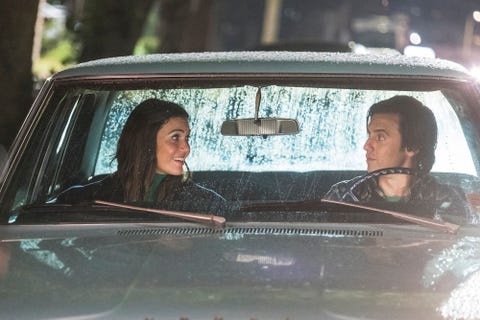 And then we're reunited with Future Randall and Future Tess again. Picking up almost from the moment we last saw them in the season two finale, Randall and Tess head to see "her," but not before Tess says she needs to use the bathroom. Future Randall whips out his phone and calls, ~drumroll please~, Future Toby, who answers in bed alone. "It's time to come down," Future Randall tells his brother-in-law. "I'm not coming, she doesn't want to see me," Toby responds through his graying beard. "No, she wants to see you," Randall says back (and you know Randall is right).
Could the mystery "her" be Kate? That's too easy, right?
Then again, in April 2018, Chrissy Metz told Entertainment Weekly that the "her" storyline is "not good" and that "it's actually very heartbreaking." At the time, fans could only take these words at face value and apply them to candidate number one, Beth, and maybe candidate number two, Rebecca. But Kate? What awful thing is going to happen to Kate that makes seeing her an emotional, miserable event for everyone? And how will this grand speech Kate gave at her 38th birthday party haunt Future Kate, if she does turn out to be the "her?"
Life can challenge you. Share this moment of a true turning point, presented by @Chevrolet. #ThisIsUs pic.twitter.com/ENxF2f2dPY
Obviously, everyone's going to need more time to let this all sink in and come up with approximately 53 theories about how Kate will end up being "her." Or not.
When you're done with theorizing for the night, though, do join me in celebrating the birth of Zevin (Kevin and Beth's cousin Zoe). Their relationship, which was hinted at in the final moment of the season two finale, looks like it'll stick for now and possibly even move beyond the "knocking boots" phase, despite Beth's surprising warning to Kevin that her cousin will "break" him. Never mind that. Let's focus on the positive, say, Zoe's apt description of Kevin while defending their hooking up to Beth? "He looks like Batman and he is built like a truck." Couldn't have said it better myself.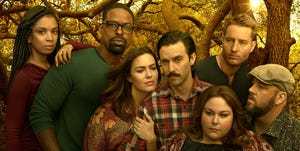 Source: Read Full Article