Whoopi Goldberg Brushes Off Barbara Corcoran's Body-Shaming Insult
"It takes a lot more to offend me," Goldberg says
ABC
Whoopi Goldberg may have been visibly stunned when Barbara Corcoran made a body-shaming joke at her expense on "The View" last week, but that doesn't mean she was hurt over the remarks. In fact, the longtime co-host of "The View" says an apology wasn't even necessary.
In a new video posted by TMZ, Goldberg was asked about the incident and whether she took offense to it as she headed to her car. Goldberg paused for a moment, seemingly struggling to even remember the insult the cameraperson was referring to. When it did click, Goldberg easily said "Oh! No."
When pressed on if she accepted the "Shark Tank" star's apology, Whoopi noted that it was unnecessary to even offer one.
https://youtube.com/watch?v=25knfhWsqFs%3Ffeature%3Doembed

"She doesn't have to apologize. I know her!" Goldberg said. "You know, this is the lady that threw away her birthday party to get into a coffin," Goldberg said, referring to Corcoran's 70th birthday event in 2019, where she kicked off the celebrations in a literal coffin. 
"So Barbara's always been funny and weird," Goldberg added. "And that's who she is. And no, it takes a lot more to offend me."
During an appearance with her fellow "Shark Tank" judges on "The View," Corcoran and the rest of the table began discussing Emma Grede, who is set to be the first Black, female guest shark on "Shark Tank." Grede is the founder & CEO of Good American, a US-based denim brand which promotes a healthy body image.
When Whoopi asked if Grede's jeans would fit her "COVID butt," her co-hosts reassured her they would. But Corcoran chimed in with "And when you get finished with those jeans, and decide you don't like them, give them to me. I'm gonna make two pairs!"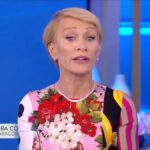 Before Goldberg could gather herself, and fire back a response, Ana Navarro jumped in on her behalf, and bit back hard.
"Whoopi, let me just tell you something," Navarro said before remarking on Corcoran's wardrobe choice for the day. "Both Sara Haines and Jill Biden wore that dress already, on TV," she said, before ripping up her own question cards.
Corcoran later tweeted an apology to Whoopi, saying, "I made a joke at Whoopi's expense, which I now realize wasn't funny. For anyone who I may have offended unintentionally, I just wanted to say I really am very sorry."
Source: Read Full Article