Why Did MSNBC's Audience Grow Way More Than Fox News's in 2018?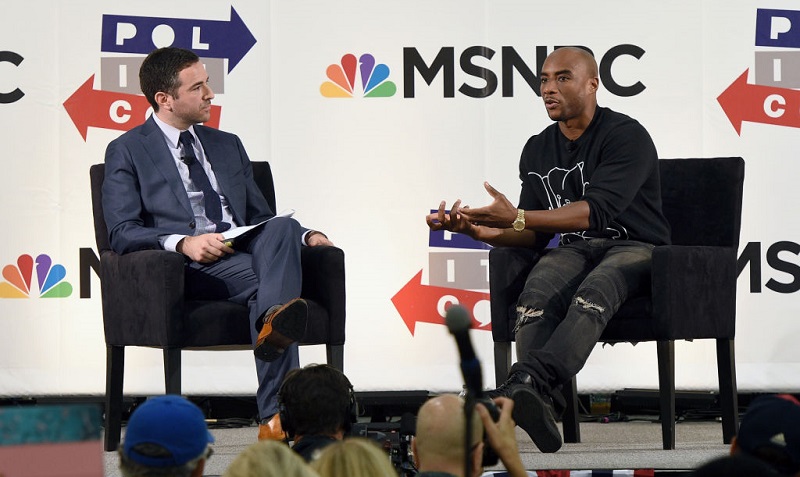 MSNBC's Ari Melber speaking with Charlamagne tha God at Politicon 2017 | Joshua Blanchard/Getty Images for Politicon
It's been a wild time for the cable-news business in recent years. After a sluggish period during the late Obama years, profits took off when the networks began covering Donald Trump's campaign for president. That's why you saw MSNBC install Brian Williams in the 11th hour of programming rather than airing reruns from earlier in the night back in 2016.
That turned out to be a smart move for MSNBC, which quickly took over that spot in the ratings. However, beginning in 2018, the big cable networks struggled to keep the audience growth coming. Whether it was cord-cutting, Trump fatigue, or some other factor, you saw Fox News (−5%) and CNN (−9%) losing part of their audiences last year.
The exception to this rule has been MSNBC. According to an Adweek post on the '18 Nielsen ratings, MSNBC's 12% growth in total-day ratings not only made it the big winner among cable-news networks; it also meant MSNBC was the only cable network in the top 25 to post double-digit growth.
MSNBC also grew 10% in prime time.
In addition to the overall (total day, in Nielsen terms) growth, MSNBC posted 10% audience growth in prime time. Again, compared to Fox News, which barely grew at all (+1% in prime time), it was quite the story. Compared to CNN, which actually lost (−6%) prime-time viewers, there was no doubting which cable network was headed in the right direction.
The situation came to a head in December, when MSNBC finally topped Fox News in total weekday viewers for the first time since 2000. That shift in the power dynamic offered a few clues as to why MSNBC was gaining momentum in its race against the conservative network.
While Fox continued pounding the airwaves with culture-war stories about the "War on Christmas" and the dangers of marijuana, MSNBC offered audiences a look at the Trump administration's legal jeopardy with respect to the Robert Mueller investigation. (During one especially bad week for Trump, Hannity had guest-hosts do his show for him.)
That's not to say MSNBC had taken over the mantle of top cable network, however. As the only far-right-wing network on the air, Fox News still has the biggest share of viewers overall. MSNBC and CNN, which compete for the audience from the center-right to the left, have one another to contend with.
But it's clear that only one of the above networks is growing its audience at any significant rate, and Fox News's programming choices could explain why it failed to grow in 2018.
Fox News's odd takes on the news of the day
The opening of 'Tucker Carlson Tonight' on November 28 | Andrew Lawrence via Twitter
In addition to the bizarre Christmas broadcasts and stoking fear about marijuana — or a pending massacre at the hands of Jane Curtin — Fox News hosts have gone out of their way to explain away massive news stories. Tucker Carlson's very strange week after Thanksgiving was a good example of how Fox can take terrible news for Trump and try to turn it into pixie dust.
You may recall that Trump's longtime lawyer and fixer Michael Cohen pleaded guilty to several crimes in federal court that week. As Rachel Maddow and other MSNBC hosts spoke with reporters and legal experts at the courthouse, Tucker wondered aloud why there was such fuss about "Russia."
Apparently, the word had become a fictional concept to him. The same went for "Mueller," which Tucker put in quotes the following day when noting Cohen's guilty plea. If you wanted to be frank, you'd say these broadcasts assumed a low level of intelligence in the audience.
Of course, Tucker's offensive remarks about immigrants seemed to assume an old, 94% white audience (which is exactly what Fox News has). Looking at the advertisers who fled from Tucker's show after he said immigration makes America "dirtier," you can see why new viewers wouldn't be attracted to that sort of programming.
MSNBC is far from perfect, but the network goes out of its way to report actual news and avoids offending large segments of the population. In the third year of the Trump Administration, that approach has obvious appeal.
Just ask the network's new viewers.
Check out The Cheat Sheet on Facebook!
Source: Read Full Article