Why Martha Stewart Isn't A Fan Of Bethenny Frankel
Martha Stewart has gotten into some celebrity feuds in her day (the domestic diva once told Net-a-Porte, via Page Six, that Gwyneth Paltrow should stick to acting and stop trying "to be Martha Stewart" with her Goop line). But it's Stewart's beef with a Bravo reality star-turned-businesswoman really takes the cake.
Stewart and Bethenny Frankel are two successful businesswomen, but their similarities seem to stop there. Stewart has butted heads with the rival TV host multiple times over the years and has publicly shaded her. Stewart even slammed Frankel's Skinnygirl margarita line at a product promotional event in 2015 by saying the secret to her own "Martha-rita" is using fresh ingredients and staying way from "fake stuff," per The Daily Meal. She then slammed Frankel's bottled margarita mix outright. "Not that I'm saying anything bad about Skinnygirl, because she's been very successful, but … yes I am, because I think they're horrible drinks."
But how — and why — did all of this drama start?
Martha Stewart told Bethenny Frankel to her face that she wasn't 'likable'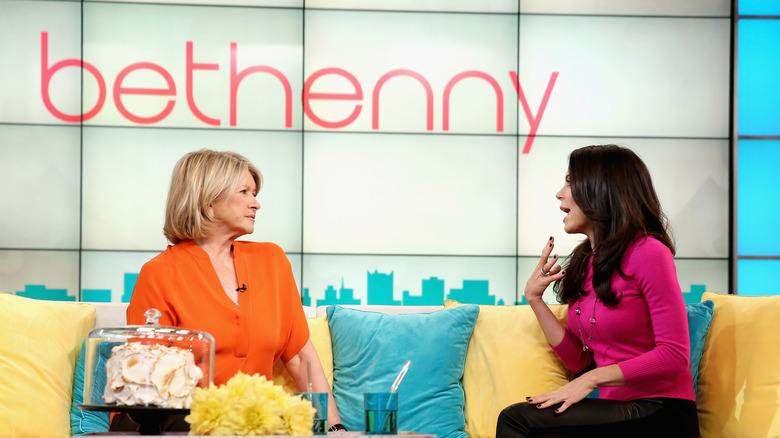 The drama between the two women started when the then-unknown Bethenny Frankel was cast as a competitor on the Martha Stewart-hosted version of NBC's "The Apprentice" in 2005, per The New York Times. Back then, Bethenny was a natural foods chef, and she landed as the runner-up in the reality TV competition. But she didn't impress Stewart, who called her "a show-off" who feels like she has to "make a physical impression," The New York Times noted.
Bethenny made a big enough impression to land a lead role on "The Real Housewives of New York City" and then spin off into a full-fledged business woman with drinks, cookwear, shapewear, and more products under her brand name. She even scored her own self-titled talk show — but Stewart still wasn't impressed by her success.
While she agreed to appear as a guest on Bethenny's chat fest, Stewart bluntly told her the reason she didn't pick her to win 'The Apprentice" years earlier. "Well, you weren't so likable then," Stewart told Bethenny. "You weren't. No, you weren't. You were a pest, you were a pest. You were so out there in front of everybody." 
Bethenny Frankel responded to Martha Stewart's comments about her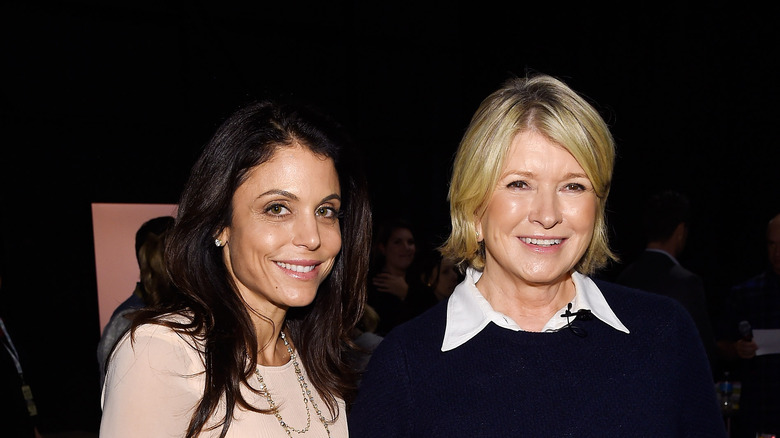 Bethenny Frankel has acknowledged that Martha Stewart has never been one of her fans. During an appearance on "Late Night With Seth Meyers" in 2015, she revealed that Stewart has never hidden how she feels about her. "She doesn't like me," Frankel said of Stewart. "She never really has. She's consistent."
The former "Real Housewives of New York City" star added that she had considered working on a TV project with Stewart but decided against it after trying too hard to make herself click with the lifestyle guru. "She's always been like a parent that I've always tried to get them to love me, but I gave up on that a couple years ago when I had my own show," Bethenny explained. "She just never misses the opportunity to say something negative about me or my products."
She then suggested that Stewart should join the cast of "The Real Housewives of New York City" to get more bang for her buck." "She could get paid to rip me," Bethenny told Seth Meyers. "That's good for drama."
Source: Read Full Article