Alex Murdaugh arrested over housekeeper Gloria Satterfield insurance settlements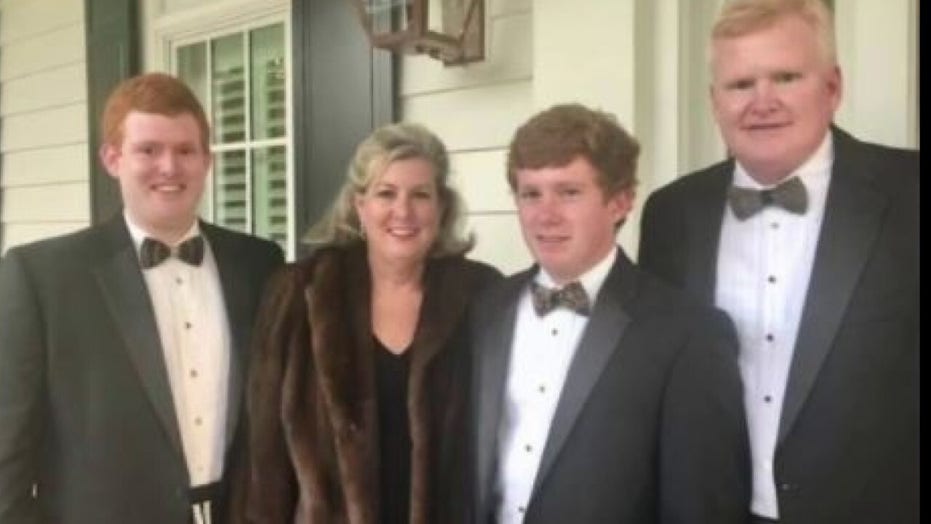 Lawyers say Murdaugh housekeeper's heirs never received money after reportedly falling, dying in family home
Estate attorneys for the Murdaugh Family's housekeeper, Gloria Satterifield, Eric Bland and Ronny Richter discuss the investigation into her death and its aftermath on 'The Story'Estate attorneys for the Murdaugh Family's housekeeper, Gloria Satterifield, Eric Bland and Ronny Richter discuss the investigation into her death and its aftermath on 'The Story'
Disgraced South Carolina attorney Alex Murdaugh was arrested in Florida Thursday in connection to insurance settlements obtained after the 2018 mysterious death of his housekeeper, Gloria Satterfield.
Upon his release from a drug rehabilitation facility in Orlando, Murdaugh was taken into custody by agents with the South Carolina Law Enforcement Division (SLED) and the Florida Department of Law Enforcement. He is charged with two felony counts of obtaining property by false pretenses.
The charges stem from a SLED investigation into misappropriated settlement funds in the death of Gloria Satterfield. Murdaugh has been taken to Orange County Corrections, where he will be held until he receives an extradition hearing. Upon extradition being granted or waived, he will be brought back to South Carolina to receive a bond hearing, SLED said in a statement provided to Fox News Digital.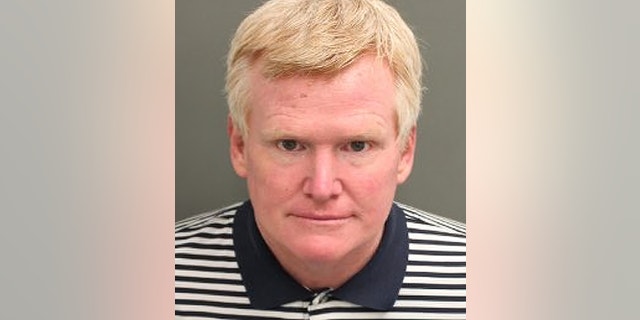 Alex Murdaugh appears in a new mugshot following his arrest in Orlando, Florida on charges in connection to insurance settlements obtained following housekeeper Gloria Satterfield's 2018 death. 
(Orange County Corrections)
"Today is merely one more step in a long process for justice for the many victims in these investigations. I want to commend the hard work and dedication that our agents have shown over the last four months, SLED Chief Mark Keel said in a statement. "They will continue to work tirelessly on behalf of those who were victimized by Alex Murdaugh and others. As I have said previously, we are committed to following the facts wherever they may lead us and we will not stop until justice is served."
The case will be prosecuted by the South Carolina Attorney General's Office.
Murdaugh is expected to be transported by SLED to Beaufort County, South Carolina, where he will appear for a bond hearing Friday, Murdaugh's lawyers, Dick Harpootlian and Jim Griffin said in a statement, adding that they have not yet seen the warrants detailing the charges.
"Alex intends to fully cooperate with this investigation, as he has with the investigation into the murder of his wife and son," they said. "He deeply regrets that his actions have distracted from the efforts to solve their murders."
Satterfield, a 57-year-old housekeeper and nanny for the Murdaugh family for over two decades, supposedly tripped over dogs and down steps at the Murdaugh's home in Colleton County on Feb. 1, 2018. Sustaining a head injury, she died at the hospital weeks later on Feb. 26, 2018, without ever regaining consciousness.
SLED first opened an investigation into Satterfield's death and the handling of her estate on Sept. 15. Hampton County Coroner Angie Topper had asked Keel to open an investigation because Satterfield's death certificate ruled the manner of death as "natural," which is inconsistent with injuries sustained in a trip-and-fall accident. The death was also not reported to the coroner at that time and an autopsy was never performed.
A civil lawsuit was also initially filed on Sept. 15 on behalf of Satterfield's sons, Michael Anthony Satterfield and Brian Harriott, detailing the theft of money from the housekeeper's heirs. Wrongful death settlements were secured from insurance carriers for amounts totaling $4.3 million.
"Today is a bittersweet day for the Satterfield and Harriott Families," Eric Bland and Ronnie Richter, lawyers for Satterfield's estate, said in a joint statement provided to Fox News Digital. "Avarice and betrayal of trust are at the heart of this matter. Lawsuits and claims are not vehicles for lawyers, defendants and/or friends to enrich themselves at the expense of their clients. These belong to the clients and the clients only. This is the sacred trust that lawyers and fiduciaries owe their clients. 100% fidelity and never putting their interests over the clients."
"Since early September the families are dealing with the betrayal of trust and that their loved one's death was used as a vehicle to enrich others over the clients," they said. "Nonetheless, the families and lawyers would like to thank the public for the continued support and assistance it has given to solve these ugly crimes. It is not over. A very good start to holding everyone accountable who either participated knowingly or breached their duties. The bottom line is no one is above the law."
After her funeral, Alex Murdaugh told Satterfield's sons that he was responsible for their mother's death and introduced them to an attorney, Corey Fleming, to handle a wrongful death suit against him, according to court filings. But her sons were never informed of a possible conflict of interest, as Fleming was also Alex Murdaugh's former college roommate and godfather to Paul Murdaugh. Fleming later convinced Tony Satterfield to sign representation of his mother's estate over to Chad Westendorf, vice president of Palmetto State Bank.
Murdaugh allegedly instructed Fleming to send checks to a payee named Forge at a P.O. Box in Hampton, S.C., The name was meant to mimic Forge Consulting, a legitamate firm based in Atlanta, Georgia. Fleming's law license was suspended last week over his handling of the matter.
Murdaugh was already charged with insurance fraud, conspiracy to commit insurance fraud and filing a false police report in connection to an alleged Sept. 4 shooting in which he told SLED he fired 61-year-old Curtis "Eddie" Smith to shoot him so his surviving son, Buster Murdaugh, could collect a $10 million life insurance policy. During a Sept. 16 hearing, Hampton County Magistrate Judge Tonja Alexander set his bond at $20,000 and he was released on his own recognizance, permitted to return to an out-of-state rehab facility to treat an over 20-year-long opioid addiction.
Ronnie Richter, representing Satterfield's estate, previously told Fox News Digital the housekeeper's sons were "scared" and "shell-shocked" following Murdaugh's release, as it took courage for them to speak out against the influential legal family in the Lowcountry region.
Murdaugh's lawyer Jim Griffin told FOX Carolina Wednesday Murdaugh had completed his first phase of recovery, which was "medical detox" at a facility in Atlanta, and had begun his second stage which involved learning how to live without a dependency on the prescription drugs.
Griffin also said medical records from an air evacuation show Murdaugh suffered a "heavy head bleed," following the Sept. 4 shooting but his firm was still pursuing HIPAA-protected records from the Savannah hospital where he was treated.
Smith's attorney, Jonny McCroy, meanwhile, told NBC's TODAY, Murdaugh was never shot in the shooting and his client was "set up," not having any prior knowledge of any insurance plot when he met Murdaugh on the road that day. Murdaugh's wife, Maggie Murdaugh, and 22-year-old son, Paul Murdaugh, were shot dead outside dog kennels at Moselle, the family's hunting estate in Colleton County, on June 7. Alex Murdaugh dialed 911 to report finding their bodies and still no arrests have been made in connection to the unsolved murders.
This is a breaking news story. Check back for updates.
Source: Read Full Article