Bali flights cancelled, thousands affected after Mount Agung erupts again
A number of flights between Australia and Bali have been cancelled or turned back due to ash from the eruption of the island's Mount Agung.
Passengers travelling on Jetstar, Qantas, Virgin and Air Asia flights between Thursday night and Friday morning have been affected.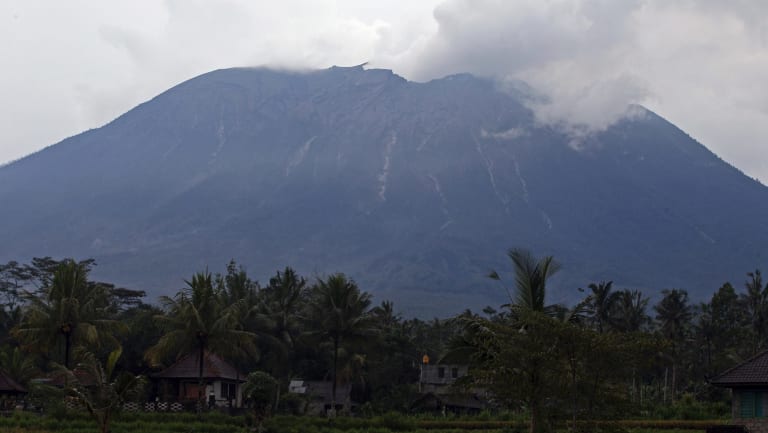 Mount Agung spews volcanic ash into the air.
Twelve Jetstar flights, including routes between Denpasar and Sydney, Perth, Melbourne, Adelaide and Cairns, were cancelled.
"Due to volcanic ash cloud caused by Mount Agung in Bali, it is currently not safe to operate flights to or from Denpasar Airport," Jetstar said in a statement.
Senior pilots were being asked to assess the situation overnight and provide another update later on Friday morning, the statement said.
The volcano erupted on the Indonesian holiday island of Bali, sending a column of ash and smoke at least two kilometres into the air, officials said.
The volcano's alert level remains high and tourists have been warned to stay away from the area.
The exclusion zone around the volcano is four kilometres, with locals being told to prepare their face masks as the threat of a full-scale eruption looms.
Authorities said there had been tremors throughout the afternoon.
AirAsia cancelled 6.30pm and 8pm flights on Thursday between Denpasar and Perth, as well as the 7.30pm Denpasar to Perth flight amid fears the ash could affect the aircraft engines.
Qantas turned back two Bali-bound flights departing from Melbourne and Sydney, and delayed two more due to depart Denpasar.
"Volcanic ash around the island of Bali following the eruption of Mt Agung means it is currently not safe to operate flights to and from Denpasar Airport," a Qantas statement said.
Virgin also cancelled two flights between Sydney and Denpasar with the airline warning another scheduled to depart the island on Friday morning may be delayed.
Denpasar airport's online flight information board showed Virgin Australia had also cancelled flights to and from the island.
The airlines will continue to assess conditions on Friday and customers have been urged to check websites.
More to come
Source: Read Full Article