Best way to prepare for a storm surge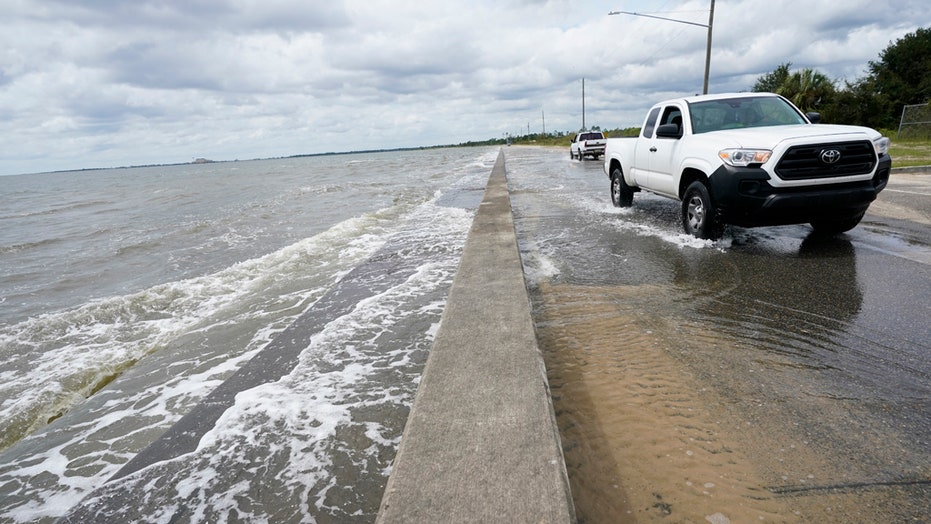 Fox News Flash top headlines for September 15
Fox News Flash top headlines are here. Check out what's clicking on Foxnews.com.
Tropical Storm Ida strengthened into a hurricane on Friday near the Isle of Youth, Cuba.
The storm is forecast to hit the northern Gulf Coast as a Category 3 hurricane on Sunday and residents were sent scrambling to make preparations.
The storm would strike 16 years to the day since Hurricane Katrina made landfall as a Category 3 storm with 125 mph winds near the riverside community of Buras in Plaquemines Parish.
The National Hurricane Center warned that the combination of dangerous storm surge and the tide will likely cause normally dry coastal areas to be flooded, with the potential for the "overtopping of local levees."
Along the coast, storm surge is often the greatest threat to life and property from a hurricane, according to the agency.
"In the past, large death tolls have resulted from the rise of the ocean associated with many of the major hurricanes that have made landfall," NHC said.
Hurricane Katrina is a prime example of the damage and devastation a storm surge can cause. At least 1,500 persons lost their lives during Katrina, with many of those deaths attributable–directly and indirectly–to the storm's surge.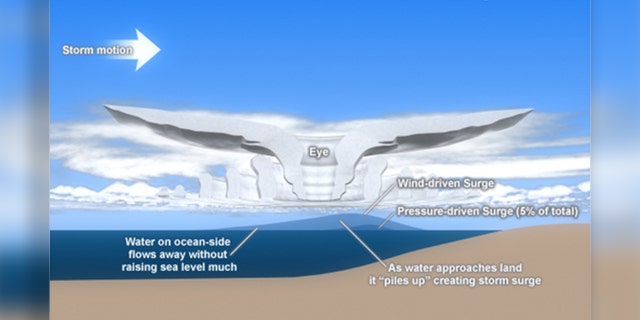 Wind and pressure components of hurricane storm surge
(National Hurricane Center)
Storm surge is an abnormal rise of water generated by a hurricane or large storm, over and above predicted high or low tides.
So, what to do?
The National Weather Service's Joel Cline told Fox News a few months ago that the best way to prepare for a storm surge is to evacuate the area.
"You really can't run away from the winds of a hurricane, but you can avoid the water," he said.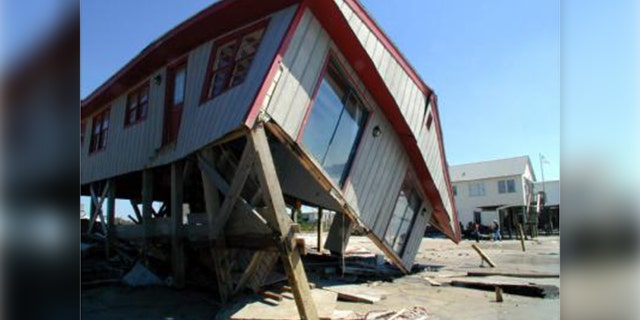 Although elevated, this house in North Carolina could not withstand the 15 feet of storm surge that came with Hurricane Floyd in 1999.
(National Hurricane Center)
He stressed the importance of following hurricane preparedness advice: have on hand fresh water, batteries, battery-powered radios, propane, flashlights, canned food and handheld can openers.
Obeying evacuation orders is most important. And being prepared can save your life.
The Harford insurance company offers these storm surge tips:
(.) Determine your risk.
(.) Purchase flood insurance.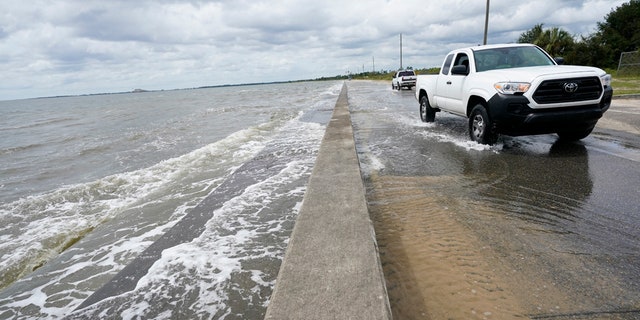 Waters from the Guld of Mexico poor onto a local road, Monday, Sept. 14, 2020, in Waveland, Miss.
(AP Photo/Gerald Herbrt)
(.) Organize your emergency supplies.
(.) Keep a portable radio handy.
(.) Prepare your home for flooding. Elevate utilities, such as electrical panels, switches, and appliances.
The Harford also advises not walking in moving water. It's easy to fall and be swept away.
Also, don't return home too soon. Make sure your home is structurally sound before you go back inside.
Source: Read Full Article