Black Feminism Takes Root in This New Documentary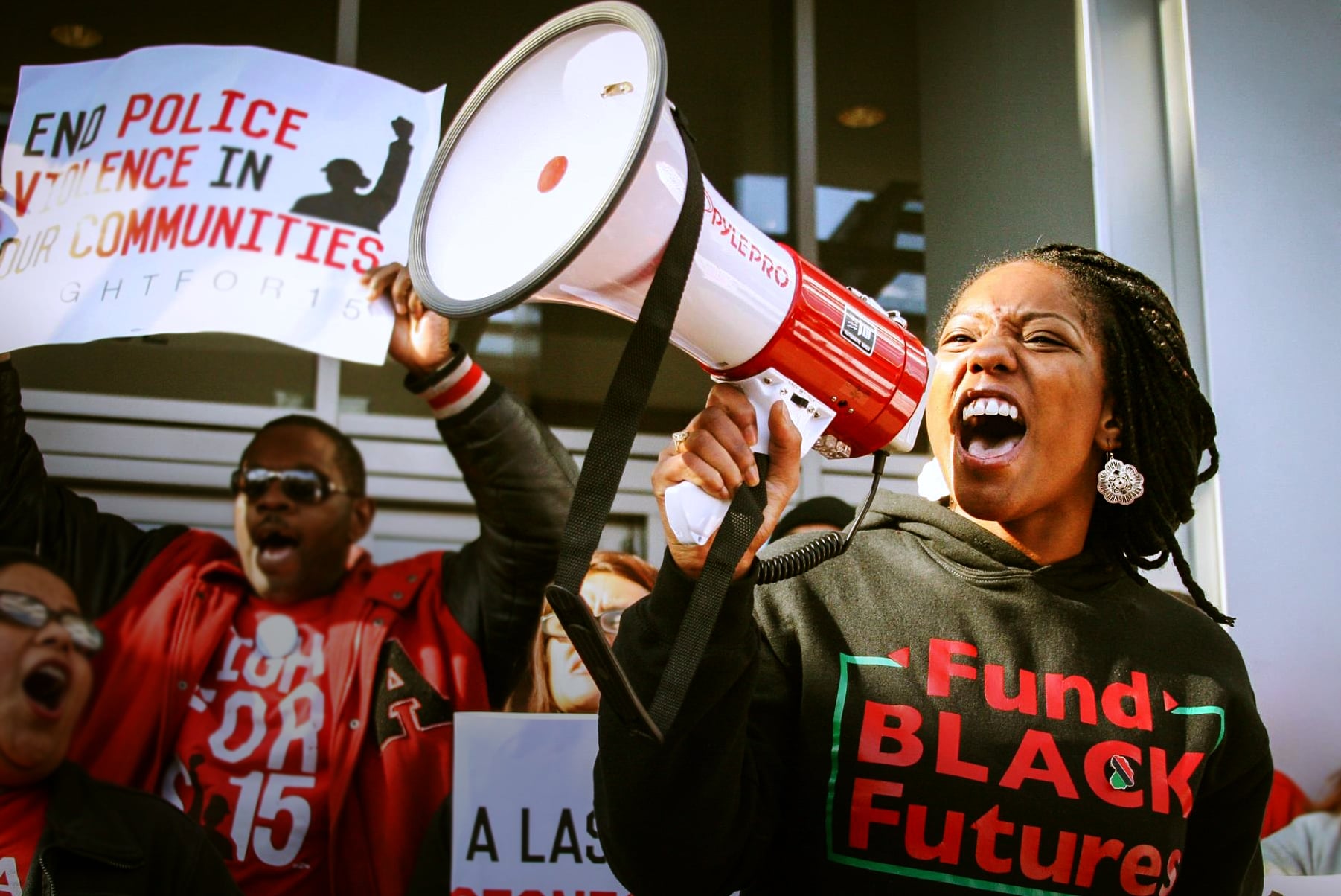 Janaé Bonsu in a scene from Unapologetic.
It may be a new year, but the fight for racial equality continues on. If you were committed to being a better activist and/or ally last year, the fight to educate yourself shouldn't have ended in 2020. Unapologetic is an educational and emotionally captivating documentary everyone concerned with racial justice should watch. The film outlines the experiences of two Black activists, Janaé Bonsu and Bella BAHHS, organizing for a better future in Chicago.
This documentary presents the Black Lives Matter movement from the Black feminist perspective and shows how advocacy for Black lives oftentimes falls short when it comes to Black women and Black queer bodies. After the death of Rekia Boyd, the documentary explores the call from the Black community in Chicago for their administration to do better to protect them and regulate those who abuse the law and its citizens. In a touching scene from the documentary, Chicagoans of all ages, ethnicities, and genders are seen holding hands, chanting, "We're taking back our community," demanding public accountability to better the place they call home. It's been almost a year since Breonna Taylor was murdered in her sleep. Trans women Dominique "Rem'mie" Fells and Riah Milton were also brutally murdered last year and have also not received justice.
Unapologetic director Ashley O'Shay says crimes against Black women and Black queer folks "aren't of any lesser value or less brutal than the cases against men sometimes. So we have to continue to expand what our lens is, because if we are just keeping a focus on men or moving in the same way as larger society, when we reach those shifts and changes, Black women and trans are going to be left out of the conversation."
The intersectionalities of Black Lives Matter are similar to other Western movements rooted in a patriarchal society — women come secondary. Women of color and queer individuals are even less protected and cared for, despite these groups being strong leaders in these cultural movements. This is a major theme throughout the documentary, Bonsu noted. "I think in general the issues we're fighting in Unapologetic aren't new. It's just to highlight the people who are driving this movement, which are Black and Black queer and trans folks. [It] teaches us we have to make room for new leadership that leads with our values and helps the most marginalized."
Although filming began in 2015, its themes are unfortunately still relevant now more than ever. It acknowledges the complex institutional political structures in place but adopts the spirit of those fighting for equality for all Black lives. "I think that the current BLM moment and ongoing fight we're seeing from organizers and on the ground is an act of resilience," O'Shay said. Through this act of resilience, Unapologetic demonstrates the joys of being Black in America and the importance of shifting away from sensationalized narratives and brutal visuals only. "It's just as important to see yourself as a joyful person. The nuance and the depth of the movement of Black lives. It's really a movement rooted in love about how we love our people so much and our community members so much that we'll fight for them over and over again. So we really wanted to get back to that root."
Unapologetic streams live on Saturday, Jan. 16, at 8 p.m. ET with a Q&A to follow. Buy your tickets here.
Source: Read Full Article