'All I can do is say: Did you?' Trump pledges to ask Putin about 2016
Brussels: President Donald Trump pledged on Thursday that he will "of course" raise the issue of Moscow's interference in the 2016 election at his Monday summit with Russian President Vladimir Putin, but he said he has little recourse if – as expected – Putin denies that Russia interfered.
"Look, he may. What am I going to do? He may deny it," Trump said at a news conference on the second day of a NATO summit. "All I can do is say, 'Did you?' And, 'Don't do it again.' But he may deny it."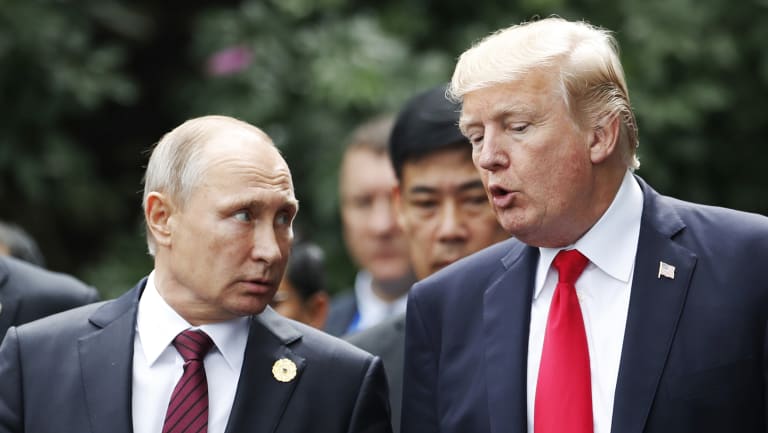 US President Donald Trump and Russia\'s President Vladimir Putin talk during the family photo session at the APEC Summit in Danang, Vietnam.
Trump continued to strike a friendly tone toward the Russian leader, calling him a "competitor" rather than a US enemy – while declining to label him as a security threat to the United States or European nations.
"Somebody was saying, is he an enemy? He's not my enemy. Is he your friend? No, I don't know him very much," Trump told reporters on Thursday. "Hopefully, someday, he'll be a friend. It could happen."
Throughout his presidency, Trump has avoided admonishing Putin, even though US intelligence officials concluded that Moscow interfered in the 2016 election to sow discord and help Trump win.
Trump resents that many of his advisers have told him not to meet with Putin, two White House officials said. He continues to tell senior aides that he can have a good relationship with Putin and that Russia's involvement is needed to address Syria, China and other world problems.
Vladimir Putin, meets John Bolton in Moscow on Wednesday.
National security adviser John Bolton, who has taken a leading role on Russia policy, has a more jaundiced view of Putin, according to these officials.
"I don't mind him having a friendly personal relationship with Putin as long as it's understood that Russia will pay a price," Senator Lindsey Graham said. "Without any hesitation, we have to reject Putin's denial."
Republican Senator John McCain was more blunt.
"Putin is not America's friend, nor merely a competitor. Putin is America's enemy — not because we wish it so, but because he has chosen to be," he said.
"It is up to President Trump to hold Putin accountable for his actions during the meeting in Helsinki," McCain said in a statement. "Failure to do so would be a serious indictment of his stewardship of American leadership in the world."
Trump has touted the summit as an opportunity to reduce tensions, inflamed by Russia's annexation of the Crimea peninsula from Ukraine in 2014, its military backing of Syrian President Bashar al-Assad, which turned the tide of the Syrian civil war in 2015, and accusations of Russian meddling in the 2016 US election.
US lawmakers want Trump, both privately with Putin and publicly, to condemn Russia's actions.
Congress has taken a hard anti-Russia stance, nearly unanimously approving last year a tough sanctions law targeting Moscow. But lawmakers worry Trump will fail to take Putin to task, particularly over the election meddling, which the Russian leader has denied.
US intelligence agencies concluded that Moscow interfered in the US election of 2016 and Trump has said he would discuss it, although he has stated both a willingness to believe Putin's denials and US agencies. Trump has described a special counsel investigation into possible collusion between Trump campaign aides and Russia as a political witch hunt.
Russian President Vladimir Putin plays with his dog
"Our goal must be to demonstrate to the world that the community of democratic nations does not intend to accede to Putin's or any other authoritarian's view of the world. We will resist Russia's aggression," Democratic Senator Mark Warner and Republican Senator Marco Rubio said in an op-ed in USA Today on Thursday.
Senior Trump administration officials also have voiced fears about what he might give Putin to the detriment of allies in Europe, especially after seeing how Trump appeared to get only vague commitments from North Korean leader Kim Jong Un at their June 12 summit in Singapore to discuss denuclearization.
Trump declared that he had ended the nuclear threat from North Korea, but one senior US official, speaking on the condition of anonymity, said: "Who's to say he won't come out of Helsinki saying he and Putin agreed that Russia no longer poses a threat to the rest of Europe?"
During his 35-minute news conference shortly before he left for London, Trump also insisted that other world leaders gathered here expressed "just the opposite of concern" about his pending meeting with Putin.
"They actually thanked me for meeting with President Putin," Trump said. "They thought it was a great thing that I was doing it, and they gave us . . . their best wishes."
Washington Post, Reuters
Source: Read Full Article