Europe invokes old 'Cuba rule' in bid to save Iran nuclear deal
The European Union has taken action to try to prevent the collapse of the Iran nuclear deal, adopting a new rule banning European companies from complying with US sanctions and allowing the European Investment Bank to fund projects in Iran.
But it will leave many companies with a painful choice whether to follow EU or US rules on doing business with Iran.
Replay
The decision by the European Commission, the EU's executive body, is provisional as it requires approval from the European Parliament and the heads of EU member states.
However, it is a strong signal of the EU's desire to rescue the crumbling 2015 nuclear deal, a day after Tehran announced plans to increase its uranium enrichment capacity with new centrifuges.
"The European Union is fully committed to the continued, full and effective implementation of the [Iran nuclear deal] so long as Iran also respects its obligations," it said in a statement on Wednesday after a meeting of senior EU commissioners in Brussels.
The commission also endorsed a decision to impose new import duties of up to 50 per cent on a long list of US products – including corn, rice, fruit juice, bourbon whiskey, tobacco products, clothing, shoes, trucks, motorcycles, boats, homewares, beds, washing machines, jewellery and makeup – as part of the EU's response to the US tariffs on steel and aluminium products.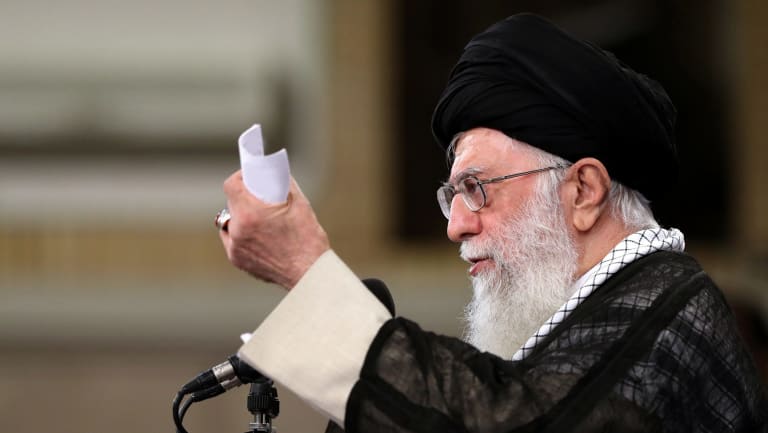 Iranian supreme leader Ali Khamenei speaking during a meeting with Iranian government on conditions for following a nuclear deal with European countries.
It marks a new low in EU-US relations, strained by US President Donald Trump's changes to US foreign policy on trade, the environment and the Middle East.
But the commission insisted it was still "committed to maintaining cooperation with the United States, who remains a key partner and ally".
'Blocking statute'
The so-called "blocking statute" is a 20-year-old law originally drawn up to resist the US embargo against Cuba.
It orders all EU citizens and companies not to comply with the US embargo, under threat of unspecified punishment.
A woman passes by a showroom selling foreign cars in Tehran. Big European companies are weighing whether to rapidly end operations in Iran in line with US sanctions.
But companies will face a tough choice of which law to comply with; a choice that may have a significant effect on their business.
The US has been pressing European companies to respect its decision to re-impose economic sanctions against Iran.
In May, its new ambassador to Germany, Richard Grenell, tweeted that "German companies doing business in Iran should wind down operations immediately".
Airbus, which has a deal to sell aircraft to Iran worth $32 billion, has announced it would comply with the US sanctions, Politico reported. Other companies reportedly pulling out of Iran include French car maker PSA, which produces Peugeot and Citroen, and French energy company Total.
The commission also updated the European Investment Bank's lending mandate to make Iran eligible for investment, though it does not commit the bank to actively supporting projects in Iran until the Parliament and council have approved the decision.
The move was intended to reassure companies that had been covered by European banks, which had been expected to also withdraw from Iran to protect their US business.
Russia and China have also reaffirmed their commitment to the Iran deal.
However Iran has outlined plans for new centrifuges. Under the nuclear agreement of 2015 it can build and test some centrifuges, under strict restrictions for 10 years.
Ali Akbar Salehi, head of the Atomic Energy Organisation of Iran, said the move "does not mean that we will start assembling the centrifuges' and his country's actions "do not mean the negotiations [with Europe] have failed".
The new duties against US products valued at €3.6 billion ($6 billion) will come into effect in July.
The tariffs and the Iran deal are likely to be divisive topics at this week's G7 summit in Canada.
G7 negotiators are reportedly hard-pressed to formulate the joint statement that the group usually releases after its annual meeting, as it seems unlikely they will find common ground on big issues except in the most vague of terms.
Source: Read Full Article