'I've just had a bit of a cry': Elation for fans as Saints win first final in a decade
Fans of the St Kilda football club have been through some dark times since the ball bounced sharply away from Stephen Milne in 2010's drawn grand final, depriving the club of its first premiership since 1966.
The club has only won one finals match since that day and has often languished at the bottom of the ladder.
St Kilda supporters Sarah Medcraft, Maria Grant and Meaghan Medcraft at their Parkdale home.Credit:Simon Schluter
When the Western Bulldogs' Caleb Daniel kicked a goal late in Saturday's twilight elimination final to put the dogs within a goal of St Kilda with two minutes left, Saints fans thought history was repeating.
"We were at that drawn grand final and all the emotions just came back," Sarah Medcraft said.
"It was just a massive relief it went our way this time."
Ms Medcraft, 37, chalked up the win to the Saints' midfield and the performance of veteran ruckman Paddy Ryder.
Not content with the knockout finals win, Ms Medcraft is hoping the side goes all the way under new coach Brett Ratten, who will lead his team against a Richmond side smarting from a loss to Brisbane.
"I just hope they do it and make us all proud," she said.
Katherine Pseftoudis could not hold back her elation when called by The Age minutes after the match at the Gabba.
"I've just had a bit of a cry. There was just so much going on in the last two minutes. It was so intense and emotional," she said.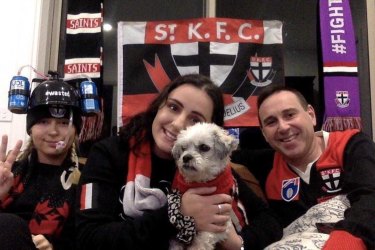 Katherine Pseftoudis said during the Melbourne lockdown, the game gave her something to look forward to.
"I feel like a lot of things go against St Kilda," she said, referencing, among other things, the drawn grand final and a Geelong goal against the Saints in the 2009 grand final that hit the post and should have been disallowed.
"To have something go our way was just unbelievable.
"Despite the umpires, the whole team just played collectively and maintained momentum."
The 22-year-old said the Saints stellar 2020 form, after a 14th place finish last year, had provided enjoyment and hope to Melbourne-based fans during the long and locked down winter months.
"We used to watch games and fear the worst. This year, the boys have turned it around and we now look forward to games which we haven't done in nine years," she said.
"In lockdown in Melbourne, it's been something to look forward to."
Most Viewed in National
Source: Read Full Article