Could Nurul Izzah be the first Malaysian woman to lead the nation?
Kuala Lumpur: It's 6.30pm on Wednesday evening and I'm sitting in the back seat of a Mazda people mover, in the carpark of a rehabilitation hospital, when the woman who could one day be Malaysia's first female prime minister fixes me with her iron gaze.
"If they are psychologically sound, why would anyone want to be prime minister?" Nurul Izzah Anwar asks, semi-rhetorically, before breaking into a smile.
Nurul who?
To the extent that Australians follow Malaysian politics, they might recall Mahatir Mohamad, the former prime minister Paul Keating labelled "recalcitrant" more than two decades ago.
Nurul Izzah Anwar at the rehabilitation hospital in Kuala Lumpur to visit her father, Anwar Ibrahim.
Current prime minister Najib Razak might also be familiar. At a stretch, the former deputy PM-turned-opposition leader Anwar Ibrahim, twice-jailed on trumped up sodomy charges (by Mahatir and then Najib), may also ring a bell.
Nevertheless, I'm in Kuala Lumpur to report on Malaysia's 14th general election, which will be held on May 9.
The poll could fundamentally reshape the political landscape of Malaysia, a close ally of Australia that has been ruled by the same governing coalition since independence from Britain in 1957.
The opposition Pakatan Harapan (Alliance of Hope), of which Izzah is a member, is desperately hoping that general election 14 will finally be a 'change' election.
The reality is it probably won't be.
The lessons of the 2008 election, when the government lost its two-thirds majority, and then the 2013 election, when it lost the popular vote (but still won a handy majority in the parliament because of a gerrymander) still sting.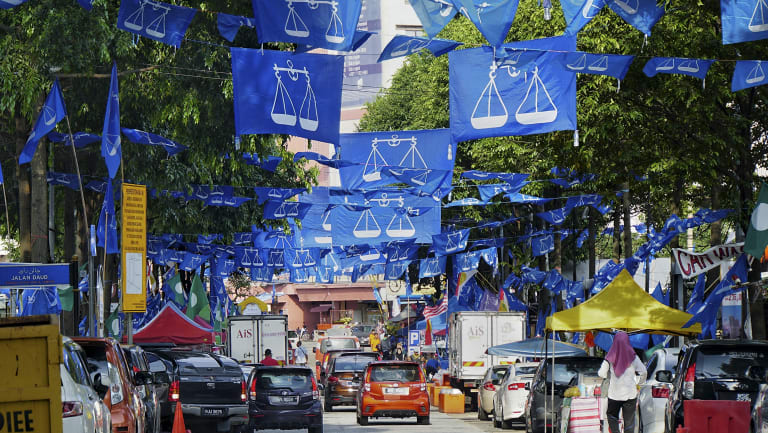 A street in Kampung Baru – Kuala Lumpur, Malaysia, covered by Barisan Nasional party flags and banners. Some banners were printed in China. 24 April 2018.
Najib's Barisan Nasional coalition has passed new "fake news" laws, had the Electoral Commission tweak the gerrymander, is holding the poll on a Wednesday (to suppress voter turn out, the opposition argues) and is handing out election year sweeteners.
Arrayed against him is Najib's mentor, the 92-year-old Mahatir – prime minister for 22 years – who has come out of retirement and teamed up with his his still-detained former deputy Anwar, Anwar's wife Wan Azizah Ismail (Izzah's mother), who is the deputy opposition leader, to defeat the incumbent.
Mahatir has even promised he will stand aside and allow Anwar to be PM if the opposition wins (yes, the same guy he had put in jail for the first time, 20 year ago, after they fell out).
Despite being damaged by the 1MDB wealth fund scandal, most pundits believe Najib is in the box seat to hang on.
Which will mean another five years of Barisan Nasional government.
And in five years time, when the next election is due, Mahatir will be 97 (and, surely, back in retirement), while Anwar will be 76 years old.
Which means the opposition may well be looking for a new leader.
Which is why I ask Nurul Izzah, five times, if she wants to be prime minister one day.
The 37-year-old, a Johns Hopkins-educated Masters graduate, devout Muslim and divorced mother of two who has already served ten years in parliament, is avoiding the question.
She's a democrat, is pro-free markets and free trade, favours a progressive taxation system and is a strong advocate for improving education.
"We are deeply concerned about issues of social justice, it's important Australians understand that," she adds.
Izzah, as she calls herself, also wants to get out of her car and head into the hospital to see her  Dad, Anwar Ibrahim.
Anwar has been allowed out of jail to have rehabilitation following surgery that has failed to mend damage done to his right shoulder when his prison van was involved in a crash several years ago.
After 45 minutes in KL traffic, the clock is ticking down on our interview.
"Oh my goodness, I'm just trying to survive in my seat bro," she jokes.
Izzah is standing in a government-held rural seat, because the Electoral Commission recently moved 7800 government-voting police officers into her current seat, which she holds by just 1800 votes, making it virtually un-winnable.
"I'm 38 this year. I think it takes an entire generation to move Malaysia to where it has to be, it can't just be one person. And we have been so reliant on personalities for so long. I mean the fact that we have Mahatir today [as opposition leader] is a testament to how much talent has been destroyed."
"I want to be part of Malaysia's future, I want to design Malaysia's future.
"Since 18 [the year her father was jailed for the first time and she entered politics], I wanted to realise reforms. So you just go along, you have children, you realise how important it is for their future. So to that end, I'll do what I can."
Like every good politician, Izzah has said a lot, but she hasn't really answered the question.
Finally, she allows that she does carry a leadership baton in her backpack, but hastily adds that "everyone should" and that "no one is a silver bullet"
She fervently believes democratic change will come to Malaysia, eventually.
"Twenty years in the political wilderness is testament to the fact that we are here and we are going to stay."
While Malaysia's opposition may well fall short of victory in GE14, Izzah predicts that "whatever happens, there is no turning back" from democratic reform.
Given the gradual pace of reform in Malaysia, by the time democratic change does come the current generation of political players may well have all departed.
Don't be surprised if it's Nurul Izzah out front, leading the charge.
Source: Read Full Article