In Paris, the more things change, the more they stay the same
In February 1981, I visited Paris for the first time. I was in my early 20s, travelling alone with a backpack, sticking to a budget. In May this year, I returned with my wife, Kerry. We stayed somewhere nice and ate out every evening. A lot about this visit was different. But Paris was much the same. You get a sense of stability when there's a 17th-century church in the same street as your hotel. And the Jardin du Luxembourg was a five-minute walk away and reassuringly familiar.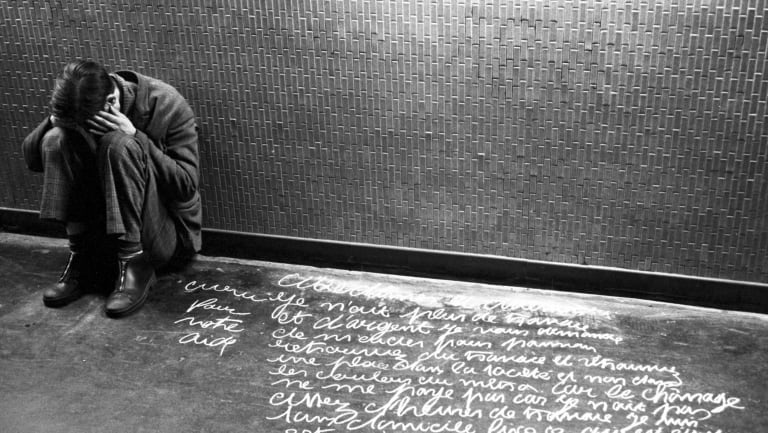 The Rollei's shutter is almost silent. Yet the beggar heard it. He leapt to his feet, yelling. I ran off, feeling terrible. "Beggar with screed written with chalk"; Metro tunnel, February 1981.
One other thing hadn't changed. I had the same camera with me. It's a Rollei 35, made in West Germany. Not much bigger than a cigarette packet; just large enough for a roll of 35mm film. Easy to tuck into a pocket and very quiet. It was dubbed a spy camera when the first model appeared in the mid-1960s. But it has a fine lens and can take good pictures – assuming you've mastered the small dials controlling aperture, shutter-speed and focus. And then can be bothered developing the film.
My Rollei, almost 50 years old, came from my father, who would excuse the purchase of a new camera for himself by passing on to me one of his old ones. A photographer friend has told me that the quality of digital cameras is now so good the only reason to persist with film is nostalgia. Yet the Rollei came to Paris. And not just because of perverse stubbornness, making picture-taking more complicated than it has to be.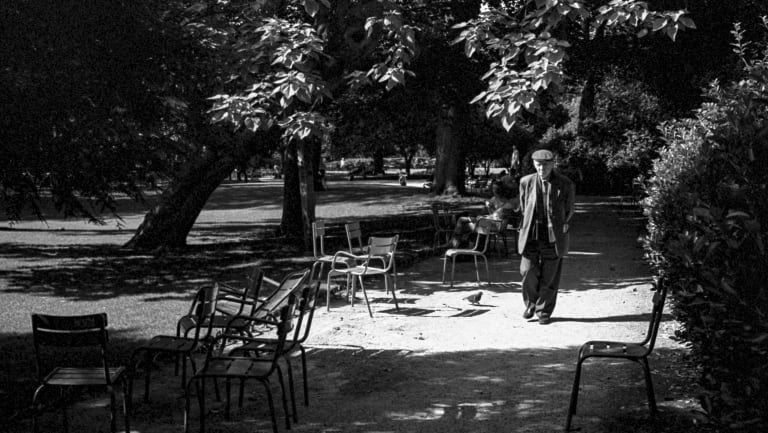 "Stylish man in cloth cap"; Jardin du Luxembourg, Paris, May 2018.
I was revisiting places I'd loved 37 years ago. Some of the photographs from the first trip are still up on walls at home. I have wondered if I was taking better photographs back then than I do now. One way to test this theory was to return to the Luxembourg Gardens with the same camera, loaded with a 36-shot black-and-white negative film.
Some aspects of photography were less problematic in 1981. Children feature in those early Paris photos. But taking pictures of kids is now fraught with danger. One of those early Paris pictures (pictured) taught me a lesson, too. It shows a beggar in a Metro tunnel, alongside a screed written with chalk on the ground. The Rollei's shutter is almost silent. Yet the beggar heard it. He leapt to his feet, yelling. I ran off, feeling terrible. Nothing about the photo hints at the ensuing hostility. This time, I bypassed beggars and was careful when kids were around.
Travelling alone in 1981 taught me that a camera can be fine company. Also a shield. I still believe it's best to take pictures on your own, however patient a partner might be. There's too much pondering and waiting involved. Especially somewhere as photogenic as Paris. And so, although I couldn't resist a bald man in a cafe one morning, almost all my recent pictures were taken during solo walks.
And most were taken in the Luxembourg Gardens, which date back to 1612. Public spaces tell you a lot about a city. Try to imagine New York without Central Park. Or London without Hyde Park. One of many magical things about the Luxembourg Gardens, besides the fountains and statues and beautifully laid-out trees, is their popularity with locals. Tourists visit, of course, but they're often outnumbered by Parisians.
Parisians playing longue paume, an ancestor of tennis, on a marked-off area without a net. Or more conventional tennis, on fenced-off courts. Sailing toy boats on a pond identical to how I remembered it. Playing pétanque – a different generation of men, and also a few women, from those I'd seen in 1981. Kids back then didn't have skates as sophisticated as they do today. And phones are now everywhere. More people peer at phones than read Le Monde. But the statues haven't changed. Nor the certainty of encountering people with dogs.
Did I take anything with the Rollei I couldn't have managed with my sophisticated digital camera? Hard to say. People don't find it intimidating. So perhaps I had an element of surprise. There's certainly always a degree of mystery when using film. Digital technology allows instant review; I didn't know what the Rollei had captured until I came home and got out the toxic chemicals. Just as I had in the 1980s.
Something else remained the same: a sense that, whenever there was one element missing in a composition, I didn't have to wait long to find it. A favourite shows an elegant Frenchman (pictured) with a cloth cap and magnificently baggy trousers, obligingly strolling into a patch of sunshine in the gardens. He saw me standing there and didn't seem fussed. It was as if all that trouble he'd taken getting dressed to go out was being acknowledged. We exchanged polite nods. Much better than being chased by a beggar.
To read more from Good Weekend magazine, visit our page at The Sydney Morning Herald or The Age.
Source: Read Full Article