11 slicked-back hair essentials to help you achieve the perfect heatwave hairstyle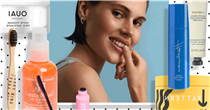 All products on this page have been selected by the editorial team, however Stylist may make commission on some products purchased through affiliate links in this article
Looking for an easy, effortlessly chic summer hair look? Introducing the slicked back hair look. Plus, we run the through the products essential to recreating the look.
Heatwave hair. It's a topic that's been on our minds lately. How do we balance creating a look with minimal effort that also keeps hair out of our face when we're out and about and working? If you're familiar with the Instagrams of Bella Hadid, Selena Gomez and beauty influencer Jess Hunt, you'll know the answer lies in one very chic look: slicked back hair.
We're talking sleek, shiny hair with minimum volume that stays at bay in humidity and heat. And, let's be honest, this is as easy as it gets. Whether it's applying a cream to damp hair and giving it a simple blow dry, oiling your hair or using a gel or pomade at the final stage after washing to create a style that tucks into a bun or just tucked behind ears, this is the exact look you'll want to craft. As for the products you'll need to create the look? We've rounded up 11 of the best products to help tame flyaways and stick down hair when it's heating up. 
You may also like
Dopamine beauty is the latest trend you'll want to use to add colour to your make-up routine
Scroll down to explore the slicked back hair essentials you'll want for yourself this summer…
Slick Hair Co Slick Stick

Slick Hair Co Slick Stick

Aussie beauty label Slick Hair Co's hero product, this slick stick aims to tame flyaways without leaving hair crunchy. Thanks to its brush applicator, it's easy to apply as well.

Shop Slick Stick at Slick Hair Co, £15

buy now

Cantu Shea Butter for Natural Hair Extra Hold Edge Stay Gel

Cantu Shea Butter for Natural Hair Extra Hold Edge Stay Gel

Ideal for those with curly, coily or wavy hair, Cantu's moisturising extra hold edge stay gel is great at conditioning hair without weighing it down.

Shop Cantu Shea Butter for Natural Hair Extra Hold Edge Stay Gel at Boots, £4.66

buy now

Pattern Strong Hold Gel

Pattern Beauty Strong Hold Gel

One of the initial products launched by Tracee Ellis Ross's beauty brand, Pattern, this strong hold gel is great for creating a wet hair look, while also nourishing hair, thanks to its sea moss, aloe vera and chia seed formula. Apply it on wet or dry hair and you're good to go.

Shop Pattern Strong Hold Gel at Boots, £25

buy now

Bouclème Unisex Curl Styling Gel

Bouclème Unisex Curl Styling Gel

Looking for long-lasting definition? Whether you have curly, coily, wavy or straight hair, this translucent gel has a medium to strong hold, so you know your hair will stay put all day long.

Shop Bouclème Unisex Curl Styling Gel at Lookfantastic, £22

buy now
Larry King Hair Flyaway With Me Kit

Larry King Hair Flyaway With Me Kit

From one of the industry's most respected hair stylists, Larry King, this kit has everything you could possibly want to sculpt your up-do, including the multi-tasking A Social Life For Your Hair cream, known for its hair smoothing quality, as well as dual-ended bamboo brush to slick back different thicknesses of hair with ease.

Shop Larry King Hair Flyaway With Me Kit at Cult Beauty, £19

buy now

JVN Hair Complete Air Dry Cream

JVN Hair Complete Air Dry Cream

Hair styling maestro Jonathan Van Ness's JVN Complete Air Dry Cream does it all: smooths hair down, protects from UV damage and, crucially, humidity. Its nourishing formula contains chia seed and linseed extract as well as hemisqualene to reduce the risk of breakage.

Shop JVN Hair Complete Air Dry Cream at SpaceNK, £21

buy now

OUAI Matte Pomade

OUAI Matte Pomade

If there's a hair styling wax you should trust, it should be OUAI's Matte Pomade. This cream is fortified with oil-absorbing kaolin clay, so you're not left with a greasy scalp or strands by the end of the day.

Shop OUAI Matte Pomade at Lookfantastic, £16

buy now

Hershesons Almost Everything Cream

Hershesons Almost Everything Cream

Beloved by beauty editors, Hersheson's Almost Everything Cream is lauded for its ability to do, well, everything. This mid-weight cream moisturises, smooths hair, texturises if styled appropriately and acts as a great primer for styling, whether you're using heat or not. 

Shop Almost Everything Cream at Hershesons, £12

buy now

Bumble & Bumble Hairdresser's Invisible Oil

Bumble & Bumble Hairdresser's Invisible Oil

Another beauty product beloved by industry insiders, Bumble & Bumble's oil is made from a nourishing, shine-inducing blend of six oils to help soften, silken and protect strands against damage. Smooth through one pump into dry hair for added shine, or work into damp hair before styling.

Shop Bumble & Bumble Hairdresser's Invisible Oil at Beauty Bay, £35

buy now
Hair by Sam McKnight Modern Hairspray Multi-Tasking Styling Mist

Hair by Sam McKnight Modern Hairspray Multi-Tasking Styling Mist

If you swear by hairspray to keep your hair in one place, but want a product that doesn't feel sticky or crispy, look to this Modern Hairspray by respected hair stylist Sam McKnight. The added benefit of this hairspray is that it's great to use before styling, so if you want to go back to your look and rework, you can. 

Shop Modern Hairspray Multi-Tasking Styling Mist at Hair by Sam McKnight, £22

buy now

Centred Unwind Detangling Hair Primer

Centred Unwind Detangling Hair Primer

When you're on the hunt for something to detangle your hair, Centred's Unwind Detangling Hair Primer has got you covered. Enriched with nourishing vitamin E, this spray hydrates, detangles and provides heat and UV protection. Spritz onto damp hair from mid lengths to ends and style as desired.

Shop Unwind Detangling Hair Primer at Centred, £18

buy now
Images: courtesy of brands
Source: Read Full Article