This £16 pre-toning hair primer reminded me of the blonde highlights I forgot I had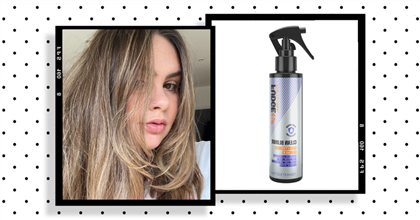 Fudge's new easy-to-use spray-in pre-wash treatment works in just a couple of minutes – and no, it's not too good to be true, says freelance beauty editor Lucy Partington.     
One thing to know about me is that, despite how much I love having a skincare routine, the same can't be said about my hair. I've never found my holy grail shampoo or conditioner, I never learnt how to care for my natural curls, I don't use heat protection spray despite using a hairdryer/straighteners/curlers on it most days (I know, I know, sorry) and, in my 32 years of life, I've dyed it almost every colour you can imagine. 
From at-home purple and red box dyes to professional balayage and all-over blonde – you name it, I've probably had it done. To be honest I treat my hair with such a small amount of care it's a wonder I still have a decent head of it…
Most recently I had some blonde highlights put through it. I wanted to go lighter for summer without any commitment, so having subtle colour was a great way to compromise. Fast forward a few months and, I'll be honest, I actually forgot my hair was supposed to be lighter. A mix of living in London (where I no doubt douse myself in a layer of pollution every time I dare leave the house) and washing my hair in hard water means that regular toning of blonde is more necessary than I'd like. And yet, I hate using purple shampoo.
I hate that it gets everywhere, that it's a faff, that I have to leave it on for a few minutes longer than my regular products (call me impatient, but shower minutes feel so much longer than regular minutes, am I right?). And, really, I guess it doesn't help that I haven't found one that I love enough to not be annoyed about any of those things.
Lucy's hair before (left) and after (right) using Fudge Clean Blonde Pre-Toning Prime
The answer? I just don't use it, but as a result the blonde in my hair gradually turns so dull that it all but disappears into my naturally brunette hair. But a couple of weeks ago, a new product dropped through the letterbox that I thought could be the answer to my brassy dreams: Fudge Professional Clean Blonde Pre-Toning Primer, £16. 
A treatment that's sprayed into dry hair before washing, it promises to brighten and freshen up blondes. Using the brand's so-called CopperCleanse technology, it works to target and remove copper build-up, which is found in hard water and is one of the main causes of distorting and fading salon colour.
Call me cynical but I genuinely didn't expect much from it – I'm not sure why – but safe to say I was very pleasantly surprised. After using it and washing and styling my hair as usual, I felt like there was a new lease of life in my locks. It was like I'd just left the salon again, the colour had been revived, the ends were lighter, the sunkissed highlights returned and it had a shine to it that I hadn't seen for a long time. I even had friends ask me if I'd had my colour done again which is only proof you need that this product works, right?
You may also like
The best purple shampoos for keeping your blonde hair bright and brass-free
How do you use a Fudge toner?
Following the instructions, I liberally sprayed my dry hair until it was pretty much saturated all over. It was easy to apply and the spray mechanism makes it easy to use – I just parted and separated my hair to make sure each strand was covered. 
My only slight red flag, though, is that I think I used quite a lot of product on my first use, and although 150ml seems like a decent amount, I'll likely get through it quite quickly. But then I do have quite a lot of hair to cover which, really, is half the issue here. It's also worth noting that the instructions say to follow up with a purple shampoo, but I didn't and still got impressive results – all without any purple staining on either my hands or all over my bathtub and that's a win in my eyes.
How long do you leave Fudge toner on?
OK, this is where the magic really comes in: it only needs to be left on for two minutes! 120 seconds! Before being rinsed out. 
Helpfully, I couldn't remember if the instructions said to rinse hair before shampooing or not, so I kind of wet my hair a bit and then shampooed it, which seemed to work quite well. I don't remember that my hair felt particularly dry or 'squeaky clean' which is what happens when I've used purple shampoos in the past (and something else that puts me off using them), and instead the only trace it left was in my lighter, fresher-looking hair.
I'm scoring this primer a solid nine and a half out of 10 – but if Fudge Professional brings out a bigger size, or refill pouches, it'll be a 10 out of 10 for me.
Fudge Professional Clean Blonde Pre Toning Primer

Fudge Professional Clean Blonde Pre-Toning Primer

Shop Fudge Professional Clean Blonde Pre-Toning Primer, £16 at BeautyBay

buy now
Main image: Fudge Professional / Lucy Partington
Source: Read Full Article