Brooke Bailey Appears to Reveal Second Victim of Car Crash That Killed Her Daughter Kayla

According to a new report, the 'Basketball Wives' star's 25-year-old daughter and another passenger, a male driver, were traveling in Memphis, Tennessee when they were involved in a collision with a tractor-trailer.
AceShowbiz –Brooke Bailey has seemingly paid tribute to a second victim of a car crash that killed her daughter Kayla Nicole Bailey. Among a bunch of re-posts of messages she received from people expressing their condolences for her loss, the reality TV star has posted a picture of a young man with a caption that read, "Rest in power."
In the image, the man sported a pink hoodie and black pants with matching pink sneakers. The identity of the man remains unclear as Brooke neither mentioned his name nor tagged his social media account.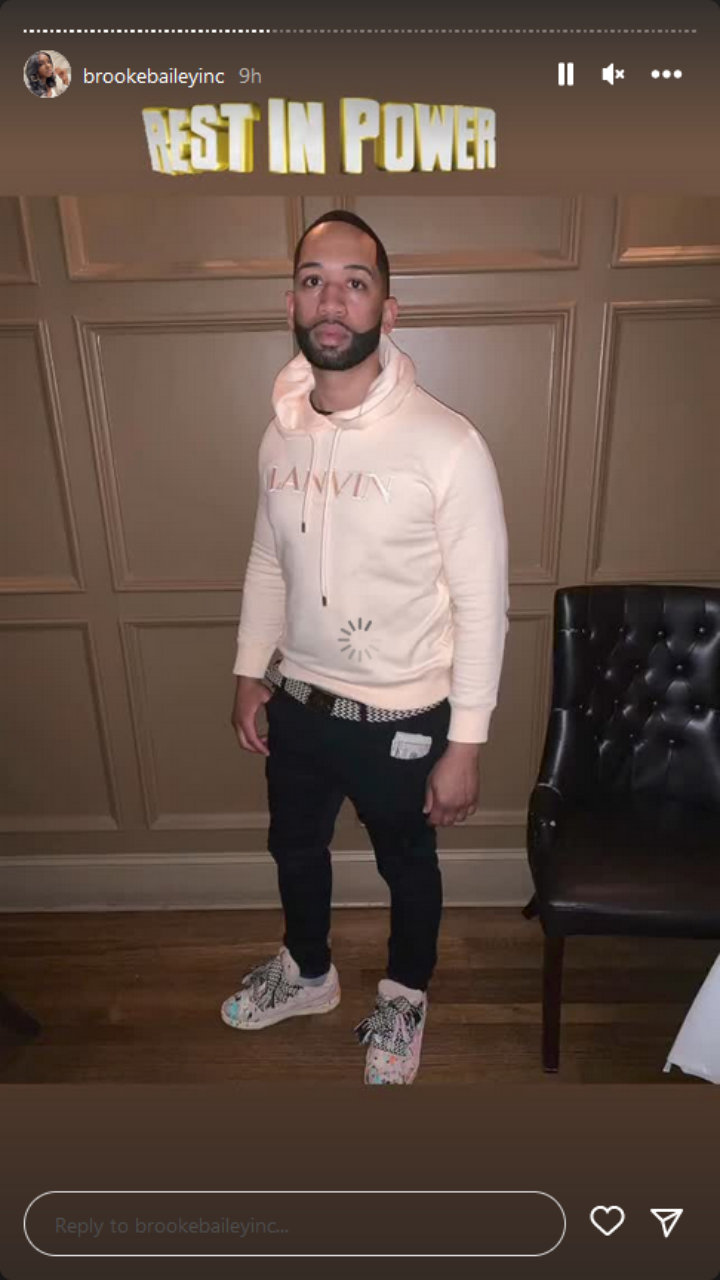 Brooke Bailey seemingly paid tribute to a second victim of a car crash that killed her daughter.
Kayla was indeed not alone during the fatal car crash. According to a crash report obtained by The Shade Room, the 25-year-old was traveling with one other passenger, a male driver, on early Sunday morning, September 25 when the accident took place.
The Mercedes Benz S550 that carried them collided with a commercial tractor-trailer at around 3:17 A.M. It's noted that the Mercedes was traveling 65 miles per hour when it hit the tractor-trailer from behind. Kayla and the driver were both wearing seat belts during the impact, but they did not survive.
Hours before the accident, Kayla updated her Instagram Stories, showing that she was out and about with her friends. She was seen in a nightclub with a friend named Gabby, who was seemingly celebrating a birthday.
Meanwhile, tributes continued to pour in from those who knew Brooke and Kayla. "Basketball Wives", on which Brooke has starred, posted on Monday, "We are deeply saddened to hear about the loss of Brooke Bailey's daughter Kayla. Our hearts go out to Brooke as well as her family and friends during this very difficult time."
Nicki Minaj was among the mourners, writing on her Instagram Story along with a picture of the mother-daughter duo, "I can't begin to understand what your heart is feeling right now. May your angel rest in perfect peace."
Kayla's best friend, who goes by @syinthecity on Instagram, shared a video reel compiling photos and footage of their moments together. "Truthfully I'm speechless best. It broke me into pieces getting that call this morning," she remembered her late friend, who was also known as "Pretty Black".
"Ms.PrettyBlack the Barbie. Best im so so so so so so so sorry that this happened to you, young, beautiful, sweet soul. I love you so much baby," the girl, who lovingly called Brooke "mom," continued. "Growing up mom protected us from accidents like this best just We grew up together, we shared everything, we went to college together, Mom took me in, I spent holidays with you man I can go on best."
"You always knew how to show your love for the ones you loved. And that's what made us click the most our affection & love for others," she went on writing in the caption. "Watch over me please & protect me May you rest in paradise baby @realkaylaaaa I love you mami. See you soon baby @brookebaileyinc mom THANK YOU for all and everything you did for me & always treating like your 2nd daughter . I love you and praying for you and the family."
Brooke confirmed her daughter's passing on Sunday. Along with pictures of her late daughter, she heartbreakingly wrote, "Forever my baby, Pretty Black aka Kayla Nicole Bailey. This is not a goodbye. Mommy will see you soon." She has also changed her bio to include a tribute to Kayla, writing, "Kayla Nicole Bailey 3/2/97 – 9/25/22" along with a purple heart and dove emoji.
On her Instagram Stories, Brooke thanked those who have been sending supportive messages to her. "My baby girl is so loved by all of you," she wrote. "The love and support my family has received today is unreal and so appreciated."
In another post, she added, "If you had the pleasure of meeting her and being friends with her she has forever changed your life." She continued in a separate post, "Thank you! Kayla left a mark on so many lives. She entered the room and demanded respect, love and attention."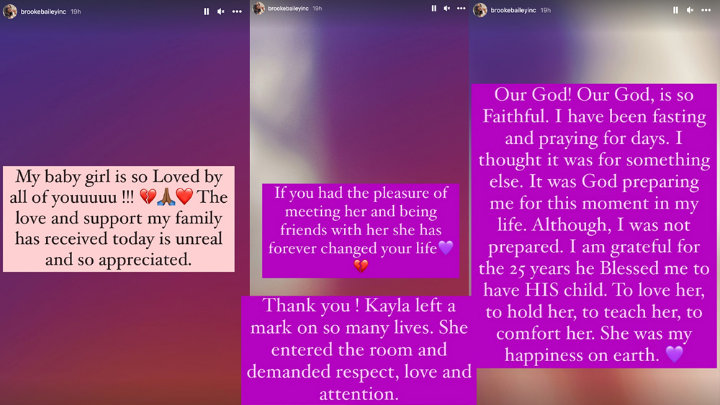 Brooke thanked those who have show support following her daughter Kayla's passing.
In another Instagram Story, Brooke shared an emotional message saying, "Our God! Our God, is so Faithful. I have been fasting and praying for days. I thought it was for something else. It was God preparing me for this moment in my life. Although, I was not prepared. I am grateful for 25 years he Blessed me to have HIS child. To love her, to hold her, to teach her, to comfort her. She was my happiness on earth."
Source: Read Full Article