Christie Brinkley, 68, shares key to sensational looks in swimsuit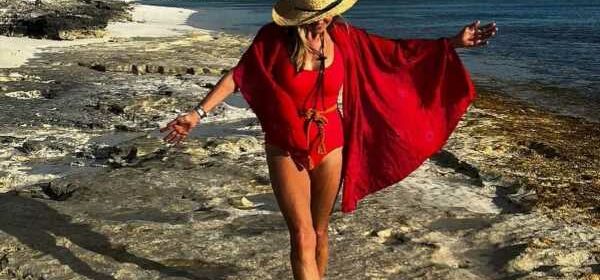 Christie Brinkley modelled a red swimsuit while showcasing an ageless visage
Christie Brinkley looked like she was loving life as she lived it up on the Caribbean island Parrot Cay – and she urged followers to do the same.
We use your sign-up to provide content in ways you've consented to and to improve our understanding of you. This may include adverts from us and 3rd parties based on our understanding. You can unsubscribe at any time. More info
The former Sports Illustrated swimsuit model demonstrated today her model looks as she approaches 70.
The leggy model offered her best tips to help maintain her age-defying looks.
In a recent photo set she donned a bright red swimsuit, similar to Pamela Anderson's iconic Baywatch look, which was tied at her waist with a rope belt.
Every aspect of her look was the same shade, from the cover-up she slung on her shoulders to her bright red toenail polish.
Meanwhile, she shared that her secret to a fabulous figure involves regularly riding a bike and taking walks on the beach.
The former pin-up star looked a mere fraction of her age and, judging by the broad smile on her face, she is living the words in her caption: "68 and grateful."
Christie Brinkley advised fans on how to achieve radiance at an older age
The former wife of Billy Joel urged viewers to "get out of the house" and make time for a brisk pleasure walk to nourish their minds and souls. "You know how you get busy and you don't make time for yourself…. Well, don't do that!" she cautioned. 
Christie Brinkley shared her favourite self-indulgence activities
Believing that self-care is freeing for the mind, she explained that she loves to spend time in the gym and laugh with friends, telling fans to "relax and let your mind wander". 
Christie Brinkley practised what she preached with a bike ride
Christie Brinkley wasn't just talking when she suggested that fans take a bike ride – and video footage uploaded to Instagram demonstrated her doing the same thing herself. Admitting she loved seeing birds fly around her, she told Instagrammers: "You just see so much more when you ride a bike …even your own neighbourhood comes alive!"
Christie Brinkley says exercise is not just about "the size of your thighs"
Christie Brinkley admitted that she exercises as much for pleasure as she does for weight watching – and with blissful surroundings of holiday location Parrot Cay around her, it's little wonder. Reaching up to touch the leaves on the tree above her, she enthused: "The palms create shadows like an exotic carpet on the path and the sun lights the fronds like stained glass windows."
Christie Brinkley looks equally pretty in pink
Christie Brinkley shared another glamorous holiday photo on board a boat in a pink swimsuit, with a pose that left followers marvelling that she looked just as good as she had done in her early days as a top swimsuit model.
Christie Brinkley in her youth
This throwback photo is a trip down memory lane to how Christie Binkley – who appeared on more than 500 magazine covers at the height of her fame – looked in her earlier years. 
Source: Read Full Article