Dominique Da Diva Responds to Backlash After Insisting Michael B. Jordan Is 'Corny'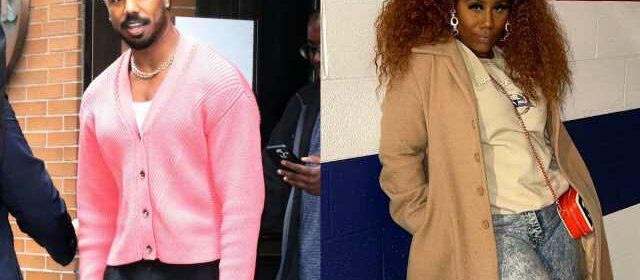 The radio host says people tell her to 'kill' herself after she doubles down on her comments on the 'Black Panther' actor, who earlier confronted Dominique's podcast host Lore'l on the red carpet.
AceShowbiz –Dominique Da Diva isn't apologizing for calling Michael B. Jordan "corny." After it was revealed that it was actually her, instead of Lore'l as the actor believed, who called him "corny," she doubled down on her statement.
Taking to her Instagram Story, Dominique shared a screenshot of her complete quote to give a clear context on her conversation about Michael back in 2021. "The blogs only post half bulls**t," she wrote on Sunday, February 26. In a separate Story, she insisted, "Any black man that dates white women is corny to me. I guess that PR relationship w/ Lori helped y'all forget but I didn't."
"Anything I said once I'll say it again," the radio host added, before calling Nick Cannon "corny too." She said of the rapper/comedian, "he got mad women babies and money." Calling Russell Wilson "nice corny," she explained, "Corny ain't bad. That's 70% of the N***as in this industry."
"Let's see how y'all act when he brings his next girlfriend with him on the red carpet toodles," she concluded her Story.
But Dominique didn't stop there. Over on her Twitter account, she clapped back at the critics after apparently receiving hateful comments. "It's so funny how ppl will tell u to kill yo self when you say something they don't like," she tweeted.
She also urged people to channel their energy into supporting Michael's newest movie "Creed III". "Did y'all go see CREED III? That's wtf we need to be talkin about right now likeeeeeeee . My people so easily led astray," she added.
Dominique's old comments on Michael were brought up by the actor himself on the red carpet for the screening of "Creed III". When Lore'l interviewed him, he falsely accused her of calling him "corny."
"We go way back, all the way back to Chad Science [Academy] in Newark," Lore'l pointed out their connection. "Oh yeah, I was the corny kid, right?" Michael confronted her, which she denied. Lore'l insisted she was being "misquoted."
"No you did not hear me say that! I said we used to make fun of the name," she continued, before switching the topic. "But yeah, he is obviously killing things out here," she said, before concluding, "Well, you're not corny anymore."
Later, audio from a 2021 podcast episode revealed that it was actually Lore'l's co-host Dominique who called Michael "corny." When talking about the actor's relationship with Lori Harvey, Dominique said of the "Black Panther" star, "You know what I really think deep down inside? I think that Michael B. Jordan is a nice, corny guy, and I don't mean that as a slight." She added, "We all know the nice, corny guys treat you the best."
"You know what's so crazy? I went to school with Michael B. Jordan at a point in life," Lore'l then said. "And to be honest with you, we teased him all the damn time because his name was Michael Jordan."
"Let's start there, and he was no Michael Jordan," she went on recalling. "And he also would come to school with a headshot. We lived in Newark, that's the hood. We would make fun of him like, 'What you gonna do with your stupid headshot!?' And now look at him!"
You can share this post!
Source: Read Full Article