Exclusive: Constance Wu Shares Her Sexual Harassment Story on 'Red Table Talk'

At this point, Red Table Talk is like the modern day Oprah Winfrey Show, with all of the biggest celebs taking a seat to pull back the curtain on some of their biggest, and most personal, moments. This week, actress Constance Wu joins Jada Pinkett-Smith, Willow Smith, and Adrienne Banfield-Norris on the Facebook Watch show, on the episode titled "The World Hated Me."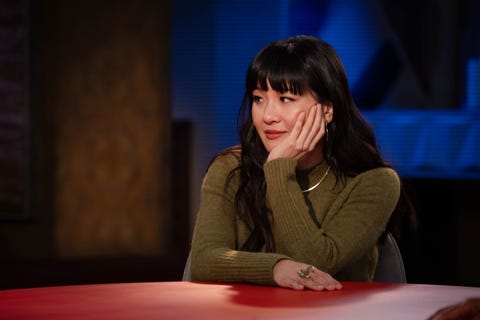 Constance starred in the break-out and beloved film Crazy Rich Asians in 2018, landing the spot after a several season lead role on ABC's sitcom Fresh Off the Boat. But when the show was renewed for a sixth season in 2019, Constance took to Twitter to vent about how upset she was about the news. While she initially claimed her feelings were around having to turn down another opportunity, in a recent interview with The Atlantic, Constance provided clarity and context to those tweets: She was experiencing "sexual harassment and intimidation" behind-the-scenes of the show.
In the exclusive clip below from this week's Red Table Talk episode, Constance opens up even more about the harassment she experienced and how it impacted her:
Constance received a slew of backlash from fans and other Asian American colleagues for her Twitter rant, ultimately leading her to take a three-year break from social media and the general public. This summer, she revealed that the period was a dark time for her, and that she attempted to die by suicide because of it.
"I made some very profane, reckless tweets that sort of ignited this whole pile-on of hatred towards me because I just had a hit movie, Crazy Rich Asians, so it looked really bad from the outside. Like, 'Oh, she thinks she's this big movie star,'" she explained to The Atlantic. "When really, I wanted to have a fresh slate where I didn't have to start a show with all these memories of abuse."
Constance also mentioned that her publisher encouraged her to put her experience in her new memoir Making a Scene, but she was initially hesitant to do so because she didn't want to "sully the reputation of the one show we had representing us," she explained. "I kept my mouth shut for a really long time about a lot of sexual harassment and intimidation that I received the first two seasons of the show."
But ultimately, she decided to share her story in full. "I eventually realized it was important to talk about because I did have a pretty traumatic experience my first couple years on that show," she explained to the outlet, "and nobody knew about it because that show was historic for Asian Americans."
Stream the full episode of Red Table Talk on Wednesday, October 5 at 12 p.m. ET/9 a.m. PT on Facebook Watch.
Source: Read Full Article