Heartbreaking Gabby Petito Selfie Taken Before Police Stop CLEARLY Shows Injuries From Brian Laundrie Fight!

Wow. For anyone following the Gabby Petito case who didn't already think the Moab police stop was effed up, this photo is almost certain to change that.
To recap, the YouTuber and her fiancé Brian Laundrie were stopped by police in the Utah town on August 12, 2o21 — after a witness called about a domestic dispute. Cops found the couple's van and asked them about what happened. As seen in the infamous bodycam footage, a tearful Gabby told them she had attacked Brian and NOT the other way around, like the 911 caller said. The witness had specifically said he saw Brian hitting Gabby. But the assorted law enforcement officers ignored that and agreed Gabby was "the primary aggressor." They threatened to put the crying, 22-year-old soon-to-be murder victim in jail for a night. The cops can be heard telling Brian he "did nothing wrong" in the videos — they even apologize to him for any inconvenience.
And of course they ultimately sent the couple on their way, only for Brian to kill Gabby with his bare hands just two weeks later.
So it's no wonder Gabby's parents filed a wrongful death lawsuit against the Moab City Police Department, as well as the individual officers involved — in particular Eric Pratt, who took point on the stop. There's already plenty of evidence, including the independent investigation which confirmed that cops made "several unintentional mistakes" during the stop. But the family's $50 million complaint, released last November, mentions something no one has seen:
"Gabby took a photograph of her injury, which shows blood across her nose and left eye. Gabby pointed out the injury to Officer Pratt, but he ignored her and did nothing more to investigate or document the injury."
Obviously we've seen tons of pics the fledgling influencer took along her trip — but it's not like she would have posted that one to Instagram. However, it was still on her phone. And Gabby's family's attorneys, the law firm of Parker & McConkie, have now released it to the public.
In a press release posted to their website, they posted the pic for all to see. And it's just heartbreaking.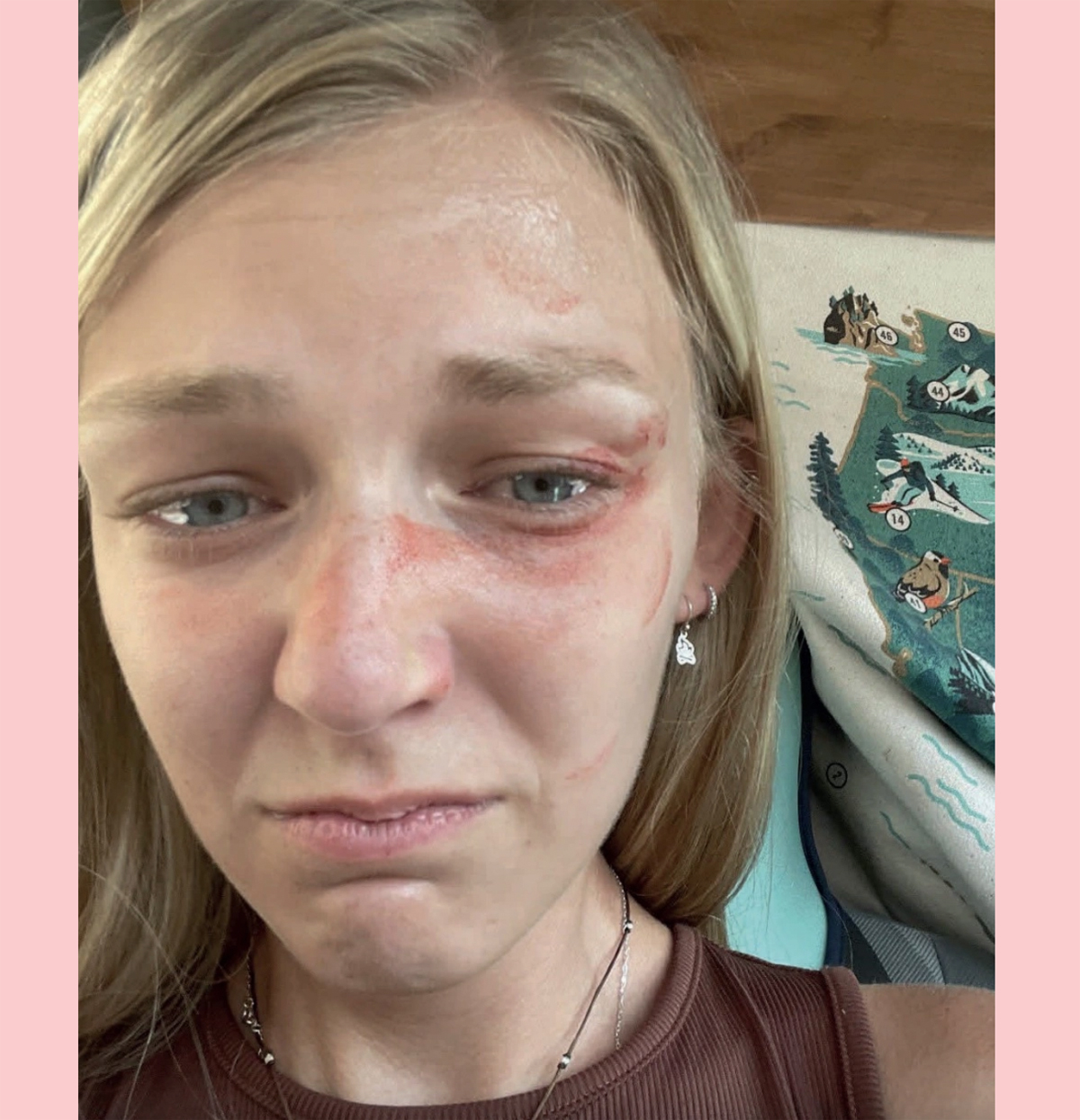 The photo was allegedly taken just two minutes before the police stopped and questioned Gabby. Does this look like the face of the "primary aggressor"??
The legal team also reiterated:
"The photo demonstrates the cut previously noted on her left cheek as well as blood smeared from her forehead, across her left eye and cheek and over her nose, indicating that she was grabbed over her face in such a way that her airways were likely obstructed. Gabby documented the injury and, during the stop, attempted to tell the Moab officers, however, the seriousness and significance this type of assault and injury was completely ignored."
They even posted a transcript of that exact moment in the stop, which — again — you can still see on YouTube.
Petito: "He like grabbed my face, like, I guess. He didn't like hit me in the face. He didn't like punch me in the face."
Officer: "Did he slap your face or what?"
Petito: "Well, he like grabbed me, like, with his nail, and I guess that's why it hurts. I definitely have a cut. Like, I can feel it."
Police ignored what the complainants believe is clear evidence of aggravated assault. The law firm's release noted:
"Domestic violence experts who have reviewed the evidence have stated that 'all the clues lead us to conclude that Gabby was most likely strangled and/or suffocated by Brian before the police arrived on August 12, 2021.' Domestic violence research shows that if a victim of intimate partner violence is strangled or suffocated even one time, she is 750% more likely to be killed by that person."
You can see the full press release for yourself HERE. We can't imagine a jury is going to be able to see this and not side with the Petitos here. What do YOU think??
Source: Read Full Article