Irv Gotti Called Predator After He Details His First Kiss With Ashanti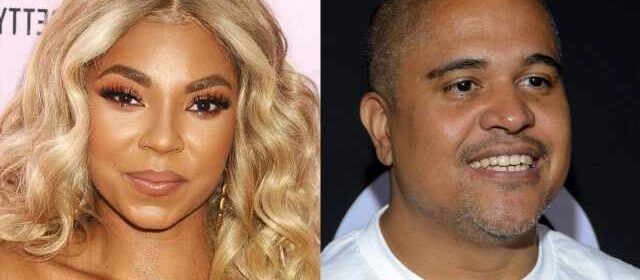 In the latest episode of BET's new docuseries 'The Murder Inc. Story', the Murder Inc. founder details how he initiated his two-decade-old relationship with the 'Foolish' singer.
AceShowbiz –Irv Gotti still has a lot to say about his past romance with Ashanti. In the latest episode of BET's new docuseries "The Murder Inc. Story", Irv shared details about his two-decade-old relationship with the singer.
The Murder Inc. founder recounted how the relationship was initiated. He also recalled an interaction they had after a studio session on one night. "I'm separated from [my wife] Deb. I'm on my own. And Ashanti's coming to the studio every day and our friendship and bond is naturally growing," Irv explained.
He continued, "She used to wear these juicy sweats and her a** was looking fat. Her a** was looking great. So, one day I was like, 'Yo, I'll take you home.' She said, 'Bet, cool.' We are walking to her front door of her crib. She turns and says goodbye and I just kiss her and grab her a** and just mwah. It was like, 'What took you so long?' "
After learning the story, fans quickly took to social media to criticize Irv as they pointed out the 10-year age gap between the pair. "Irv is over a 10+ years older than Ashanti. We need to stop acting like it's okay for a 30+ y/o producer/label owner to get involved w/ a 19 y/o singer trying to break into the biz. The power dynamics are not even CLOSE to be equal, & that's before we even talk about Irv's wife," one fan reacted to a clip featuring Irv recounting the story.
Similarly, one other user wrote, "Ashanti was maybe 20 at this time. She released her debut when she was 22. Why is this grown a** man, who was an entire decade older, married, with children trying to sleep with her to begin with? It's really sickening." A third fan added, "I had NO IDEA Ashanti was being preyed on like this. And the fact that he's being given the space to speak on her like this is unacceptable."
"Irv is a decade plus older Ashanti plus was already in a committed relationship plus was her boss x collaborator plus hellf**kingno," another comment read. Someone even accused Irv of "sexual harassment & retaliation."
Irv has been making headlines in the past few weeks for his remarks about Ashanti. Earlier this month, he revealed during his appearance on "Drink Champs" that he learned about Ashanti and Nelly's relationship from watching a basketball game on TV. "I can get past you wanting to be with Nelly," he said. "Listen, at the time, when it happens, any man, it hurts [when] the chick you f**king are in love with is with this n***a."
He went on to share, "You wanna hear how I found out? This was God wanting me to find out. I was at home. NBA package, I like watching sports. 'Oh my God, what's this commotion going on in the stadium?' 'We just found out what the commotion is: Nelly has walked in with Ashanti.' "
His remarks earned him criticism from fans as well Fat Joe. While stopping by Houston's 97.9 "The Box", Irv insinuated that Fat Joe is no longer his friend following the jab. "I feel like [Fat Joe] fooled me. He's not my friend. I was fooled, but in life you get fooled," Irv told the hosts.
The feud didn't last long as Fat Joe squashed the beef by calling Irv his brother in an Instagram Live. "Irv Gotti said I'm no longer his friend. And he's correct, because I'm his brother," Fat Joe said at the time. "And I love him, I love his entire family, I love his mother, I love his sisters, I love his brothers, I love his sons. I love them all. And so sometimes, brothers check each other. That's the furthest I'ma go."
Source: Read Full Article