Kylie Jenner Loses 1M Instagram Followers Following Selena Gomez Drama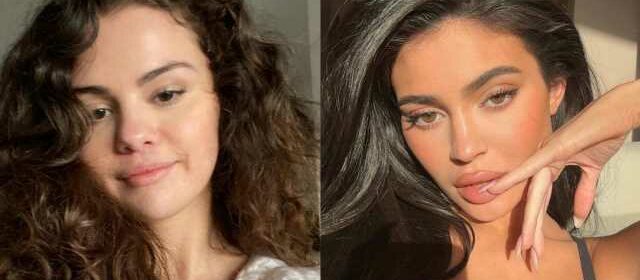 It's reported that the 25-year-old 'The Kardashians' star lost 1 million followers on Instagram after she was accused of shading the 'Lose You to Love Me' singer with her Instagram Stories.
AceShowbiz –Kylie Jenner's drama with Selena Gomez has a huge impact on the reality TV star's popularity. It's reported that "The Kardashians" star lost 1 million followers on Instagram after she was accused of shading the actress/singer with her Instagram Stories.
According to SocialBlade.com, the Kylie Cosmetics founder lost more than half of a million followers. It arrived after Selena officially dethroned Kylie as the most followed woman on Instagram.
The two star were also involved in alleged rift after a TikTok user speculated that Kylie mocked Selena's eyebrows after the latter admitted in a video that she "accidentally laminated [her] eyebrows." Just hours after Selena's post, Kylie shared a selfie and wrote, "this was an accident?" under her eyebrow. She also posted a screenshot of her FaceTime call with Hailey Bieber (Hailey Baldwin), suspiciously zooming in on their eyebrows.
Upon catching wind of the speculations, Kylie shut down the rumors. Calling it "silly," the 25-year-old wrote, "This is reaching. no shade towards selena ever and i didn't see her eyebrows post. u guys are making something out of nothing." The Rare Beauty founder echoed the sentiment as she said, "Agreed @kyliejenner It's all unnecessary. I'm a fan of Kylie!"
While both stars insisted that they are cool, Selena announced that she would take a break from social media amid the chaos. "I'm gonna be taking a second from social media cause this is a little silly and I'm 30. I'm too old for this," she said to her fans on Thursday, February 23.
The former Disney starlet vowed that it would just be temporary as she added, "But I love you so much and I'll see you guys sooner than later." She also hinted at needing a downtime as saying, "I'm just gonna take a break from everything."
Fans, meanwhile, continued to dig deeper about the supposed rift between Selena and Kylie as well as Hailey. The latter was previously accused of shading Selena with a TikTok post in which she, Kendall Jenner and Justine Skye mouthed, "I'm not saying she deserved it, but I'm saying God's timing is always right."
Hailey denied that the video had anything to do with Selena, saying, "I never comment on this type of thing but we were just having a girls night and did a random tik tok sound for fun. It's not directed at anyone." As for Selena, the "Only Murders in the Building" star played down speculation that Hailey dissed her. "It's ok! I don't let these things get me down! Be nice to everyone! X," the star wrote in the comment of a TikTok video.
You can share this post!
Source: Read Full Article