Legendary fashion journalist Hilary Alexander dies aged 77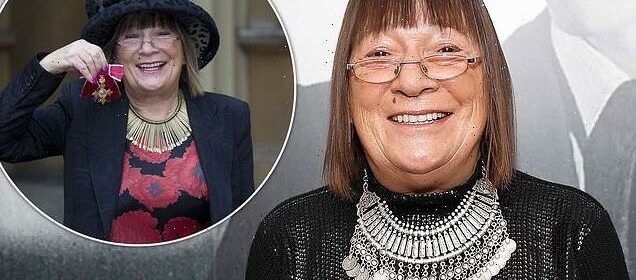 Legendary fashion journalist Hilary Alexander dies aged 77 after decades-long career in the spotlight
Legendary fashion journalist Hilary Alexander has died at the age of 77.
The socialite – who is said to have coined the term 'supermodel' – passed away on her birthday on Sunday.
A self-confessed workaholic, the New Zealand native became a trainee reporter at the age of 16 and worked her way up to fashion editor of the Daily Telegraph in 1985.
She remained at the publication for the following 26 years and was appointed fashion director in 2003. 
Hilary became a familiar face on television over the years, with regular stints on Lorraine, GMTV and BBC Breakfast.
Heartbreaking: Legendary fashion journalist Hilary Alexander has died at the age of 77 
Hilary was often seen on fashion-related shows and documentaries and was held in high esteem by the industry.
The journalist was also featured as a stylist on Britain's Next Top Model for the 2005 and 2006 series and later returned for the 2016 series.
In 2011, she won the Council of Fashion Designers of America's (CFDA) special Eugenia Sheppard Media Award with designer Diane Von Furstenberg calling her 'an incredible force'.
Fellow designer Michael Kors presented Hilary with the award and called her 'unsinkable'. 
She was close friends with many highly regarded designers including Gianni Versace, Alexander McQueen and Julien Macdonald. 
Hilary was twice named British fashion journalist of the year and was awarded an OBE in 2013 for services to fashion. 
British Vogue's editor-in-chief Edward Enninful paid tribute to Hilary, saying: 'I remember she was really kind to me when I was first starting out in the industry.
'Everybody wanted to read what she had to say about fashion, but also she was hilarious, you could always feel her energy. She was so alive.'
Icon: The socialite – who is said to have coined the term 'supermoldel' passed away on her birthday on Sunday (pictured in 2013)
Success: Hilary was twice named British fashion journalist of the year and was awarded an OBE in 2013 for services to fashion (pictured with Abbey Clancy on Britain's Next Top Model)
Designer Zandra Rhoades said: 'Hilary Alexander was the epitome of amazing enthusiasm and hard work. She never gave up on a story and the research that went with it. We will never be able to fill the gap she has left.'
Artist Daniel Lismore said: 'Her wit, intelligence and her fashion wisdom will be greatly missed. She was a very funny lady who led an extremely colourful life.'
Fashion critic Suzy Menkes praised Hilary for helping up and coming designers, saying: 'With an energetic response to anything 'fashion', Hilary's enthusiasm was for young British talent and for photographers who would take rising young models off to distant places.'
Success: Hilary was often seen on fashion-related shows and documentaries and was held in high esteem by the industry (pictured in 2014)
Source: Read Full Article