Lizzo Celebrates Late Tina Turner for Making Rock 'N' Roll Exist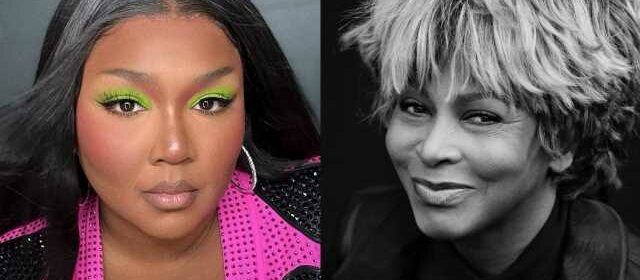 On the day the death of the 'Simply the Best' hitmaker was announced by her team, the 'Juice' singer makes use of her performance in Phoenix, Arizona to pay tribute to her hero.
AceShowbiz –Lizzo has honored Tina Turner by saying Rock 'n' Roll "wouldn't exist" without the powerhouse singer. The 35-year-old singer, who was born Melissa Viviane Jefferson, paid tribute to Tina during a performance on Wednesday, May 24, the day her hero's death was announced by her team.
During her gig in Phoenix, Arizona, the "Juice" hitmaker yelled at her fans a series of times, "There wouldn't be no rock 'n' roll without Tina Turner!" She added, "Today, we lost an icon and I haven't allowed myself to be sad. I haven't allowed myself to cry."
"I don't want to right now because I'd much rather celebrate the incredible legend Tina Turner is," she went on to explain. "As a black girl in a rock band, I would not exist if it were not for the Queen of Rock 'n' Roll."
The "About Damn Time" singer then sang Tina's hit "Proud Mary", and copied her trademark dance moves. She also posted videos of the performance on her Instagram, captioning them, "FOR TINA."
Tina had a six-decade career that saw her inducted into the Rock 'n' Roll Hall of Fame as a solo artist in 2021 after selling more than 100 million records. Two months before her death, she admitted she was in "great danger" due to her long battle with kidney disease.
The "Queen of Rock 'n' Roll" said on Instagram in March, "My kidneys are victims of my not realizing that my high blood pressure should have been treated with conventional medicine. "
"I have put myself in great danger by refusing to face the reality that I need daily, lifelong therapy with medication," she continued. "For far too long I believed that my body was an untouchable and indestructible bastion."
Tina is survived by her 67-year-old husband Erwin Bach, who donated one of his kidneys to Tina in 2017, and two of her sons whom she adopted during her tumultuous marriage to Ike Turner. Her eldest son Raymond Craig, whom she had with Raymond Hill, died by suicide in Los Angeles in 2018 and in December 2022, her boy Ronnie was killed by complications linked to colon cancer.
You can share this post!
Source: Read Full Article