Paige Lorenze Claims Tyler Cameron Used Her for Media Storm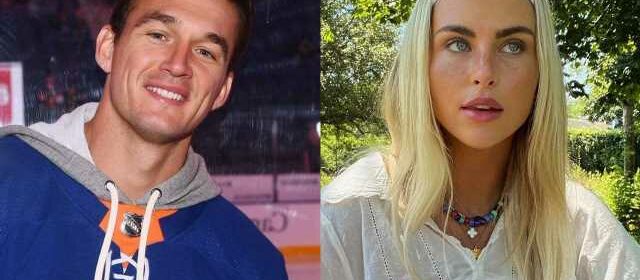 During her appearance on Sofia Franklyn's 'Sofia With an F', the 24-year-old model reflects on her brief relationship with the former 'The Bachelorette' star.
AceShowbiz –Paige Lorenze made a damning allegation against her ex Tyler Cameron. During her appearance on Sofia Franklyn's "Sofia With an F", Paige claimed that the former "The Bachelorette" star used her to create "a media storm."
Paige believed that Tyler wanted to create a "scandal" before they debuted their surprise romance. "This might sound narcissistic because he has a pretty insane following but I felt like he was using me," so she told her former "Call Her Daddy" co-host. "He was looking at my [Instagram] Story views and I was getting more views than him and he was like 'I need a scandal.' "
Paige explained that she and Tyler met through mutual friends as they "were going to all the same parties." At the time, the model thought of Tyler, "I was like, 'This man is a smoke show.' He's big, athletic and hot."
The 24-year-old also assumed that Tyler felt the social media buzz surrounding her split from Morgan Wallen would help him earn some attention. "I think he saw an opportunity – not that he didn't like me – but I think that's why he wanted to go public so fast," Paige opined, adding that Tyler wanted media attention because he was "launching something soon."
Tyler, who was the runner-up in Hannah Brown's "The Bachelorette" season, started dating Paige in early July. The pair were photographed kissing while strolling through New York City. The lovebirds, however, broke up less than two months later.
"We're back [to], you know, not dating anymore, just doing our own thing right now. We both have a bunch of respect and love for each other but just not the right time for both of us right now," Tyler opened up about the breakup in an August episode of E! News' "Daily Pop". He also confirmed that he's single now.
Paige, meanwhile, addressed their split in a statement. "Yes, I am single. There wasn't a dramatic split or any bad blood between us," the model, who also used to be romantically linked to Armie Hammer, said. "I am more career-focused than ever and my priority has to be my clothing brand and my career – and that's going to require me to be in NYC at the moment."
Source: Read Full Article