Priscilla Presley Claims She Filed to Contest Lisa Maries Will to Protect Family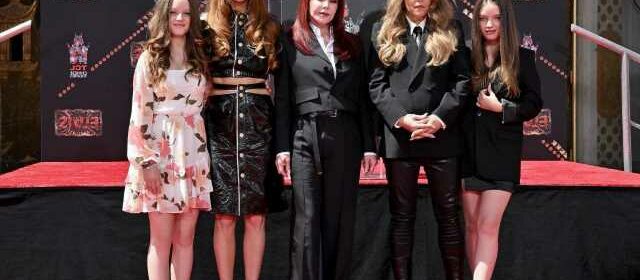 Priscilla and the late singer's former business manager Barry Siegel are removed from being in charge of her trust and are replaced them with the star's eldest kids Riley Keough and Benjamin, who took his own life in 2020.
AceShowbiz –Priscilla Presley wants to "protect" her grandchildren. The "Naked Gun" actress insisted she is doing her best to keep their family "together" by recently filing documents to contest an amendment to her late daughter Lisa Marie Presley's will, which removed her and the singer's former business manager Barry Siegel from being in charge of her trust and replaced them with the star's eldest kids Riley Keough and Benjamin, who took his own life in 2020.
Priscilla told the New York Post newspaper's PageSix column in a statement, "Today would have been Lisa's 55th birthday. My wish is to protect my three grandchildren and keep our family together. From the first moment I held Lisa in my arms, I've protected, loved and guided her, as I have my son. Our hearts are broken, and I am having to learn to live without my only daughter."
The 77-year-old actress went on to thank fans for their support since her daughter died on 12 January. She added, "We truly love all of you, and we feel your prayers. Thank you so much for caring so deeply for our family."
In her court documents, Priscilla questioned the "authenticity and validity" of the amendment to the Promenade Trust, which holds a 15 per cent interest in Lisa Marie's father, the late Elvis Presley's Graceland estate and the licensing of his intellectual property, because she had found "many issues" surrounding the 2016 document, such as the misspelling of her name and that the amendment "was never delivered to [Priscilla] during Lisa Marie Presley's lifetime as required by the express terms of the Trust."
She also argued Lisa Marie's signature on the paperwork "appears inconsistent with her usual and customary signature."
However, a source close to Lisa Marie, who also had 14-year-old twins Harper and Finley from her marriage to Michael Lockwood, insisted she had made her "intent very clear" that she wanted her trust to be in the hands of her children.
The insider insisted she "did not have a relationship" with Priscilla at the time the amendment was written.
The friend told People magazine, "Lisa's intent was very clear. Lisa really didn't feel that Priscilla was doing anything in her best interest. Lisa lived her life authentically… She wouldn't remain quiet when she was being taken advantage of. At the end of the day, these are her wishes, and there's no question as to what her wishes were. No one's going to be able to reinvent the last seven or eight years and say no, no, no."
Priscilla and Lisa Marie's former business manager Barry were appointed trustees in 2010, but the singer "had a major issue" with the ways in which her trust was being handled, and even sued the latter in 2018, claiming his "reckless and negligent mismanagement and self-serving ambition" had seen the $100 million trust she'd inherited after Elvis' death dwindle to just $14,000.
Barry hit back and accused his former client of "squandering" the wealth with "excessive spending."
You can share this post!
Source: Read Full Article