Ryan Reynolds and Blake Lively apologised for wedding venue Giant f***ing mistake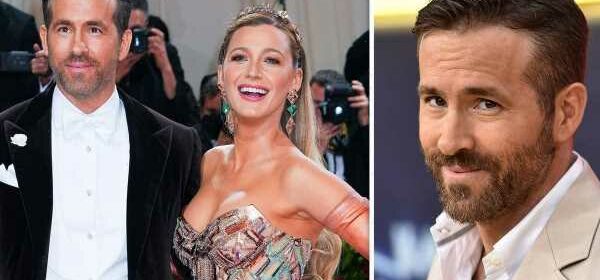 Met Gala 2022: Blake Lively poses with Ryan Reynolds
We use your sign-up to provide content in ways you've consented to and to improve our understanding of you. This may include adverts from us and 3rd parties based on our understanding. You can unsubscribe at any time. More info
Ryan Reynolds, 45, married actress Blake Lively, 34, back in 2012, and the couple sparked anger for their "ignorant" choice of wedding venue. The Hollywood couple later apologised for their "giant f***ing mistake".
It wasn't Ryan's first wedding – he was previously married to Scarlett Johansson from 2008-2011.
But he would find lasting love with Blake, with whom he shares daughters James, seven, Inez, five, and Betty, three.
They had met while filming The Green Lantern in 2010, and began their romance a year later.
On September 9, 2012, they got married in front of loved ones at Boone Hall Plantation in Mount Pleasant, South Carolina.
But the fact that the historic venue was heavily associated with slavery, sparked an outcry.
The slave quarters are still present on the property, and it's situated on Slave Street.
Many felt it was disrespectful to those who suffered there for it to become a wedding venue.
Defending himself at the time, Ryan explained he and Blake had only considered Boone Hall "a wedding venue on Pinterest".
He admitted he later realised it was "a place built upon devastating tragedy", and that their decision was "impossible to reconcile".
"Years ago we got married again at home, but shame works in weird ways," said Ryan.
"A giant f***ing mistake like that can either cause you to shut down or it can reframe things and move you into action.
"It doesn't mean you won't f*** up again. But repatterning and challenging lifelong social conditioning is a job that doesn't end."

DON'T MISS…
Robert Redford's heartbreaking note following untimely death of son [INSIGHT]
Dukes of Hazzard star Catherine Bach, 68, 40 years on from Daisy Duke [LATEST]
GMB's Alex Beresford hits back as he's attacked over weather warnings [NEWS]
He later founded the Group Effort Initiative, which invests in marginalised communities which are often overlooked in Hollywood.
Pinterest, along with other websites, announced soon after that it would ban images of weddings at plantations.
"Weddings should be a symbol of love and unity. Plantations represent none of those things," a spokesperson wrote.
"We are working to limit the distribution of this content and accounts across our platform, and continue to not accept advertisements for them."
Boone Hall Plantation said in a statement: "We treasure all our relationships with couples that have chosen to get married at Boone Hall, and, when needed, respond to them in private, honest, and personal discussions to address any concerns they may have.
"The discussions are heartfelt as we want to listen and put love and respect at the centre of any issues that arise.
"We will always work to be a part of the solution for our couples, not a part of the problem."
Source: Read Full Article