Tommy Fury's enemy Jake Paul appears to announce Molly-Mae has given birth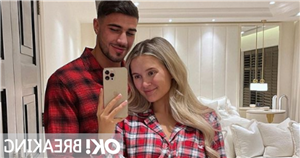 Jake Paul has claimed that Molly-Mae Hague has given birth as he launched a fresh taunt at Tommy Fury.
Speculation is rife that Love Island stars Molly and Tommy, both 23, have welcomed their baby girl, with both stars going quiet on social media in recent days.
YouTube star Jake has now appeared to announce the birth of their baby on Twitter.
He wrote: "Tommy has no excuses now…Baby's born. Money's massive. Immigration no issue.
"Tyson promises he & Papa will make Tommy retire from boxing & change his last name if he can't beat the YouTuber.
"Tmw I'm coming to London to look at all 3 Fury's in the eye & shake on that promise."
While Molly and Tommy have not yet updated fans on whether their baby girl is in fact here, fans have been working overtime to figure out her name.
And some are convinced they've worked out the moniker, after an Instagram account was created.
One fan posted to TikTok to claim that they had worked out that Molly-Mae and her beau are to name their daughter 'Nephele'.
An Instagram account with the name Nephele Fury has been created, although there are no posts on it yet.
A Tik Tokker with the account "itsmegannell" posted the screenshot, as she explained how she had 'worked out' the name of Molly-Mae's first child, who is thought not to have been born yet.
The Tik Tokker said that she had predicted the name "since November," revealing that she had Googled the meaning of the name, realising that it means "clouds" in Greek, as she said "quite a cute name if you ask me."
It was pointed out that Molly-Mae has often used a cloud emoji in her social media posts as she has documented her pregnancy.
Online fashion retailer, Boohoo, also posted a screenshot of the 'Nephele Fury' account, writing: "Eagle eyed fans think this could be Molly Mae's baby account…"
Molly-Mae's fans have been waiting on tenterhooks for her to announce that she has given birth to her first child, after she revealed on 28 December that she was 34 weeks pregnant and due to give birth in January.
For the latest showbiz reports and breaking news visit OK! Magazine.
Check out all the latest hot topics on OK! magazine's news section and discover exclusive celebrity news about your favourite soap actors and reality stars.
Follow us on Twitter @OK_Magazine.
We're also on Facebook.com/okmagazineuk – for the latest online celebrity news, features, galleries and videos throughout the day from your favourite site.
Source: Read Full Article