Dove Cameron 'Inches Away' From Releasing Debut Album After Writing 60 Songs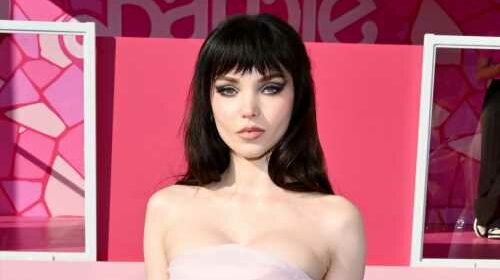 Dove Cameron is getting close to releasing her debut album.
"I'm inches away," Cameron tells me. "I have just narrowed it down from about 60 songs that I have written. I'm trying to get the number of songs on the album really high, but Columbia is being reasonable. I'm being unreasonable. I've got all my favorites and most of them have been sent to the mixer and finished and the ones that aren't I just left the studio last night at midnight while I'm in L.A."
The "Boyfriend" singer and "Schmigadoon!" star teased that a release date has been set, but details are under wraps: "It's definitely this year. I can say it's very soon. I was working against a deadline that might have pushed it to next year but I fixed it. I'll be able to announce it in a week or two."
She also says that the album will include a collaboration with a "dream artist." "Hopefully, I'll be popping in for a few days for their tour," says Cameron, who is also planning a tour in support of her album. "I have to get my album out before I can go on my tour so I'm going to warm up and do some shows with them. I'll probably start my big tour sometime next year, but I'll be doing smaller shows before then."
While Cameron has performed in large arenas for Jingle Ball concerts, she said, "This will be my first time doing like 3,000 to 5,000-seat venues."
You can also check out Cameron's appearance on the "Just for Variety" podcast in April below.
Read More About: