Enyacore interiors to give your home a hit of Orinoco Flow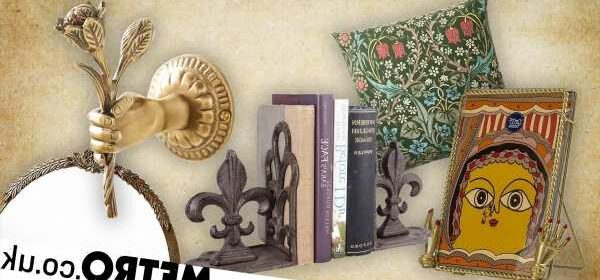 This article contains affiliate links. We will earn a small commission on purchases made through one of these links but this never influences our experts' opinions. Products are tested and reviewed independently of commercial initiatives.
35 years on from the release of Orinoco Flow, Enya is once again starting trends and defying genres.
The Irish musician has inspired an aesthetic that's the talk of TikTok, gaining icon status for a whole new generation.
Enyacore spans fashion, home and beauty, with its associated hashtags racking up hundreds of thousands of views on the social media platform.
It merges Celtic and Medieval influences befitting of the star's signature style, proving a real hit with fans of whimsigoth and cottagecore.
The trend is also a tonic for those who've grown tired of the neon brights and cyber motifs made popular during the Y2K resurgence. Like playing Only Time with a herbal tea, Enyacore is comforting and ethereal – and isn't that what we all want from our homes?
When it comes to interiors, the Enyacore vibe is all about quirky curiosities and contrasting materials. Think wrought iron alongside sumptuous velvet, delicate objet d'art next to rustic wooden utensils; if it looks like it came from a century gone by, you're on the right track.
Shout out to my pal @wedgie_bce for the excellent sources and shout out obviously to Enya who has been the soundtrack of all of my weirdest dreams and many happy road trips #enya #enyacore #whimsigothic #whimsigoth #darkacademia #folk #medievaltiktok #castle
Channel the aesthetic's namesake (Enya lives in a real castle built in 1840) with historical imagery and nods to the natural world. The singer's personal style features flowing fabrics, embroidery, rich colours, shimmering metallics and unexpected embellishments, so try to translate this to your decor.
Tom Revill, interiors expert and co-founder at Plank Hardware, says Enyacore can be typified by 'tapestries, velvet bedding, traditional wooden bed frames, metal candlesticks and more.'
'We expect to see people experimenting with textures and we'll see bedrooms with layered fabrics and drapery,' he adds. 'The "layered" look, with long floaty curtains and large fabric headboards adds a lot of character and warmth to the space.'
@bbheartburlyq #enyacore
As well as looking great, Enyacore lends itself well to pre-loved pieces and those that are a little rough around the edges. Antiques are a natural fit, but the look doesn't need to be expensive or polished. Distressed and interesting is what you're going for here.
To spark your creativity, we've picked our favourite Enyacore homewares that embody the reclusive artist's mysterious, atmospheric flair.
Morris & Co. Blackthorn Cushion
£45 at John Lewis
Wallace Gold Brass Incense Holder
£12.50 at Oliver Bonas.
Arabella Medium Oval Wall Mirror
£79 at M&S
Norma Floral Woven Wall Hanging
£25 at Urban Outfitters.
Cast Iron Quarter Etagère
£145.99 at Waitrose.
Set of Four Medieval Coasters
£10 from TheHumFromTheHill via Etsy.
Antique Gold Peacock Trio Candlestick Holder
£88 at Rockett St George.
Large Jana Hand Frame
£24 at Fable and Mirth.
Belmont Burgundy Velvet Pencil Pleat Curtains
From £75 at Dunelm.
Nellie Hook
£18 at Anthropologie.
Vintage Fleur De Lys Weighted Cast Iron Bookends
£32 at NotOnTheHighStreet.
Do you have a story to share?
Get in touch by emailing [email protected]
Source: Read Full Article