MHz Choice Sets Slate Of Summer Premieres Including 'Agatha Christie's Criminal Games: The '70s' From France & Italy's 'Don't Leave Me'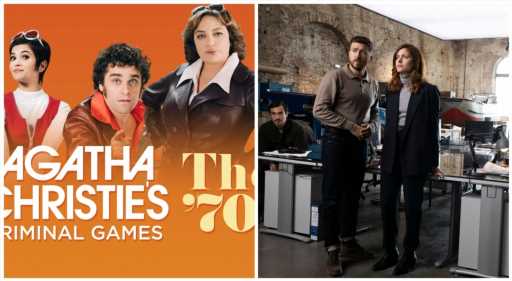 EXCLUSIVE: Subscription streaming outlet MHz Choice, which brings prestige international television to North American viewers, has set its summer slate with the U.S./Canada premieres of 15 series and nine returning shows. Included among them are French period mystery Agatha Christie's Criminal Games: The '70s and Don't Leave Me, an Italian police drama from the creators of Gomorra.
France Television's Criminal Games debuts on the service June 13. The 10-part series adapts Agatha Christie's mysteries in the 1970s and is led by three intrepid investigators. Emilie Gavois-Kahn (Spiral, Le Code, Coco Before Chanel, Swimming Pool), Arthur Dupont (Alice Nevers, Bus Palladium) and Chloé Chaudoye (Marie and the Misfits, Profilage) star. Creator is Thierry Debroux.
Related Story
Kino Lorber And First Look Media Form Joint Venture For Streaming Services MHz Choice And Topic
On August 15, Federation Entertainment's Don't Leave Me will bring Deputy Chief Elena Zonin (Vittoria Puccini) back to her hometown of Venice to hunt down a network of kidnappers. There, she's confronted by the growing case along with a past love triangle she left behind 20 years ago. Gomorra's Leonardo Fasoli created the series with Maddalena Ravagli. Gomorra's Ciro Visco directs.
Also due this summer is Murder In…, an anthology that's part crime series, part travelogue, taking audiences to sites and regions around France with each of the nine episodes featuring a mystery to be solved. This 10th season is set in Amboise, Biot, Frioul Island, Haute Provence, Kermadec, Marie-Galante, Mont Saint-Michel, Porquerolles and Rochefort Sur Mer. MHz Choice's launch date is July 4. Film & Picture distributes.
From MultiChoice, South African series Lioness debuts on August 1. The logline reads: A woman loses her children, her lover and her freedom when she is framed for fraud committed by her husband before his death. Shannon Esra (Legacy, The River), Evan Hengst (Resident Evil, The Mauritanian), Jazzara Jaslyn (Warrior, Professionals), Joshua Eady (The Kissing Booth), Terrence Ngwila (The Wife) and Ilana Cilliers (Binnelanders) lead the cast.
About Premium Content's six-episode Preppers, from Australia, and also bowing on August 1, follows Charlie (Nakkiah Lui), a young Aboriginal woman who, after suffering her own personal cataclysmic event, finds herself at the center of Eden 2, a community of doomsday 'preppers' planning for the apocalypse. Lui (The Great) and Gabriel Dowrick (Terminus, Colt 13) created the series.
Other new series hitting MHz Choice this summer include Wake Up My Love (Italy), Enemy of the People (Finland), Tatort: Vienna (Austria) and Crime is Her Game (France). Returning shows include Inspector Rex (Austria), Maigret (UK), Captain Marleau (France) and Alice Nevers (France).
Must Read Stories
Board Approvess New Film & TV Contract; Members To Vote On Ratification This Week
Tribeca Festival Founders On What To Watch For This Year, The WGA Strike & More
Debuts Twitter Show To Big Numbers, Says He'll Leave If Called Out
Members OK Strike Authorization Ahead Of Contract Talks With Studios
Read More About:
Source: Read Full Article