Swiss Soldiers, Women's Rights in Kyrgyzstan, Gold Miners in Niger Among Subjects in Upcoming Swiss Documentaries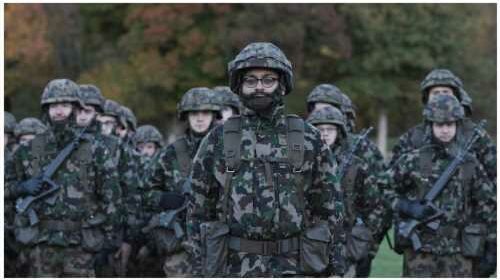 One of the smallest countries in Europe has the highest number of soldiers per capita. This situation is dissected in "Swiss Citizen Soldiers," one of the six high-end documentaries that will arrive on the circuit in the coming months, and were pitched at the Swiss Films Previews at Visions du Réel, in Nyon, Switzerland.
SWISS CITIZEN SOLDIERS
"Switzerland has 200,000 soldiers, by far the most per capita in Europe, and most of these soldiers are switching between their job and military service. Almost a third of them have their roots in another country": this is the starting point of "Swiss Citizen Soldiers" (Echte Schweizer), by Luka Popadić, his first documentary feature after several short films.
"Eleven months per year, I am a film director. But for one month, I become a captain in the Swiss army," the director pitched on stage at Visions du Réel. "My parents are from Belgrade. I was born in Switzerland, I have dual nationality and I could have chosen to do my military service in Serbia," Popadić tells Variety. "So, as almost a third of soldiers, I have my roots in another countries. With this film, I tried to approach this very European question of identity, belonging, immigration, realities of serving as a child of immigrants in an army where loyalty cannot be doubted, especially for officers."
The film also offers a unique insight into the Swiss army who gave the team total access and freedom to shoot. "I don't think that other armies would be so willing to open up like that, so it was a great privilege," Popadić says.
The narrative structure is played out on three levels: the director's story, those of his three soldier protagonists, all Swiss but will Tunisian, Sri Lankan and Serbian-Kosovan heritage. "And the third line of narration: how does this Swiss military service work? We also used archives footage from the 50s-60s to contrast with today's army and live footage too."
The film is sprinkled with the humor that characterizes the author's vision. Popadić says: "It is a funny film, but also touching. The director of photography Gregory Binchedler made very cinematographic images, but also funny images. We looked a little bit for absurdity in the institution in our visual approach."
The project, which has taken 10 years to come to fruition, is produced by Beauvoir Films, and due out in July.
#TIMESUP KYRGYZSTAN
This first feature, directed by Leigh Iacobucci, portrays the fight for women's rights by a pop star, Zere Asylbek, living in an unstable political situation in Kyrgyzstan. With over 17 years of production experience, cinematographer Leigh Iacobucci was happy to finally present the work she has been so quiet about for the last two years and a half.
"I was concerned that talking about the film could make things more difficult for her, and block access for me to come and go in the country. There was also a political revolution at the end of 2020, which made it more and more difficult for anyone who was outspoken. Now that we have a rough cut, we have to talk about it," the director tells Variety.
The film will be a balance between the young activist's story and the fight for women's rights. "It's not as much focused on the government, it's more about the impact this kind of activism has on her and how she finds a way to still be vocal without putting herself at risk."
Iacobucci and her protagonist met in Geneva in 2019 at a UN women's conference. "We instantly clicked. We began production in March 2020, unfortunately… But the silver lining was that it gave us an opportunity to build a strong relationship by spending hours on the phone as we were both in isolation. By the time the borders opened up in October 2020, I was back in Kyrgyzstan, and we were incredibly close as friends."
For this project, Iacobucci visited the country nine times. "Every time, I was making more connections so there are a few progressive media outlets that allowed me to go through their archives and use some of their footage. And I also met a filmmaker who shot scenes of the protagonist when I couldn't be there physically."
A lot of images were shot on the fly, because events that unfolded in the protagonist's life were "incredibly intense and required a lot of discretion, so very often I was just running after her and capturing what I could."
Produced by Véronique Vergari from Luna Films in Geneva, "#Timesup Kyrgyzstan" is expected in fall 2023.
THE MIRACULOUS TRANSFORMATION OF THE WORKING-CLASS INTO FOREIGNERS
In the absence of director Samir ("Babylon 2," "Forget Baghdad," "Iraqi Odyssey"), his documentary, "The Miraculous Transformation of the Working Class into Foreigners" was pitched by his producer Levin Vieth from Werner Swiss Schweizer.
Vieth says: "Samir is in Italy still shooting the very last material we want to include in the film. It is expected to be delivered this summer, also because it's an election year in Switzerland and we want to be part of the discussion."
The film aims to show "how immigration has changed Switzerland with a focus on the 60s to the 80s," he says. "We want to go away from scandalization from foreigners and immigrants, show how it changed society and give those people a voice."
To build the narrative structure, the director went through hundreds of hours of archival material, before developing the shooting project and the storytelling. Motion capture is also used in the film. "We looked for a way to handle this topic that is heavily based on interviews and archives. We had to give some emotional connection point to the viewers. Re-enactment would have been a way, but recreating sets from the 60s would be a nightmare to produce, and animation was very expensive."
MOUNTAIN RIDE
Director Dominique Margot and producer Brigitte Hofer (Maximage) are working on their third film together: "Mountain Ride" (Bergfahrt). The film is expected end of July.
"My grand-parents were farmers in the Swiss Alps and all my childhood, I was surrounded by these mountains that made me feel super secure, Margot says about her seventh film as a director. But nowadays, things have changed, the mountains are crumbling, the ice is melting. So I felt the urge to go up there and see what was really going on."
In this documentary, the mountain is the central character and the breathtaking views shown at Visions du Réel prove it. The nine protagonists from different backgrounds interact with her. "We always stay on the mountain, we don't go home with them or explore their private life."
The film also listens carefully to what the mountains have to say: the natural sounds are central, and put viewers in total immersion. "We went up there at least 50 times to record the sound of the mountain. It was important for me not to cover it with human-made music or human-made sound, but to have this moments where you really get deeply inside the spirit and essence of nature."
MISTY – THE ERROLL GARNER STORY
Pianist of genius, Erroll Garner died in 1977. Swiss director Georges Gachot was 15 years old when he heard the news on the radio. "I cried as if I had lost a brother or a father. I felt such a closeness to this artist that I had to listen to in secret at home as a child because jazz was not allowed at home… Garner was my secret, my freedom," Gachot tells Variety.
It has taken him a long time since he met, in 2002, Garner's biographer in New York, with whom he has been working on the film. He did a lot of other films in the meantime, like "Martha Argerich, Evening Talks" and "Where Are You, João Gilberto?"
"One day, I heard that Garner had a daughter, Kim Garner, and that his last girlfriend, Rosalyne Noisette, was still alive. I thought: now I have some characters to make a film about him."
Gachot wanted a very personal film about Garner. No interviews with experts, stars who knew him or journalists; he only worked with people who really knew him. " You can get close to the personality and soul of Garner for the first time."
Shot in black and white in the U.S., the film also contains archive footage, some of which could be colored thanks to artificial intelligence, bringing colored touches.
"We opted for black and white as a way to reflect the nostalgia, the fact that, even if Garner died 45 years ago, all these people are still living with his memories."
The film has a budget of €1.1 million, including €200,000 for the archives alone, and is produced by Gachot Films, Ideale Audience Group, Achtung Panda! Media GmbH, 2 Pilots Filmproduction GmbH, SRF/RTS/RSI ZDF and ARTE.
After 14 months in the editing room already, it is expected to land by fall 2023.
2G
Following the blocking of unlawful migration from Niger to Libya, director Karim Sayad decided to follow the fate of four former smugglers "trying to find a new professional horizon by travelling into the desert." There, they will join dozens of gold diggers, trying to make a living in the middle of nowhere. Without much luck.
The third film of the director produced by Joëlle Bertossa from Close Up Films, the documentary shot for four month in Niger and two weeks in the gold mine. It is expected this summer.
"The shooting in the desert was a big adventure because we had no water, no electricity, no network, nothing at all," Sayad tells Variety. "We were also escorted because it is a rather dangerous zone. The technical team was composed of four persons including me, but we had 32 soldiers accompanying us, plus a team of 10 people who were our fixers. They managed the food, water and helped us to reach out to other miners."
At the beginning, the director's ambition was to shoot in scope to fit into the code of the western with which he associated the search for gold. "Once on location, even when we were in the city, there are very few buildings, everything is quite horizontal, so scope was perfect. It also helps translate the vastness of the desert."
"2G" is a portrait of "people you don't want to look at," the director explains. "As soon as we use the word 'smugglers,' there is a very negative connotation, but what are the options to feed their families? There are not many. Their struggle to survive is difficult and that's what I wanted to share with this film."
Read More About:
Source: Read Full Article