There is life after skinny jeans… DINAH VAN TULLEKEN's denim looks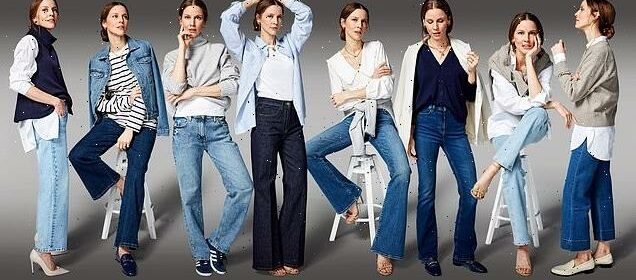 There is life after skinny jeans… DINAH VAN TULLEKEN gives her verdict on the best denim on the high street
Princess of Wales's denim remains a skinny jean fan despite the style being 'over'
Dinah Van Tulleken says they are hard to wiggle into, often far from comfortable 
READ MORE:  How the very chintzy Erdem became the Royals' fashion darling
When it comes to parting with her skinny jeans, the Princess of Wales seems to be struggling, like so many of us.
In case you weren't aware, skinnies are officially 'over' — and yet, while Kate has made bold style strides in other areas, her denim (as seen in her family's Christmas card) remains stubbornly spray-on.
I know how hard it is to part with a beloved signature style. Skinny jeans were our default for two decades (I have a wardrobe full of them). They went with everything and worked whether your style was more Kate Middleton or Kate Moss.
But, let's face it, they were hard to wiggle into, often far from comfortable and, at their worst, left you feeling lumpy, bumpy and overexposed.
I respectfully suggest that 2023 is the year for all of us to step out of our comfort zone and embrace a new denim look
Now there is a whole High Street of fresh and flattering denim out there. The catwalks were packed with barrel-leg, straight-leg, bootcut, asymmetric and baggy jeans by everyone from Victoria Beckham and Celine to Gucci.
So I respectfully suggest that 2023 is the year for all of us to step out of our comfort zone and embrace a new denim look.
Don't panic about the shopping experience — it turns out trying on loose-fitting jeans isn't nearly as traumatic! And I promise that when you update your denim it lifts your entire wardrobe. Allow me to introduce all of you (including Kate, if you're reading, Your Royal Highness) to this year's key denim styles.
Cropped cuts are popular, and Warehouse's version (far left) has patch pockets for a fabulous 1970s feel. The high waist means this shape is great for petite women. If you want to wear yours with heels, try them over knee-high boots.
But if comfort is key, the baggy, effortless 1990s shapes may be just the thing for you. This dressed-down denim vibe consists of faded, distressed washes and low-slung, wide-leg shapes. All look great with trainers or heavy lug-soled boots.
I didn't think I'd live to see the return of bootcut jeans, but here they are, and thank goodness — these high-rise ones from Per Una (third from left) are by far the most flattering and comfortable jeans I've ever worn. Tuck your top loosely into the waistband to get the full effect of the leg-lengthening design.
Flares were a feature on the catwalk and they're now a sophisticated choice — especially these kick flares from LA-based label, Frame (fourth from left). And check out Wyse London's classic Flossie Flares, too (second from right), which don't cling to the thigh.
As for colour, this season's dark indigo denim, like the crease-front Me+Em design (fourth from right), brings a smartness to the trend, but stonewash is just as cool. If you're feeling bold, try white in summer.
Saying goodbye is emotional, but our love affair with skinny jeans lasted far longer than it should have. Time to pick your new denim obsession.
Cropped, £20, warehouse fashion.com; shirt, £25, marksand spencer.com; jumper, £79.90, uniqlo.com; loafers, £250, meandem. com
High-rise, £225, dl1961. com; shirt, £25, gap.co.uk; knit, £79.90, uniqlo.com; heels, £52, aldoshoes. co.uk
Slim high-rise, £39.50, Per Una at marksandspencer.com; cardigan, £69, albaray.co.uk; blazer, £192, jigsaw-online.com; loafers, £225, russelland bromley.co.uk
Mid-wash flare, £250, frame-store.com; shirt, £55, whistles.com; knit (around waist), £40, gap.co.uk; heels, £52, aldoshoes.co.uk
Indigo wash, £175, meandem.com; T-shirt, £45, lavenderhill clothing. com; shirt, £24, gap. co.uk; heels, £52, aldo shoes.co.uk
1990s loose jeans, £32, and jumper, £40, both gap.co.uk; vest, £25, albaray. co.uk; trainers, £70, Adidas at schuh.co.uk
Dark wash wide-leg, £180, wyselondon. com; striped top, £19.90, uniqlo.com; denim jacket, £45, gap.co.uk; loafers, £225, russelland bromley.co.uk
Light wash wide-leg, £69, albaray.co.uk; shirt, £25, marksand spencer.com; knit tank, £150, meandem. com; courts, £110, steve madden.co.uk
Source: Read Full Article