Vinny Guadagnino On 'Steamy' All Star Shore, Partying in His 30s: 'My Hoe Phase Is Over' (Exclusive)

"It's not like I'm 19 anymore, and it's like, 'You didn't smash!?' No, I don't care. I actually sometimes prefer to go to sleep by myself at 35," the Jersey Shore star told TooFab while promoting Season 2 of All Star Shore.
At 35, it's safe to say Vinny Guadagnino isn't the same guy he was when Jersey Shore first premiered in 2004 — but that doesn't mean he still can't party or enjoy some Smush Room-esque hookups.
While promoting Season 2 of All Star Shore with TooFab, the reality television veteran recalled getting "steamy" in the Colombia shore house, and shared how he parties differently in his mid-thirties than he did back in the day.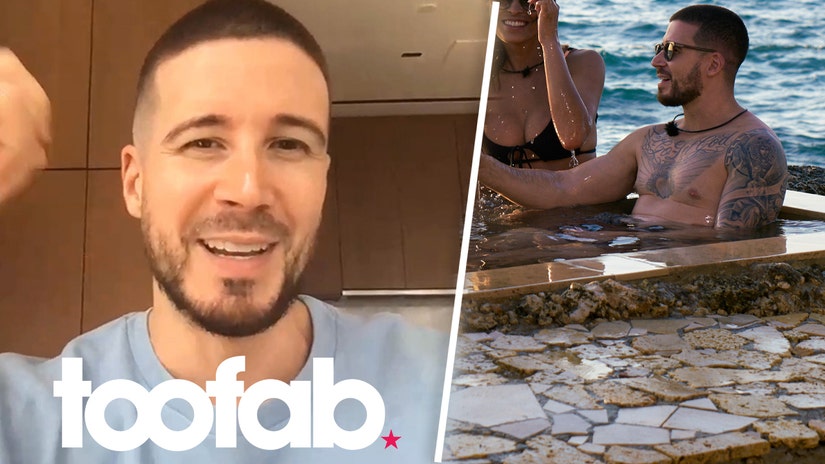 Vinny — who teased that Season 2 of the party competition series is "super steamy" — said the house saw its fair share of hookups, especially from his younger costars.
"From the new school kids, they're just going crazy. I mean, they're partying, they're hooking up," he told TooFab. "I haven't seen hooking up like that in a long time where you just don't care. You could just hook up with someone who you're not gonna even talk to the next day kind of thing so that's from their end."
"And then from my end, I also got steamy because it was the first time [I was] around hot single people in a long time," he added. "I'm single. They're single. … It was putting me in a more thriving environment for myself."
The 35-year-old noted that the environment wasn't a "high stakes" situation like Double Shot at Love, but more of "see[ing] who you click with."
As shown in the first couple of episodes of All Star Shore and in the Season 2 trailer, Vinny has a romantic connection with his partner Tamaris Sepulveda, with Vinny even bringing up the legendary Jersey Shore Smush Room in the Season 2 promo.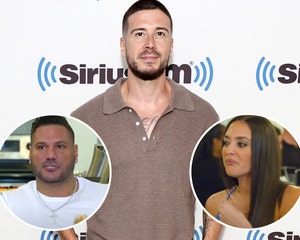 Jersey Shore's Vinny Guadagnino Shares If He Believes Sammi & Ronnie's Returns Are Permanent (Exclusive)
Despite this, don't expect him to be hooking up like costars who are in their 20s.
"I'm not thirsty at all. My hoe phase is over," Vinny told TooFab. "So if someone wants to kiss me on the cheek, that's fine. If they wanna hold my hand, that's fine. Whenever it gets to that point of physical, let it happen naturally. It's not like I'm 19 anymore, and it's like, 'You didn't smash!?' Like, no, I don't care. I actually sometimes prefer to go to sleep by myself at 35."
Not only does Vinny approach dating and relationships differently in his mid-thirties, but he — understandably — doesn't party like he did in his twenties. He said his younger All Star Shore costars would party "every night," and would wake up the next day without a hangover.
"I don't want to say it like this is an anomaly because I did this in my twenties, but these kids never got hungover," Vinny explained. "They partied every night, no hangovers, up the next day, begging for more drinks."
"They're young," he continued. "Some people are 20 — I don't even know — 23 or something like that … they're still in fun party mode, you know? So this Jersey Shore franchise truly is finding partiers from all over the world and putting them in a house together. And I got to experience living with them."
"I still live with partiers, but they do it in a different way," he added. "They usually drink eight bottles of wine and just pass out for a week."
Vinny said he and his Jersey Shore castmates didn't get hangovers either back in the day.
Unable to render YouTube Video.
"Every day in Seaside, I mean, Nicole ["Snooki" Polizzi] used to chug vodka in the shower," he recalled. "Our hangovers lasted like 10 minutes. We'd wake up, we'd be like, 'Alright, I'm a little messed up from last night. Let's go to the gym.' And then we would do it for 40 days in a row."
All Star Shore features 12 cast members from several TV series — including Vinny's Jersey Shore, Geordie Shore, Germany Shore, Acapulco Shore, Rio Shore, FBoy Island, and Too Hot To Handle.
As for which reality show parties the hardest? Vinny said no one compares to Jersey Shore. He and his costars are the OGs, after all.
"No one can touch Jersey Shore in terms of the way that we partied for years and still to this day, the way that, I mean, not all of us, but some of my castmates still party," he told TooFab. "I mean, nothing can touch the original OG show. No one can party as hard as we did. Like I said, we did it every single day. We did day parties, night parties. We were going crazy. We were wild. So now — and it's funny — they still do it as moms, but obviously our show is not just about partying anymore."
Meanwhile, Vinny also opened up about the show's wild challenges, shared whether his Jersey Shore costar Angelina Pivarnick — who starred on All Star Shore Season 1 — gave him any advice, and reacted to Tamaris and Xavier Ulibarri's first impression of him. See what he had to say — and much more from Vinny — in the full interview, here!
New episodes of All Star Shore and Jersey Shore Family Vacation air Thursday nights on MTV.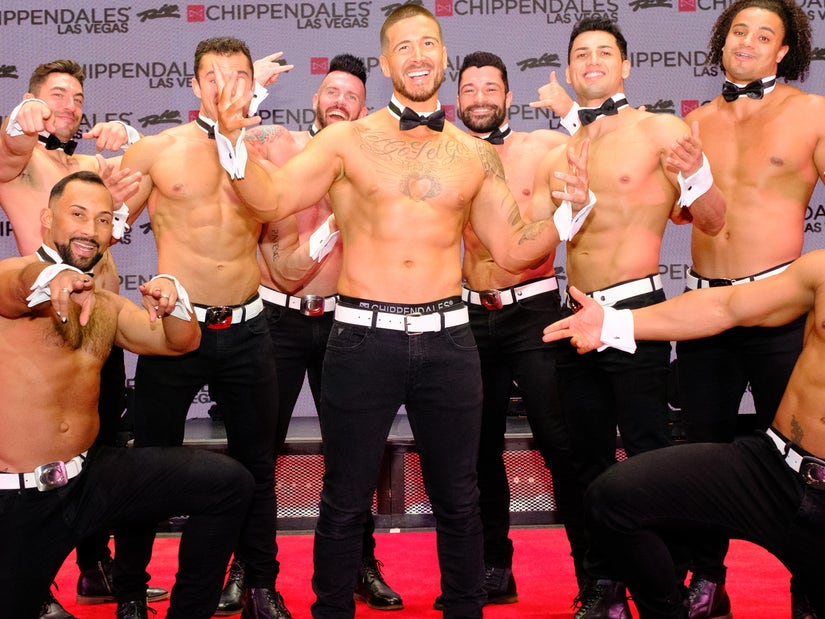 Source: Read Full Article