A shock in store for Summer in Corrie as surrogacy dad Mike moves in on Leanne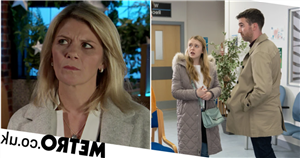 Summer (Harriet Bibby) recently paid a visit to Mike (Tom Lorcan) and Esther (Vanessa Hehir) on Coronation Street to start paying back the money they gave her because they were expecting to adopt her baby.
After revealing she was no longer pregnant, Summer had to take a job to try to pay the money back, but when she told Mike and Esther that she'd been living in a hostel and the restaurant she'd been working at couldn't offer her any more shifts, the couple refused to take her money and offered her their spare room.
Their kindness made Summer decide to think again about their idea of her being a surrogate for them, and in coming episodes she starts the process by attending a fertility clinic. Meanwhile Todd (Gareth Pierce), Paul (Peter Ash) and Billy (Daniel Brocklebank) are extremely uneasy about the whole idea and decide to find out more about Mike and Esther.
And it seems there is a lot more to find out, as Billy discovers when Leanne (Jane Danson) tells him she's met Mike before. She tells him that the man she's just seen dropping Summer off at home is the same one who was drunk in the bistro previously, and spent the whole night flirting with her.
This doesn't sound like the actions of a loving partner who will help Esther provide a stable family environment for their baby, and Billy is concerned that Summer has made an agreement with people who can't be trusted.
He decides to tell her what he knows – but how will she react?
Source: Read Full Article