Bob Mortimer 'at risk of over 20 cancers' due to weight gain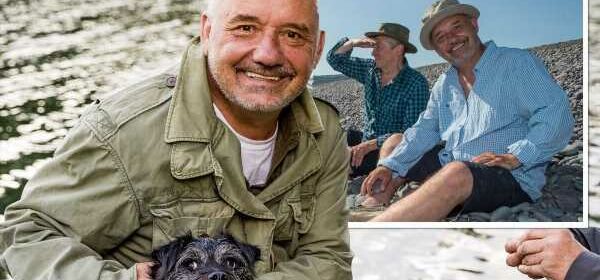 Bob Mortimer reflects on having open heart surgery
We use your sign-up to provide content in ways you've consented to and to improve our understanding of you. This may include adverts from us and 3rd parties based on our understanding. You can unsubscribe at any time. More info
In a scene from the new series of Mortimer & Whitehouse: Gone Fishing, the pair have their waists measured and are shocked by the results. Bob Mortimer explains his weight has contributed to him being more at risk of cancer and vowed to take action.
Bob, 63, commented: "We looked into it because we wondered a little bit, but it was true 22 cancers come onto the table if, as a fella, your waist is over 102cm, and it's less if you're Asian, 96 If you're Asian."
He learned his waist was measured at 104cm, and in a clip obtained by MirrorOnline, he vowed: "I am going to make it my mission to get under 102!"
The decision to measure their midriff came as they spoke about the importance of remaining healthy.
Paul suffers from heart disease while Bob previously had heart surgery in 2015 when his arteries are blocked.
1665297
Ahead of the new series, Bob spoke about being heart healthy was underlying through the show.
"We struggle with it a bit during the series, because we do like to treat ourselves," he explained.
"We're the sorts of people that on a holiday you can eat what you want – and it does seem like a little holiday these trips.
"So, we're always battling against that feeling that we're on holiday, let's just eat what we want!
"But no, we do pretty good. We have some heart healthy stuff every week. And we have Dr Anand down again to give us a talk about obesity and the problems that can cause for your heart – that is episode five."
Paul added of the theme: "It was a conscious decision when we first had the idea.
"I was sitting on the riverbank six years ago and I thought this was a good idea for a programme but only because of the underlying heart conditions that we both had.
"Otherwise, it's just a sort of indulgent travelogue, isn't it?
"So that for us was crucial, because that's why we took it to factual not to the comedy department.
"And I think we were right to do that really, I think it gave it a proper sort of…. not gravitas, but a real sort of reason for the programme to develop."
The show is now in its fifth series and Bob claimed it's the "prettiest, most breathtaking" due to the places they visit.
"We don't catch many fish but those that we catch are spectacular," he laughed.
"I think this series is actually a little bit more joyous and funnier than some of the earlier episodes.
"I reckon it's a slightly funnier series overall – and there's much more Ted in this series than there were in the others – he begins to dominate proceedings more."
Mortimer & Whitehouse: Gone Fishing returns to BBC Two on Friday at 9pm.
Source: Read Full Article