Corrie spoiler videos reveal Faye daughter twist, big health news and assault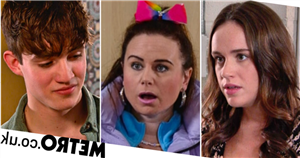 Coronation Street lines up another week of drama, with some shocking developments on the cards for a number of Weatherfield's finest.
Faye Windass (Ellie leach) receives a blast from the past, much to her shock, while Paul Foreman (Peter Ash) gets some shock news from the doctors regarding his injury, leaving him with a plan.
Amy Barlow (Elle Mulvaney), meanwhile, enjoys a night out in the company of Aaron (James Craven), but things subsequently take an upsetting turn.
if you're eager for a first look at what's coming up, we've got three video clips to tide you over until our next visit to the cobbles, previewing all of the above events. 
The fallout of this week's developments, as ever, continue into the next, and with so many questions left unanswered, here are some brand new spoiler clips to keep you entertained.
So, without further ado, here you go!
Monday February 27
To view this video please enable JavaScript, and consider upgrading to a webbrowser thatsupports HTML5video
Sally asks Faye if she wants to come over for a takeaway, but Faye's got something on her mind, revealing that Jackson – Miley's father – has got in touch to reveal that they've moved back to the UK.
Faye reckons this is the worst news ever, with subsequent scenes seeing her reveal that she's come to terms with not having children due to her early menopause and she's worried seeing Miley will stir up old feelings.
Wednesday March 1
To view this video please enable JavaScript, and consider upgrading to a webbrowser thatsupports HTML5video
Dr Gaddas tells Paul that his hand pain is a result of a bruised nerve from his accident and could take six to twelve weeks to heal. Gemma encourages Paul to carry on with his plan to sue Carla.
Will Paul do so?
Friday March 3
To view this video please enable JavaScript, and consider upgrading to a webbrowser thatsupports HTML5video
Aaron dries off his clothes after an accident with a bottle of Prosecco. Amy thanks him for suggesting that they go out, before offering to help clean his jeans. The two subsequently start to kiss.
Amy later stumbles towards the bedroom but declares herself to be too drunk, feeling sick as she falls onto the bed. 
Aaron, however, climbs into the bed next to her, with Amy completely oblivious as to what he does next. Amy is horrified the next day to find out what happened, telling Aaron that she was too drunk to consent, but Aaron claims they're equally responsible, which she knows is a lie.
Coronation Street airs Mondays, Wednesdays and Fridays at 8pm on ITV1 and ITVX.
If you've got a soap or TV story, video or pictures get in touch by emailing us [email protected] – we'd love to hear from you.
Join the community by leaving a comment below and stay updated on all things soaps on our homepage.
Source: Read Full Article