EastEnders star James Bye announces gender of new baby in sweet video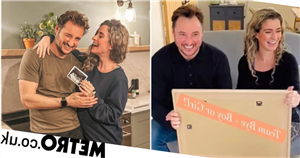 To view this video please enable JavaScript, and consider upgrading to a webbrowser thatsupports HTML5video
EastEnders actor James Bye has joined wife Victoria in an adorable video announcing the gender of their fourth child.
James, who has played Martin Fowler on the BBC soap since 2014, already has three sons with Victoria, and looked thrilled as they revealed that they have a fourth boy on the way.
'It's official… The worst kept secret ever is out!' Victoria revealed to her 77 thousand followers.
'It's a BOY! And truly… all 5 of us are over the moon…'
In the video, Victoria revealed that they've known their new baby's gender for a while, but that they are 'so excited to finally share'.
The reveal came as they turned around a gorgeous print with the words 'The Bye Boys' written across a flag.
There is one thing that the couple, who have been married since 2012, are still keeping under wraps.
They have already decided on a name for their little bundle of joy, though they are determined to keep it a secret, something which Victoria has admitted she will struggle to do.
'Honestly, we've been telling everyone [about the gender] – how we're supposed to keep his name under wraps (yep we've decided!) is beyond me… We've just been SO excited.' She revealed.
The excited mother of three, soon to be four, went on to explain why she is so excited to have another boy, despite many people asking if she would be 'trying for a girl'.
'I've lost count of how many people ask me if I'm going to 'try for a girl.' And I get it…' She candidly revealed.
'I've mentioned before, that a previous version of me would've loved a girl… I assumed (before having them) that 'boys would be boys'. Dirt, snails & puppy dog tails. And yes, cards on the table – there is ALOT of dirt.. & snails & all manner of other ungodly faff…' She joked, with an added laughing emoji, 'but there's also SO much more.
'The old stereotypes just don't apply anymore – to boys OR girls….'
Followers of the family were quick to offer their congratulations to them in the comments of the post.
'So excited for all of you,' one said, while another added, 'Congratulations! What a squad'.
James' former co-star Gurlaine Kaur Garcha, who played Ash Panesar until earlier this month, commented, 'congrats to you both!!!!' before adding that she missed James.
James and Victoria will welcome their new baby in June 2023.
Source: Read Full Article