Ken Dodd's staggering EIGHT-figure fortune he left behind: 'There was a lot of money!'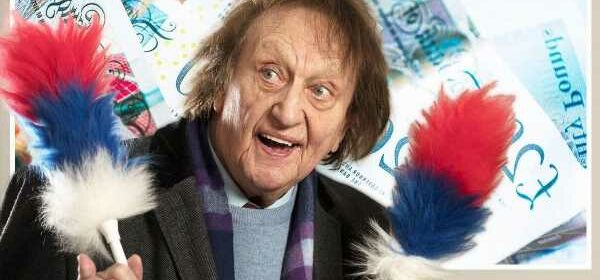 Ken Dodd's wife discusses leaving fortune to his hometown in 2019
We use your sign-up to provide content in ways you've consented to and to improve our understanding of you. This may include adverts from us and 3rd parties based on our understanding. You can unsubscribe at any time. More info
Sir Ken Dodd, who died aged 90 in 2018, will be remembered in a TV special on Channel 5 tonight. The Liverpudlian funnyman delighted generations of fans during a career lasting more than 60 years. Often dubbed "the last great music hall entertainer", his iconic one-liners and routines have now been compiled. 'Ken Dodd: 30 Funniest Moments' traces the journey of the much-loved late star, from his early days in the Fifties to his national treasure status.
The programme also features interviews with Sir Ken, who was also a successful recording artist.
It features contributions from those closest to him, including Anita Harris, Roger McGough, Ricky Tomlinson and David Morrissey.
After he passed away, Sir Ken left a staggering eight-figure fortune behind which was split several ways.
His widow Anne, Lady Dodd, who he married two days before his death, opened up about the money in a throwback interview.
Speaking to the Liverpool Echo last year, she revealed the fortune totalled £27.2million and was to be spent on various charitable causes.
JUST IN: Lewis Hamilton 'learned the hard way' after relationship with Nicole Scherzinger ended
Sir Ken was committed to charities throughout his life, and in 2017 was knighted by Prince William for his work for others.
He left around £10million of the money to Clatterbridge Hospital, an NHS facility in Bebington, Merseyside, which treated his previous fiancee Anita while she had a brain tumour.
Anne said: "He got involved with Clatterbridge because his previous fiance had been treated there, and he did a lot for Cancer Research and Macmillan.
"I said what's on your bucket list and they said a radio and television in every room and so he's done that, I'm very pleased with that.
"If he was asked to do something, his answer would be 'if i'm free I'll do it'.
"Sometimes I'd say 'you're in your 80s now, it would be easier to give money'.
"And he said no you need to give your time and you're only doing it if you're giving yourself and your time, he said that's much more precious."
Lady Dodd added: "In his will, there was a lot of money left but he'd already started his Ken Dodd Foundation.
"Because over his lifetime he never craved the trappings of wealth he lived a life comfortable at home in the same house he was virtually born in.
"He just loved living here. That's why I'm still living here. I've got 40-50 years of memories here, why would I move?"
DON'T MISS:
Frankie Boyle dismissed 'woke culture' destroying comedy: 'Don't think people offended' [LATEST]
POLL: What do you think of Strictly Come Dancing 2022 lineup? [INSIGHT]
David Attenborough recalled cruel moment brother Richard left beloved home: 'Impractical' [ANALYSIS]
Lady Dodd contributed to a biography of Sir Ken published last year called 'The Squire of Knotty Ash and His Lady', written by Tony Nicholson.
Named after the Liverpool area where he lived his whole life, the book provides further details about the comedian's money.
The book reads: "A significant donation has also been made to the new Clatterbridge Hospital and Cancer Centre, to equip 110 bedrooms with televisions and radios.
"Clatterbridge was always one of Ken's favourite charities, as they had cared for fiancée Anita at the end of her life."
It adds: "Anne, together with the trustees, is planning to help fund some modernisation to the entrance of the Liverpool Anglican Cathedral, making it more wheelchair-friendly.
"She gets terribly excited when she talks about all these projects and clearly loves being able to help. The cathedral I suppose holds a very special place in her heart, as they gave Ken such a magnificent send-off."
'Ken Dodd: 30 Funniest Moments' airs on Channel 5 tonight from 8pm.
Source: Read Full Article