Robin Roberts makes on-air quip toward George Stephanopoulos

Robin Roberts and George Stephanopoulos have the sort of working relationship on Good Morning America that can go from professional to good-naturedly snippy in seconds.
MORE: Robin Roberts looks sensational in figure-flattering jumpsuit fans love
The two often showcase their comfort with ribbing into each other while still keeping spirits high on the show.
VIDEO: GMA's Amy Robach 'throws shade' at co-star T.J. Holmes
Such was the case during a segment on the show's latest installment, talking about the imbalance in a household between the work put in by mothers and fathers.
The segment discussed that women ended up putting many more hours into housework than men, with research showing that even among men who did offer assistance, the time put in was lower, resulting in burnout.
MORE: George Stephanopoulos embraces the country with his new wedding look
Robin, George, Lara Spencer, and TJ Holmes listened to the interviews and clips being shared, and as it came to a close, Robin simply turned to her co-hosts beside her and questioned: "Men?" with a cheeky smile.
Expecting a response to the story, George simply added: "We have no defense, let's not even try," to the amusement of Robin and Lara.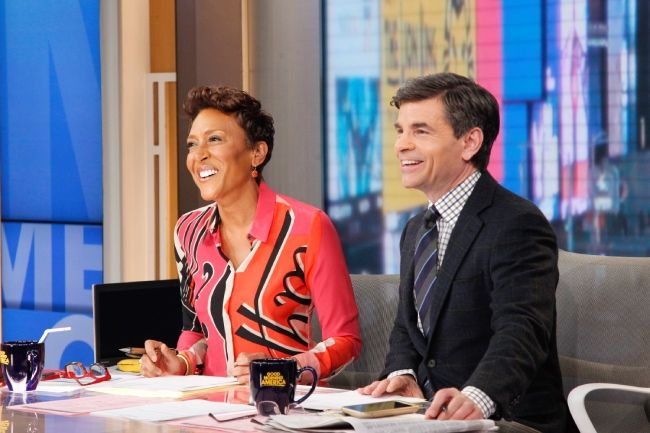 Robin and George often joke around on set
TJ came back with an even stronger reply, motioning to correspondent Eva Pilgrim and saying: "I offered to do this report for you, so you didn't have to work."
While most of the studio was left in hysterics, Robin simply sighed and put on a resigned expression as she jokingly just shook her head.
MORE: Robin Roberts and Gio Benitez joined by partners as they leave GMA for DWTS
MORE: Ali Wenworth dances in boldest dress with husband George Stephanopoulos – watch
She then turned to TJ and said: "You just always find a way, don't you?" while motioning for Lara to take over with Pop News, and found her shaking her head too.
These moments involving the co-hosts come around pretty frequently throughout the show, adding to the light atmosphere among the oftentimes grim news segments.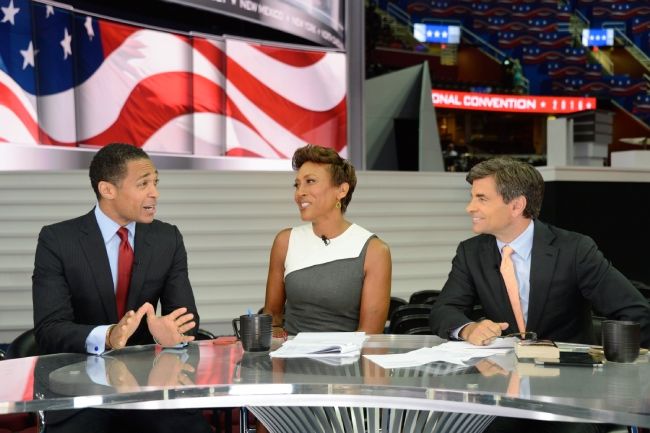 TJ frequently gets some of the biggest laughs in the studio
Earlier in the morning, there was even a bit between Robin and TJ once again, as they paid tribute to Loretta Lynn and Robin noticed how TJ reacted to hearing her lyrics for the first time.
Read more HELLO! US stories here
Source: Read Full Article