Spoilers: Lola and Jay secretly beg Ben for help with money crisis in EastEnders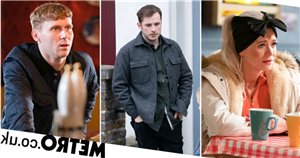 Like many of us, EastEnders' Lola Pearce (Danielle Harold) and Jay Brown (Jamie Borthwick) are struggling for money.
Having just returned from their honeymoon, things feel desperate, though neither of the married couple want to worry the other person.
Instead they individually seek help from friends, unaware that they are both asking the same person!
Separately, they both approach Ben Mitchell (Max Bowden) for help.
Ben has been a pillar for them both since Lola's brain tumour diagnosis last year.
Having been a friend of Jay's for years, and the father of Lola's daughter, Lexi, he has no qualms in lending them a helping hand.
As well as Ben, the pair now also have Lola's mum, Emma Harding (Patsy Kensit), for support.
It was Emma that gave them the money for the honeymoon, wanting to make up for all the lost time between her and Lola.
Emma abandoned Lola as a young child, though it was recently revealed that she was forced out by her abusive husband, Lola's dad.
Though she was able to win over Lola, grandad Billy Mitchell (Perry Fenwick) was still suspicious, pointing out that Lola couldn't be bought by Emma flashing her cash.
Lola and Jay aren't the only Walford residents struggling with money, with the Slater and Taylor families also having to tighten their belts.
Will they be able to work things out with Ben's help?
Source: Read Full Article