'A local treasure': How Pol the Painter has captured the heart of Fitzroy

With a wiry orange beard, strong black frames and a signature hat, Pol McMahon cuts a familiar shape on the Brunswick Street block he has painted many times before.
To locals, he is known as Pol The Painter. He has been painting Fitzroy and its surrounds for more than three decades, capturing changing shopfronts, live gigs and community events in vivid brushstrokes.
Artist Pol McMahon in Fitzroy.Credit:Luis Ascui
"[Art] is the sort of thing that's done around here, and I happen to be the one doing it," he said.
When he arrived in Melbourne from Sunbury in 1988, painting was a way to feel at home in a new location. He perched outside the now-iconic Mario's Cafe on Brunswick Street after it first opened and taught himself how to paint the people and places that moved around him.
"It means I didn't feel out of place, I could just be here and be something," he said.
After working as a flight steward, Pol was drawn into the magnetic Melbourne arts community. He's lived everywhere, from a squat on Nicholson Street to the park under the West Gate Bridge in protest of dredging.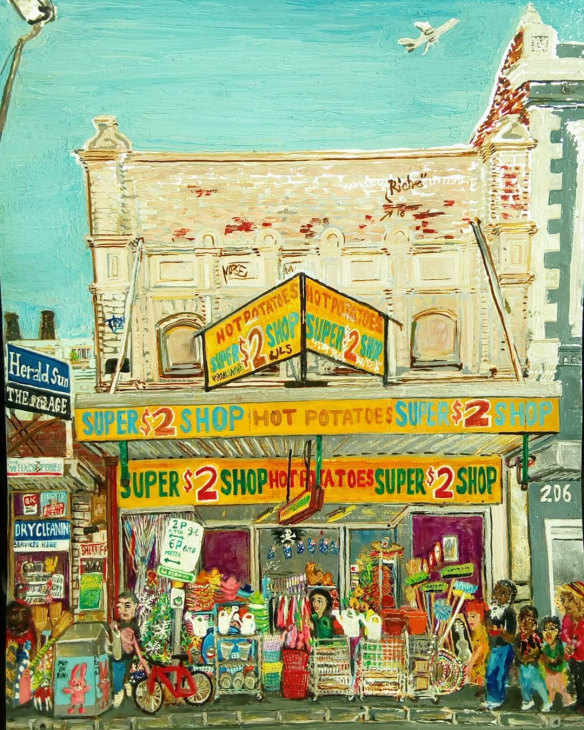 Hot Potatoes (2019) by Pol the Painter.Credit:Pol McMahon
Now he lives in a flat in the Atherton Gardens commission building on the corner of Gertrude and Smith streets where he has a view over the neighbourhood he spends all day painting.
Iconic buildings like the Black Cat, Builders Arms Hotel and Radio Bar have had the Pol treatment – their likenesses rendered in bright colours and precise architectural detail on a pressed metal sheet.
He makes his materials himself. His paintbrush is the plastic shell of an old ballpoint pen stuffed with new bristles. His "canvas" is an A4-sized sheet of pressed aluminium. Back in his flat he has pigments so he can make his own paint.
Gertrude Street (2021) by Pol The Painter.Credit:Pol McMahon
It's essential, he explains, in case money dries up one month and he can't buy new supplies.
Human icons haven't passed the artist by either. Over the years he's painted Archie Roach and Uncle Jack Charles at the Peel Street Festival, accidentally snubbed Albert Tucker (of John and Sunday Reed's Heide Circle) on the streets of St Kilda and snuck into venues with the Hoodoo Gurus.
His oeuvre is like a physical memory of the shifting face of Fitzroy. But Pol doesn't mind how the tapestry of the street alters over time.
"It's supposed to change but the spirit of things should stay intact," he said. "It's somewhat attractive just being here, no matter how much the suburb has changed."
Pol's unique "flashpoint printing" process reflects this evolving streetscape. He embosses metal plates with outlines of legendary buildings so he can return to them at different stages in their life to capture the new version.
"It means I didn't feel out of place, I could just be here and be something," Pol McMahon says of painting in the streets of Fitzroy.Credit:Luis Enrique Ascui
Populating old places with new people or businesses is as important to Pol as his catalogue of past work.
"We're significant. Now is significant. Here is significant," he said. "It's about now, not some other time."
Another part of Pol's practice is the miniature "transparencies" he makes of his paintings. He takes photos of the finished works and prints them onto clear plastic film designed for projectors to hand out to passers-by.
Watercolour of The Age photographer Luis Ascui and reporter Sasha Gattermayr, Pol The Painter, 2022.Credit:Pol McMahon
"It means a lot to me to have a connection to people," he said.
The people he meets feel the same.
"He's truly a local treasure," said People of Gertrude Street organiser, Peter "PK" Kaylor. "I wish there were people painting portraits of Pol."
Your essential guide to the best things to see and do in and around the city. Sign up to our Culture Fix newsletter here.
Most Viewed in National
From our partners
Source: Read Full Article