Baby dies in horror accident after getting tangled in bag straps as her distraught parents issue warning | The Sun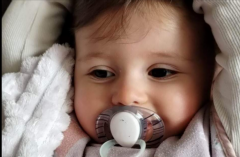 A TRAGIC tot died after she got tangled in a bag strap that was hanging from a door.
Little Mia Macphee was only one when the horror accident happened last month. 
She was starved of oxygen for so long that her heart stopped beating.
Medics managed to revive her and she spent four days in hospital before she slipped away with distraught parents Hannah and Connor lying either side of her.
Now the next, and final, time they will hold her will be when her casket sits on their laps during her funeral next week.
Devastated Hannah told the Press and Journal: "Mia was bubbly, sassy, and every inch a daddy's girl. We could never have foreseen losing her. We thought we had years.
"We're paying tribute to her because she was amazing – but also so this doesn't happen to any other family.
"You never think it will happen to you. We're sharing this so it never has to happen to anyone else again."
Hannah and Connor, from Alness, Ross-shire, were delighted when little Mia was born last March.
She was the couple's third child, after Alex, 13, and Jacob, eight, but their first girl.
Most read in News
Major fashion chain set to RETURN to high street after closing all 170 branches
Celeb Big Brother and Loose Women star Anne Diamond reveals she has cancer
Milkshake singer Kelis, 43, DATING Ghostbusters actor Bill Murray, 72
Dramatic moment knifeman taken down by gun cops after stabbing four toddlers
The tot loved biscuits, strawberries and Minis and doted on her delivery driver dad.
Hannah said: "She was an amazing baby, happy all the time. This sassy little toddler, into everything, which we loved about her.
"She had an infectious laugh and though she could say 'mamma' and 'dadda' it was her spontaneous little screams that we were used to. 
"When she went quiet we knew something was wrong."
Disaster struck last month after Mia had been left alone in the kitchen of the family home for a few moments.
Connor went looking for her to see what she was up to and found her caught up in a small rucksack-like bag.
She had got herself tangled up in the thin straps that were hanging from the kitchen door and was unable to breathe.
Hannah, who is pregnant, said: "As he untangled her he screamed for me.
"I grabbed her and took her to the kitchen floor where I started doing CPR. Connor rang 999.
"We told our eight-year-old to stay upstairs. I wasn't unaware of how serious it was."
Hannah reckons it took as long as 45 minutes for her daughter's heart to start going again.
She was rushed by ambulance to Raigmore Hospital, Inverness, while cops drove her mum and dad there.
The tot was being kept alive by a ventilator and was transferred to Edinburgh for more specialist treatment.
Doctors warned her parents that she might not be strong enough to make the journey.
While at the same time police took over the family home as they investigated the tragic accident.
Hannah said: "It was horrific. Our daughter's life was hanging in the balance.
"Our home was effectively a crime scene because something so terrible had happened."
But the couple had a tiny amount of hope because Mia appeared to be recovering and was being weaned off some medication.
Sadly she never made it and passed away four days after the incident.
Hannah said: "Connor and I lay in bed with her.
"I had my hand on her chest and could feel her slipping away. Her heart stopped beating at 2.35pm.
"We fell asleep with her between us. That was the last proper time we had with our little girl."
Hannah told how she wanted Mia's death to serve as a chilling warning to other parents.
She said: "We can't stress this enough to anyone reading this: we didn't even give a bag hanging on a door a second thought. 
"But everyday things like that need to be thought about."
Mia loved a push-along toy Mini that her dad bought her so her family launched an appeal to find owners of real versions of the car.
They have managed to arrange a procession of the motors for the service at 2pm on Thursday June 15 at Inverness Crematorium.
Read more on The Sun
I'm a 28GG & have found the best swimwear for a big bust – they're so flattering
I paid £10 a day to go on a cruise – it was cheaper than drinks in London
A crowdfunding campaign has been launched to support the Macphee family and has already raised over £5000.
We pay for your stories and videos! Do you have a story or video for The Scottish Sun? Email us at [email protected] or call 0141 420 5200
Source: Read Full Article