Brave Ukrainians celebrate New Year as Putin carries out bomb attacks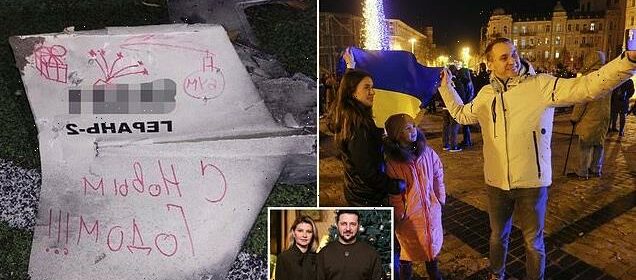 Russian drone scrawled with 'Happy New Year, boom' message falls on Kyiv as brave Ukrainians turn out to celebrate together despite Putin's renewed bomb attacks
Russian forces kept up their barrage of Ukrainian cities overnight into New Year 
But residents in the capital Kyiv took to the streets in defiance to celebrate
Air raid sirens blared for four hours throughout the night as Russian strikes continued across the country 
Russia continued intense missile and drone attacks across Ukraine early on New Year's Day as curfews in certain parts of the country made celebrations impossible in some public spaces.
But hundreds of brave Ukrainians in the capital refused to let the warmongering Russian president dampen their spirits, taking to the streets to ring in the new year with family and friends. 
Ukraine's Air Force command said that they had destroyed 45 Iranian-made Shahed drones overnight and Kyiv Mayor Vitaliy Klitschko said there were no casualties – though attacks on Saturday killed at least one person in the capital.
Andriy Nebytov, chief of Kyiv's police, posted a photo on the Telegram messaging app allegedly showing a piece of one kamikaze drone on which a Russian soldier had emblazoned the words 'Happy New Year'.
'These wreckage are not at the front, where fierce battles are taking place, they are here, on a sports grounds, where children play,' Nebytov said. 
Ukrainians take a selfie with the Ukrainian national flag near a Christmas Tree in the evening in downtown Kyiv, Ukraine, 31 December 2022 prior to the New Year
A Happy New Year message is written in Russian on what appears to be a piece of an Iranian-made Shahed kamikaze drone fired on Kyiv overnight
An 11pm curfew was in place in the capital, preventing citizens from celebrating on the main square overnight.
But for hours leading up to the curfew hundreds of residents packed the streets, waving Ukrainian flags and wishing one another well as they snapped selfies in front of a large Christmas tree in Sofia Square lit up in blue and yellow.
Later, as air raid sirens blared for over four hours in Kyiv throughout the night, some people could be heard shouting from their balconies 'Glory to Ukraine! Glory to heroes!' in clips posted on the Telegram messaging app.
U.S. Ambassador to Ukraine Bridget Brink said on Twitter: 'Russia coldly and cowardly attacked Ukraine in the early hours of the new year. But Putin still does not seem to understand that Ukrainians are made of iron.' 
Elsewhere in Ukraine the Russian attacks continued to mount.
Ukraine's top command said Sunday that Russia had launched 31 missiles and 12 air strikes across the country in the previous 24 hours.
The newest attacks had damaged infrastructure in Sumy, in the northeast of the country, Khmelnytskyi in the west and Zaporizhzhia and Kherson in southeast and south, the General Staff of Ukraine's Armed Forces said.
They followed many bombardments over the past months, which Russia has chiefly directed at Ukraine's energy and water infrastructure.
Ukrainians celebrate the New Year eve before a curfew start, near a Christmas tree decorated in the colors of Ukrainian flag at the Sofia Square in Kyiv, Ukraine 31 December 2022
Ukrainians hold the Ukrainian national flag near a Christmas Tree in the evening in Kyiv, Ukraine, Dec 31, 2022
Ukrainian president Volodymyr Zelensky, standing beside his wife Olena Zelenska, said Ukraine would be victorious over Russia in his New Year address
Earlier in the evening, President Volodymyr Zelensky said Ukrainians would fight until victorious.
'We fight and will continue to fight. For the sake of the main word: "victory",' he said in a New Year address even as his country endured fresh Russian strikes.
'I want to say to all of you: Ukrainians, you are incredible! See what we have done and what we are doing!' Zelensky said in the emotional speech.
'We fight as one team – the whole country, all our regions. I admire you all. I want to thank every invincible region of Ukraine,' he continued. 
Vladimir Putin meanwhile delivered a combative New Year address, signalled that the war, now in its 11th month, will continue.
As Russian regions in the Far East rang in 2023, the Russian leader delivered his midnight address – usually set against the backdrop of the Kremlin – standing among servicemen and women who fought in Ukraine.
Footage released by Russian state TV showed Putin raising a glass of champagne with soldiers, some with awards pinned to their chest, before telling viewers that 'moral, historical rightness is on our side'.
Putin said that this year was marked by 'truly pivotal, fateful events' which became 'the frontier that lays the foundation for our common future, for our true independence'.
'Today we are fighting for this, protecting our people in our own historical territories, in the new constituent entities of the Russian Federation,' he added, referring to four Ukrainian regions that Russia claimed to have annexed.
Earlier in the day, Defence Minister Sergei Shoigu said in a message to his servicemen that Russia's victory in Ukraine was 'inevitable'.
Russian President Vladimir Putin delivers his New Year address for Russians during his visit to the Southern Military District headquarters in Rostov on Don, Russia, 31 December 2022
A fresh round of explosions rocked Kyiv less than an hour into 2023, after Russia had attacked Ukraine with missiles targeting the capital
The first blasts of the new year began roughly 30 minutes after midnight, hitting two districts
More than 10 explosions rocked the Ukrainian capital earlier on Saturday. 
Klitschko said on social media that at least one person died as a result of the attacks on Saturday while city authorities said 22 others were injured.
One explosion tore open one corner of the four-star Hotel Alfavito in Kyiv, spilling rubble into the street.
Nearby pavements were covered in glass from blown-out windows in the area, including from Kyiv's National Palace of Arts.
Filmmaker Yaroslav Mutenko, 23, lives in a nearby apartment complex and said he was in the shower preparing to go to a New Year's Eve party when he heard a boom.
He said there had been similar explosions in the area during a previous attack in October, but nothing as loud as Saturday's explosion.
As he watched rescue workers cordon off the street in front of the hotel, he told AFP he still planned to go to the party at a friend's house.
Mayor Vitali Klitschko said on Telegram, adding there were no immediate reports of casualties
Ukrainian military soldier sits before preparing to fire a mortar round, as Russia's attack on Ukraine continues, in region of Donetsk
'Our enemies the Russians can destroy our calm but they cannot destroy our spirit,' he said.
'Why do I go celebrate with friends? Because this year I understand that it is important to have people near.'
The attacks come as Putin's invasion of Ukraine enters its 11th month, with Russian strikes systematically targeting energy infrastructure, leaving millions in the cold and dark in the middle of winter.
Strikes were also reported yesterday in the southern city of Mykolaiv where a local official said seven people were injured.
Mykolaiv mayor Oleksandr Sienkievych had said earlier that a fire broke out in one of the city's districts and several residential buildings sustained damage as a result of the strikes.
In Ukraine's west, at least four people were wounded in the Khmelnytskyi region, governor Sergiy Gamaly said, adding that part of the city of Khmelnytskyi was left without power.
Source: Read Full Article