Downing Street's Larry the Cat gets a clean bill of health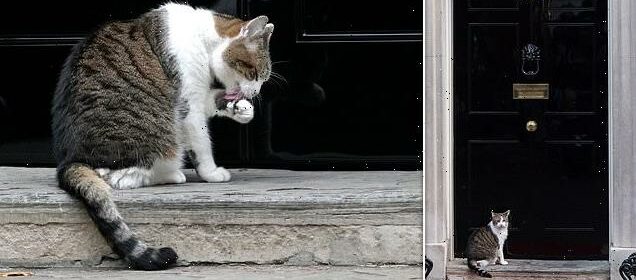 'Feline puurfect': Larry the Cat gets a clean bill of health as Downing Street insists its Chief Mouser is fit as a fiddle after 15-year-old tabby's visit to the vet
Concerns over the Chief Mousers health were raised after his treatment for cysts
Larry has now seen five successive prime ministers since his arrival in 2011
Downing Street has denied claims that Larry the Cat is unwell after he underwent veterinary treatment for cysts.
Larry, Downing Street's Chief Mouser, has now seen five successive prime ministers since his arrival in 2011, and is advancing into his later years, thought to be 15-years-of-age.
Serious concerns were raised about the cat's health but Downing Street has since rejected the claims.
'Larry saw the vet last month for a routine check-up. He remains in Downing Street and is feline well,' a Downing Street source told The Sun.
Larry has had a front row seat to British politics for over more than a decade and has been a mainstay behind the Downing Street gate.
Larry the cat, Chief Mouser to the Cabinet Office licks his paw on the doorstep of 10 Downing Street in London, October 14, 2022
Larry the Cat sits outside 10 Downing Street, November 23, 2022
Larry the Cat prowls across his Downing Street territory, July 7, 2022
According to the Downing Street website, Larry's duties include: 'greeting guests to the house, inspecting security defences and testing antique furniture for napping quality.
'His day-to-day responsibilities also include contemplating a solution to the mouse occupancy of the house. Larry says this is still 'in tactical planning stage'. 
The cat is also famous for a parody Twitter account which has amassed more than 800,000 followers with a satirical take on the Downing Street ongoings.
Following the claims that he was unwell, the account Tweeted 'don't believe the rumours' in response to a sighting of him outside Number 10.
Larry joined his new Downing Street home in 2011 after being rescued from Battersea Dogs and Cats Home.
He was originally intended to be a pet for David and Samantha Cameron's children, but has since remained on duty at Number 10.
The Chief Mouser had to beat off four other candidates for his position but a Downing Street staffer named David took a particular shine to him.
An acquaintance of David told Times Radio that the cat was chosen 'because he was calm and was unbothered about whether he was picked or not, unlike other more needy cats, who meowed and wanted attention.' 
Larry the Cat, yawns as he's photographed after Liz Truss announced her resignation as Prime Minister, October 20, 2022 
Larry is also well known for his tussles with other animals throughout his time on Downing Street.
In November last year he got into a fierce scrap with a fox in front of the famous black Number 10 door. The Chief Mouser fought the urban fox off as it retreated from Larry's Downing Street territory.
Many of Westminster's pigeon population have also had to flee Larry's attack.
The cat has also been known to have face-offs with Downing Street's other feline residents including his archenemy Palmerston, the mouser from the Foreign Office, who retired from his role in 2020.
Larry the Cat welcomed US President Donald Trump to Downing Street in June 2019
British Prime Minister David Cameron introduces President Barack Obama to Larry the cat at 10 Downing Street, May 25, 2011
Prime Minister Boris Johnson with Chief Mouser Larry the Cat
He had a less than amicable relationship with former Chancellor George Osborne's cat Freya, with the two being caught in a scrap in 2012.
From David Cameron, Theresa May, Boris Johnson, Liz Truss, and now RIshi Sunak, the Chief Mouser has seen over a decade of prime ministers. But Larry has taken to some more than others.
It was also rumoured that the then outgoing prime minister David Cameron had a somewhat frosty relationship with Larry – prompting him to take a photo of himself sitting on an armchair with Larry on his lap just before he moved out. He held up the picture in his final Prime Minister's Questions as 'proof' that they got along just fine.
Last year, Larry was filmed snubbing then prime minister Liz Truss, who is on her way out of Downing Street, when she bent down to try and stroke him during her 49-day tenure.
David Cameron sat in an armchair with Larry on his lap after rumours he and the Chief Mouser had a frosty relationship
Source: Read Full Article