Drink-driver who killed a charity cyclist 'confessed to his fiancée'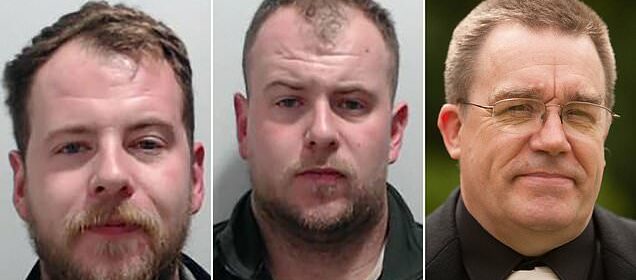 Drink-driver who killed a charity cyclist and buried his body in the woods with the help of his twin brother 'confessed to his fiancée during a Christmas drinking session when she asked if he had any secrets before they wed'
 Alexander McKellar ploughed into Tony Parsons in his Isuzu pick-up on the A82
A drink-driver who killed a charity cyclist then covered it up with the help of his twin brother was caught after confessing to his fiancee.
Alexander McKellar ploughed into Tony Parsons in his Isuzu pick-up on the A82 between Bridge of Orchy, Argyll, and Tyndrum, Perthshire.
McKellar and his twin Robert then tried to cover up the crime, on September 29, 2017, by burying the 63-year-old former Navy officer in nearby woods.
The pair will be sentenced for the shocking offence later today. 
A source told The Sun Alexander spilled the beans in a Christmas drinking session in 2020.
They added: 'His fiancée asked if he had any secrets to reveal before they got married but obviously she wasn't expecting that bombshell.
'He'd hidden it for more than three years.
'Only Alexander and his twin brother knew until then.
Alexander McKellar pleaded guilty to culpable homicide and attempting to pervert the course of justice over the death of Tony Parsons, 63, from Tillicoultry, Clackmannanshire
Robert McKellar who pled guilty to attempting to pervert the course of justice over the death of Tony Parsons, 63, from Tillicoultry, Clackmannanshire on September 29, 2017
'The incredible admission led police to finding Mr Parsons in an animal grave.
'Were it not for the confession, it would probably still be a mystery to this day.'
The disappearance of Mr Parsons sparked a major missing person probe, which included a BBC Crimewatch appeal by his son Mike.
His remains were finally found on January 12, 2021, three years after he was killed. Both McKellars, 31, from Argyll, had been due to stand trial accused of murder.
But, via his KC Brian McConnachie, Alexander this week pleaded guilty at the High Court in Glasgow to the reduced charge of culpable homicide.
His brother, represented by John Scullion, KC, had his not guilty plea to murder accepted. 
Along with Alexander, he admitted a charge of attempting to defeat the ends of justice.
Tony Parsons, 63, from Tillicoultry, Clackmannanshire, who died on September 29, 2017
The final journey of former naval officer and charity cyclist Tony Parsons
Prosecutor Alex Prentice, KC, revealed that Alexander had previous road traffic convictions including dangerous driving and drink-driving.
The court heard how Mr Parsons had travelled from his home in Tillicoultry, Clackmannanshire, in September 2017 to Fort William, Inverness-shire, intending to return south as part of a charity bike ride.
The amended culpable homicide charge stated that Alexander drove at excess speed while unfit through alcohol on the night of the killing.
Prosecutors stated that Alexander failed to observe Mr Parsons, who was cycling on the A82, and caused his vehicle to hit the father of two.
The driver failed to get medical help for the victim in 'reckless disregard for the consequences'.
The cyclist was said to have been abandoned at the side of the road in a dark and remote area in 'inclement weather'.
Both McKellars knew what had happened and took extreme steps to cover up the crime, the court heard. 
Police search a Highland farm at Auch Estate in connection with the disappearance of Tony Parsons on January 8, 2021 in Bridge of Orchy, Scotland
The damaged pick-up was dumped at the nearby Auch Estate along with their phones. 
Using another car they returned to the scene, where Mr Parsons was still lying, and hauled him along with his bicycle and other personal belongings into the vehicle.
The brothers initially hid him in woods at the Auch Estate.
They later returned and moved the body to a location used 'for the purposes of disposing of dead animals'. 
Mr Parsons was reported missing on October 2, 2017.
Prosecutors said the brothers got help in trying to repair the vehicle used in the killing, claiming damage had been caused by hitting a deer. 
The charge stated all this was to 'prevent and delay the discovery of the body'.
It was said they did 'obstruct' the police from conducting a 'full and proper investigation'.
Mr Parsons's body was discovered by specialist police search officers in a remote area close to a farm near the A82.
Source: Read Full Article