JASON GROVES analyses Sunak's reshuffle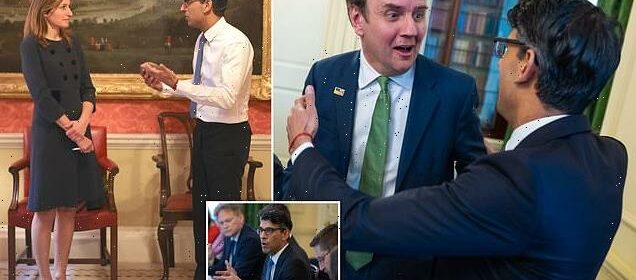 A Cabinet shake-up made in California… but Rishi's looking long-term when he needs quick wins: JASON GROVES analyses Sunak's reshuffle
The origins of today's reshuffle date back almost 20 years to when Rishi Sunak arrived to study at Stanford University in the heart of Silicon Valley.
The next few years would prove formative for the Fulbright Scholar and future prime minister, who turned up in California as the internet revolution was getting under way.
Not only did he meet his future wife, but his experience, first as a Stanford student and later as a private equity manager operating in the tech boom, was to take a powerful hold on his political and economic outlook.
As chancellor, during the leadership campaign and as Prime Minister he has spoken repeatedly of his 'inspiring' experience in California, his belief that innovation, science and technology can revolutionise Britain and his dream of building another Silicon Valley here in the UK.
It is certainly a bold vision, which few on the Conservative benches would quibble with in principle.
As chancellor, during the leadership campaign and as Prime Minister he has spoken repeatedly of his 'inspiring' experience in California. Pictured: Sunak hosts cabinet today
But it is also a long-term strategy at a time when the Tory party desperately needs some short-term wins to start turning round a daunting Labour lead in the polls.
One minister warned there was a real danger that the shake-up would backfire and encourage Whitehall to move even more slowly.
'We have probably only got six months to get things done before we are into the election countdown and the system just refuses to play ball with anything,' the source said.
'I can't really see that having a big Whitehall shake-up will do anything but reduce the very limited time available to make a difference.
'You will have weeks now – probably months – of people arguing about where they should sit and who's responsible for what.
'Everything that was being worked on will have to be looked at again. Obviously the PM wants to get on with action in these areas, but it feels like a recipe for delay.'
The shake-up will split the sprawling Business Department into three, with former culture secretary Michelle Donelan taking up a role as Secretary of State for Science, Innovation and Technology. Effectively her job is to create the new Silicon Valley.
Lucy Frazer, Secretary of State for Culture, Media and Sport speaks to Prime Minister Rishi Sunak as she arrives to attend cabinet in 10 Downing Street
Mr Sunak picked trade minister Greg Hands to replaceNadhim Zahawi as Tory chairman. Mr Hands is an experienced campaigner and trusted media performer
Grant Shapps will look after energy security and net zero, while trade secretary Kemi Badenoch will take on what is left of the former business department.
Lucy Frazer takes over at culture, media and sport, although the loss of the huge digital brief – with responsibility for broadband roll out and online safety – means the role returns to its 'Ministry of Fun' origins.
The plans did not impress former culture secretary Nadine Dorries, who tweeted: 'Sad to break up DCMS, because it works. The department has tragically lacked profile of late despite being most effective in Whitehall.
'Track record in tech, digital, gigabit roll out, telecoms, data speaks for itself. This along with maths to 18 – it's like (Dominic) Cummings never left!'
Certainly, the former No 10 aide Cummings shared an obsession with science and technology. The fact that Mr Sunak appears to have sounded out Michael Gove to run the department will also fuel fears that Mr Cummings still has influence at some level – an idea vehemently denied by those close to the PM.
A bigger concern in Whitehall is whether the new set-up will work, and whether the PM had learned the lessons of recent history.
One senior civil servant said the PM had 'done a Gordon Brown and recreated Dius' – a reference to the late, unlamented, Department for Innovation, Universities and Skills, which was put out of its misery in 2009 after just two years.
'It was, by a distance, the worst department I ever had to engage with,' the official said. 'No one knew what it was for and it quickly became a complete basket case.'
Mr Sunak, naturally, sees things differently, arguing that his new set-up will help improve energy security and drive growth.
No 10 acknowledged that the changes would not be a 'silver bullet'.
Mr Sunak met his future wife Akshata Murthy at Stanford Univeristy
The PM said the creation of an energy department 'means we can produce more energy here at home, giving us more independence and security, and it means we can transition to cleaner forms of energy as we hit our net-zero ambitions and create jobs in the process'.
The immediate trigger for today's reshuffle was the sacking last month of Tory chairman Nadhim Zahawi over his tax affairs.
Mr Sunak picked trade minister Greg Hands to replace him. Mr Hands is an experienced campaigner and trusted media performer.
But his status as a leading Remainer, who was an acolyte of George Osborne, raised eyebrows among some Tory MPs.
'What does a southern Remainer with a safe seat in Chelsea know about fighting a seat like mine?' asked one Red Wall MP.
There is a school of thought that Mr Sunak boxed himself in too tightly in his choice of party chairman following the debacle of Mr Zahawi's departure.
One Tory source said: 'He wanted someone super-loyal, which ruled out people like Penny (Mordaunt) and Priti (Patel). They also had to have no skeletons in their closet after Zahawi. And they had to be reasonably competent.
'The trouble is, by the time you've done the Venn diagram of people who are loyal, clean, competent and willing to do it, you haven't got that many options left.
'I'm not sure winning elections was given the priority it should have had, given that's basically the job.'
However, Mr Sunak appeared to see the criticism coming. By mid-afternoon, No 10 announced that the outspoken MP for Ashfield Lee Anderson would be brought in as deputy chairman, providing some Brexity grit to supplement the new chairman's smooth southern charm.
Mr Anderson, a former Labour councillor, is a no-nonsense figure whose baiting of the woke Left delights his fellow Red Wall MPs (while appalling some on the Left of the party).
Last month he ended up in a scuffle with notorious anti-Brexit campaigner Steve Bray after playfully stealing his hat. If he has been to California, it did not rub off.
Source: Read Full Article